To get customers, you need to advertise your local business. And to get good results from your adverts, you will need to do it the right way. Advertising involves identifying your local or prospective customers and knowing where and how they look for information about your business or competitors.
We have crafted some smart strategies you can leverage to advertise your business locally to increase your brand's exposure and make massive sales. In this article, you will learn effective strategies for promoting your local business and getting good results.
About Sociallybuzz
Sociallybuzz is a leading social media marketing, management, and digital advertising agency for small and medium-sized businesses. With over 12 years of experience, we know how to create and execute marketing campaigns that will help you grow your business. Our social media agency has created successful targeted social media campaigns that acquired our customers more leads, sales, and revenue.
10.57% Conversion for Our Client Leveraging Google Performance Max. Learn More
We used Facebook Ads and Google Ads to Drive Over 6 Figures in Sales for a B2B Brand. Read More
18X Return on Advertising Spend and Over $3 Million in Sales for an Online Store. Read More
Smart and Effective Ways to Promote Your Business Locally
If you have been thinking about advertising your business locally, below are the best ways.
1. Give Local Discounts to Customers
One good way to advertise your local business is by giving discounts to customers and prospective customers. According to ConvinceAndConvert, 93% of shoppers use a coupon code throughout the year.
Beyond any doubt giving out coupon codes can increase your sales. It is a well-known fact that people like saving money when making purchases; hence, discounts are a good way to attract customers. You can write on your billboard, banner, website, email, or social media that you are giving a discount.
Large discounts usually get the attention of customers. To personalize your discount offer to your local target customers, you can include the name of your city in the hashtags and discounts card so customers will know it's from their city.
Giving discounts is a very efficient local advertising tool that brings good results. Offering discounts will go a long way in advertising your local business.
2. Utilize Online Business Directories
Ensure you list your business with local advertising directories in your area. Local business listing is a good way of advertising small businesses online. It could be Google Business listing, Yelp, local directories, or other free advertising sites for small businesses.
Listing your business on local sites will help you gain more visibility for your company and provide links to your website to make your site relevant to local search queries; this is crucial in increasing your site's referral traffic and SEO visibility.
While listing your site on directory sites, ensure you fill in up-to-date and correct information such as business address, contact information, owner's information, type of service/products offered, etc.
Adding correct information when listing your business is very crucial for the optimal performance of your business listing.
3. Create a website
Having a good business website is an effective way of advertising your local business. Your business website describes your business and the services you provide.
It also reflects the qualities that distinguish your brand from other brands. Every business must have a website to make it easier for people to patronize you.
You need a website for many reasons. One of these reasons is that people who find your business online will want to search or visit your website for more information.
Advertising your business will be easier and more effective if you have a branded domain name to create your website.
Building a brand in a competitive industry is the best way to market your business and thrive. According to Neil Patel, 7 in 10 most popular search queries on Google are brands.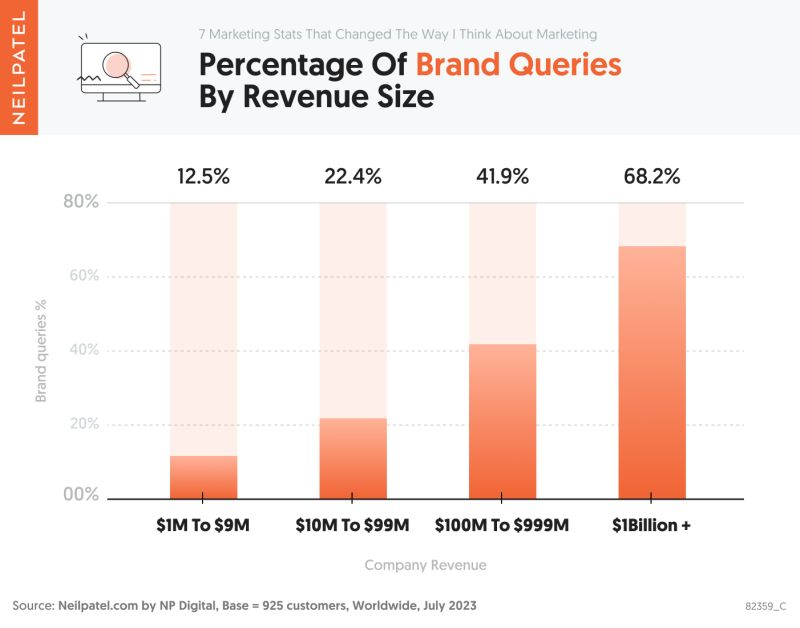 Without any doubt, you need to build a solid local brand to establish a sustainable and successful business; you can achieve this with effective digital marketing strategies leveraging your business website and blog.
4. Form Partnerships with Other Local Businesses
Partnering with local businesses is one of the best ways of advertising your local business.
Try to create a good relationship with other local businesses that are not your competitors, gain their trust, and request cross-promotion. You can promote each other's business and services on social media, website, email, or flyers.
The partnership is a very effective local advertising tool when done correctly and with the right business.
You can leverage each other's visibility to promote your business locally and gain maximum patronage. Many local business owners have benefited from partnerships and have been able to grow their businesses.
5. Leverage TikTok to Advertise Your Business
TikTok is a good social media platform for advertising your local business. Although it was just launched in 2016, it has over a billion users. Ads on TikTok offer maximum visibility when advertising to a local audience.
Also, creating videos on TikTok is not difficult, and the special effects that you can add to those videos make them attractive.
TikTok is unique because it targets audiences that live within your location. If you are a local business owner that posts content regularly, you will more likely get more local customers than international ones.
TikTok ads are also cheaper than Facebook, Instagram, and LinkedIn ads, so leveraging TikTok ads should be on your list to promote your business locally and affordably.
Read More: Best Online Advertising Channels for Small Businesses
6. Join Local Communities and Groups
When promoting your business locally, you should focus on local communities.
Ensure you join local communities and groups related to your business on Facebook, LinkedIn, and other social media platforms or online forums.
Doing this will help build a great network and strong connections with people in your industry.
You will be able to help other people and get help from others when you need help too. And the good thing about helping others is that it makes you more visible, as people will notice you and want to partner with or patronize your brand.
It is not just online groups. You can also join physical groups in your locality. Some groups charge a fee before they allow you to join. But once you become a group member, you can attend their meetings, increasing your visibility.
7. Advertise with Email
According to TechBehemoths, email marketing advertising is in the top five most effective channels to generate leads for IT companies and Digital Agencies.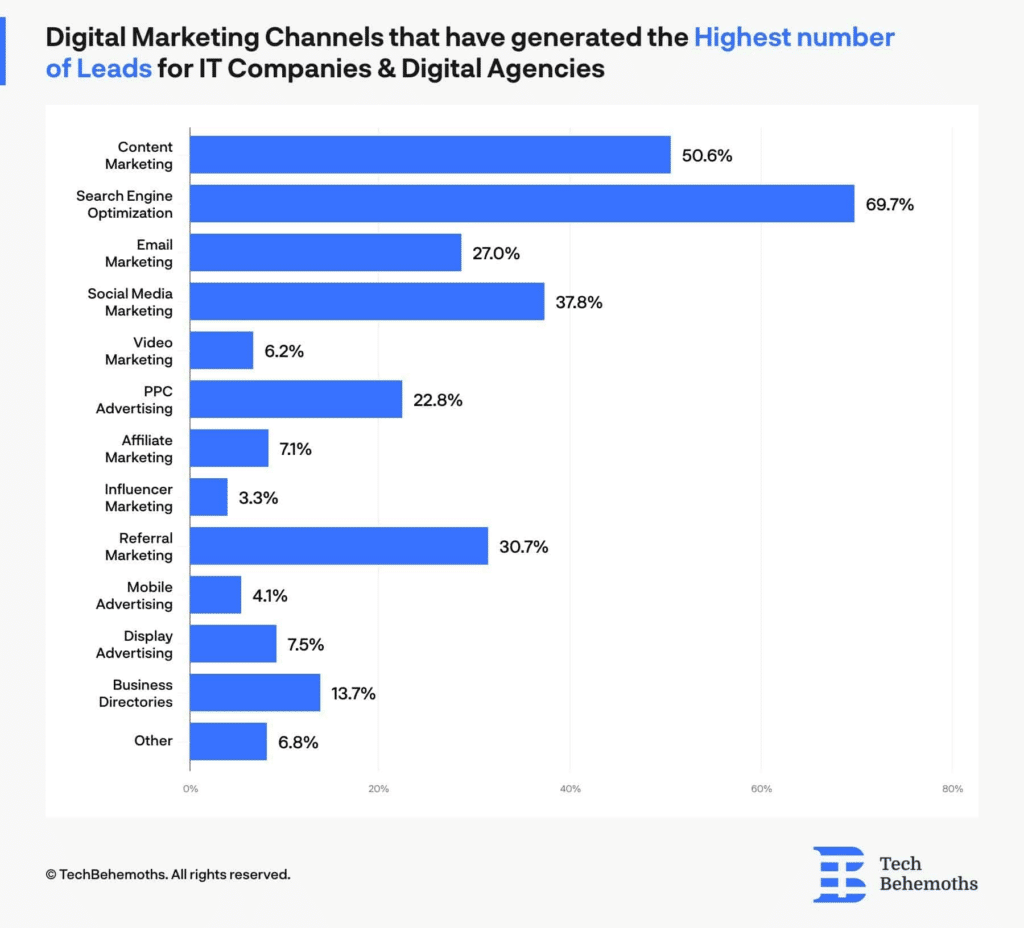 This data shows how important it is to build your email list in this digital marketing era.
Email advertising is another strategic way of reaching a large audience you control. Unlike social media and SEO traffic, you can control your email subscribers. To keep your customers engaged, you should have a niched-down local email list for them to subscribe to receive direct emails from your brand.
There are many ways to build your email list;
You can offer freebies,
Free lead magnets,
Offer discount coupons,
Free training, etc, in exchange for their emails.
You can use different incentives to make them sign up.
Ensure your sign-up forms are visible on your business website or blog to capture the email addresses of local visitors to your website/blog.
Email advertising is one of the best ways to increase your customer base, convert leads into customers and stay on top of the minds of your customers.
Also, to maximize email marketing for your local business, it's ideal to divide your email list according to demographics like location, age, and interests.
Read More: Best Types of Advertising for Small Businesses
8. Leverage Google Business Profile and Local SEO
Your Google Business profile allows your business to appear when someone types in your business name. It also allows your business to appear in Google search results in the local section.
Your business website and Google Business Profile (GBP) should rank high in search results, hence the reason to implement Search Engine Optimization (SEO) for your business.
Local SEO is a set of practices used to improve the appearance and position of your local website and Google Profile in search engine results.
To get started with Local SEO, create a Google Business Profile and verify your account.
You must verify your business after registering a Google Business Profile (GBP) to manage your account. The next step is to optimize your GBP website, set up your account, and implement local SEO to rank your business listing on local search results.
Implementing SEO will take a lot of time and effort, but if you do it correctly, you will get good results. The best approach to this is to hire a local SEO expert to work on the site's SEO.
9. Create a Customer Loyalty Program
A customer loyalty program is a business strategy that acknowledges and gives rewards to customers who patronize a business repetitively.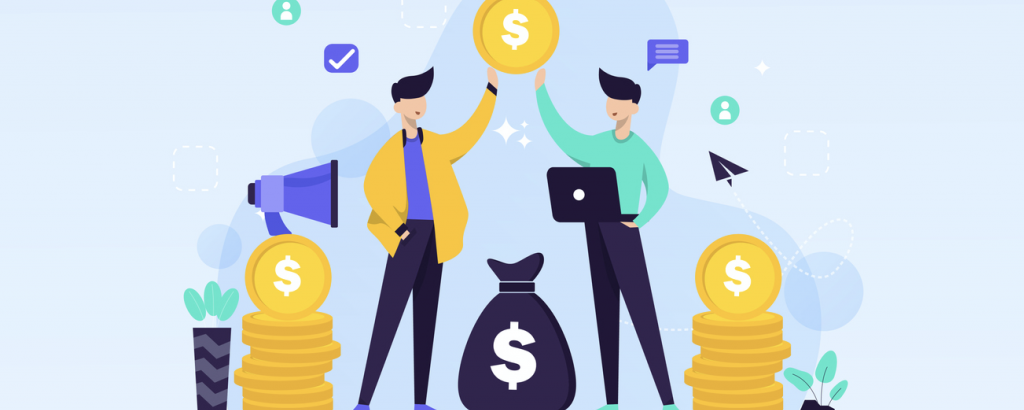 Your customers become loyal when they are happy. A loyalty program should be part of your local advertising strategy to show your supportive customers that you value them. And this works better when you decide what incentive you will give your customers and how frequently you will give it to them.
You can offer products at a discounted price or give gifts. You can also use a punch card, so customers will know when they will get a reward. Customer loyalty programs are a good way to advertise your business locally as they make customers return after patronage.
Do you want your customers to keep coming back?
Reward and incentivize them. It would be best to have good advertising strategies, such as a customer loyalty program to retain your customers because it is easier to keep current customers than acquire new ones.
Read More: Best Sites to Advertise Small Businesses Online
10. Advertise Your Local Business on Twitter
Many local business owners should understand that Twitter can greatly impact their businesses.
Twitter is a good social media platform to advertise your local business effectively. Unlike other platforms, building an audience on Twitter is difficult and requires much hard work and consistency.
You must set your goals, focus on achieving them, and consistently master the platform. When you master Twitter, you can then go ahead to build your audience and then start advertising your goods and services. Twitter is a good asset to all local business owners.
Build your list of top influencers in your area actively using Twitter. Negotiate with them to promote your business to acquire more targeted local customers.
You can co-host a Twitter space with the influencer to educate prospective customers about your business to build trust and connection with them.
The number of connections you have with your leads and prospects influences your conversion rates, and that's why you need to engage with them often.
More on this below.
Read More: Local advertising ideas for local businesses
11. Partner with Local Influencers
A social media influencer strongly influence followers and can use that advantage to positively impact their purchasing decisions. Many people think influencer markting is only for big brands, but that is not true.
Local and small business owners can also leverage social media influencers to advertise their products and services. You can pay an influencer a fee or give free products in exchange for posting about your local business on their social accounts.
Social influencing is an efficient advertising strategy to get high visibility and engagement within your community.
To leverage local influencer marketing, look for local influencers in your community or industry with large followership and collaborate with them.
Read More: 17 Advertising Ideas for Small Businesses
12. Ask for Customers' Reviews
Collecting and reposting reviews is another strategic way of advertising your local business to prospective customers.
Customer reviews are instrumental to successful local advertising. It is a free marketing strategy that is very effective. Prospective customers are more convinced when they read good reviews about you from local customers who patronize your brand.
Your prospective customers might be skeptical about patronizing your brand because they fear your services are not good enough. But when they see reviews from people around them, or well-known brands patronizing your business, it convinces them to purchase.
Customer reviews are a way of convincing prospective customers to patronize you without speaking to them directly. Getting reviews are an important tool that should be considered in advertising your local business.
13. Respond to Customers' Reviews
It continues beyond getting reviews. You will have to respond to those reviews and responding to reviews acts as a free way of advertising your business indirectly.
While responding to reviews, you can seize that opportunity to talk about your business to attract more customers. Responding to reviews is also necessary to build trust with current and future customers, increase customer satisfaction, and resolve brand-customer issues.
You don't only respond to positive reviews but also to negative reviews. And no matter how negative the reviews may be, avoid responding harshly. This way, current and prospective customers will know you value your customers.
When customers know you value them, they won't hesitate to patronize you when needed because everyone loves going to where they are valued. Responding to customer reviews is a good strategy for effectively advertising your products and services.
Read More: 9 Most Powerful Advertising Strategies and Techniques for Small Businesses
14. Leverage on LinkedIn
Most people use the platform to find job opportunities, learn skills and connect with industry professionals. LinkedIn is a great professional platform to advertise your local business as well.
With a good profile on LinkedIn, you will be able to get numerous sales opportunities. A good unique professional story that portrays your education level, expertise, and experience will also help bring more business opportunities.
Many local business owners think LinkedIn is just a platform to post resumes, so they are not using LinkedIn for their business ads.
LinkedIn is one of the most effective platforms to advertise or promote your local business.
Also, as a professional, your input in group discussions can indirectly drive traffic to your website or offer page to get more customers.
In all, LinkedIn is good for advertising your local business because you have absolute granularity in targeting options; you can target:
People in your location,
Job titles of your prospective customers,
Their demographics, Interests, and many more targeting options.
LinkedIn should be part of your go-to small business advertising platform to attract local customers.
15. Create a Blog
Blogging is a good way to connect with your audience and increase your visibility. A blog shares educational content about your brand and likely questions your customers are bound to search on Google.
Blogging can bring in people from all over the world to visit your business website. You can also use it to promote your business locally.
Once you use the right keywords and produce more content targeting local search terms, your business will rank in search engine results pages for local terms that matter to your business.
Ensure you promote your posts on your social platforms; this will help you get new leads from your blog readers.
Writing blogs is more than just writing topics you assume people are searching for. A search engine optimization (SEO) strategy backed up by a more researched content strategy will bring effective results.
Read More: Roles of Advertising in B2B Marketing
16. Make Your Employees Your Advocates
You can make your employees advocates of your brand by treating them well. When you treat your employees well, you won't need to tell them about advertising for you; they will do so on their own accord.
One of the best ways to turn your employees into raving brand advocates is to relate well with them.
You can make them participate in local events, host parties for them, and organize a quiz where you ask questions about the brand.
When you have a cordial relationship with your employees, you can encourage them to post about your business and give them the necessary information they need to know before making posts.
When they post about your business, let them know you are thankful. Doing all these makes your employees feel more connected to you. Value your employees; they will value and help promote your local business.
17. Advertise Your Business on Facebook and Instagram
Instagram and Facebook are social media platforms that allows users to post photos and videos for free. With Facebook and Instagram, local business owners can advertise to their target audience and gain massive visibility across Meta platform.
Instagram ad is a form of social media advertising where you pay for your content to appear throughout users' feeds, content, and stories.
These ads look normal but are tagged sponsored to show they are ads. Instagram and Facebook are great social media platforms for advertising your local business, which you should leverage.
Read More: The Effectiveness of Social Media Advertising
18. Ensure Your Contents are Specific to Your Community
Creating content specific to your community is essential. Make your content unique and sought after by locals.
Doing this will give you an edge in the community, make you more popular, and bring more customers. You should find a mode of content creation you are more comfortable with and good at.
You could choose to post social media content, make videos or podcasts. Just know which one works for you, and focus on it. But remember to ensure your posts are unique and significant to your local community.
19. Run a Referral Program
Running a referral program is another strategic way of advertising your business locally. The impact of referrals on local businesses are enormous; brand awareness, free traffic, leads, and sales on auto-pilot.


Give your customers incentives and discounts, and then tell them to refer you to friends and family. People tend to trust recommendations from a friend or family member, so do not hesitate to tell your customers to refer you.
Referral programs are a good local advertising strategy that helps advertise your local business and bring many customers to you. To boost your referrals, you can run competitions and contests.
Doing this will help increase your brand awareness and make more people know about your brand. You can tell local customers to post about your business on social media platforms with designated hashtags and give prizes to those with the highest referrals or social engagements.
20. Put Your Brand Logo on Your Business Vehicles
Business vehicles are being driven around all the time, and putting your logo on those vehicles is a good way of advertising your brand.
A lot of people who are not familiar with your brand will be able to know it exists once they see the logo; this is a very good step to building brand awareness and acquiring more customers.
As humans are usually curious, they might want to learn more about your company and may patronize your brand while researching your brand.
Read More: 20+ Best Restaurant advertising ideas
21. Give to Charity in your Locality
People love givers and even love them better when they give back to the community.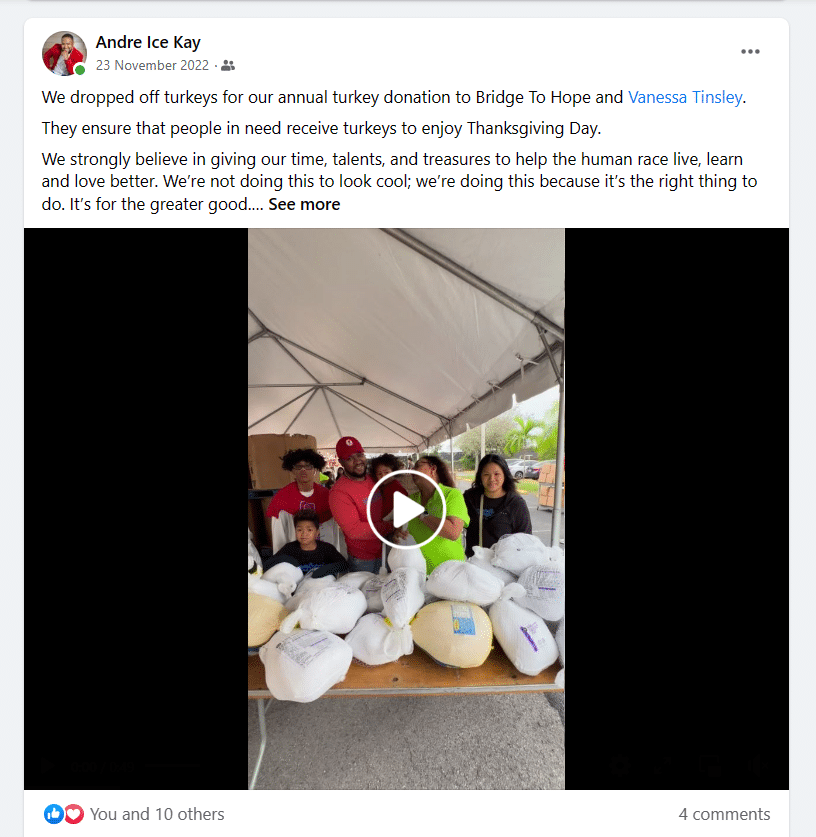 Giving to charity is a way to make people love and patronize your brand. Apart from money, you can donate your products and services and offer scholarships and free training to your local community.
Getting the general public to know you offer to charity is also a great marketing strategy. You can involve the local social media to promote the news, bringing you the needed exposure. Giving to a local charity is a good way to advertise your business and gain massive brand exposure.
22. Advertise on YouTube
YouTube is a video-sharing social media platform allowing users to post videos for free. Many local business owners are making waves by advertising on YouTube, and you should be included.
Advertising your local business on YouTube is a way to help prospective customers find your business.
You can create various video ads on YouTube to promote your local business.
Aside from this, you can make quick demos and tutorial videos of your local business and then upload them to YouTube; these videos enlighten prospects about your business offerings to make a purchase decision.
Adding videos to your blog posts and posting educational videos are other good ways to use YouTube in advertising your local business. YouTube is an easy-to-understand social media platform that can be instrumental in advertising and growing your business.
Read More: 7 Best Online Advertising Channels for Small Businesses
23. Take Local Photos
Taking local pictures and posting them online is a good way of showcasing your brand. You can take fine pictures of your brand and eye-catchy places in your locality and then post them online.
Doing this will help people know which locality your business is located in. If the pictures are aesthetic, some people may want to come and see things for themselves, and that's how you get new customers.
This strategy will work best for restaurants, outdoor service-based businesses, bars, etc.
If you can take nice pictures of yourself and your team, take them.
However, paying for the services of a professional photographer is advisable because your pictures matter a lot in getting people's attention when posted on social media platforms.
24. Word of Mouth Advertisement
Getting people to know about your business in your locality is relatively easy. You can use word of mouth for advertising. Go from door to door, share your flyers, and tell people about your products and services.
You can also stand along the roadside and give your flyers to passers-by; this is why local business advertising is very interesting.
Read More: Average Advertising Budget for Small Businesses
Conclusion on How to Advertise Your Local Business
The strategies explained above are what you need to advertise your local business effectively. You can start with the easiest strategies or those that do not require money and then move on to the others.
Having a good advertising strategy for your local business is the first step to growing your business online. And with good and efficient local business ads, your business will always thrive in a competitive landscape.
Need help advertising your local business online?
Further Reading: