Local business owners know how vital advertising is in their business. In essence, investing in local advertising is a good way to boost awareness of your local business and attract customers quickly.
Unfortunately, many local business owners do not have the right ideas to use the advertising opportunities made available effectively.
Advertising is key to maintaining sustainable growth in your business, so we have put together 30 effective local advertising ideas you can use to grow your local business this year.
About Sociallybuzz
Sociallybuzz is a leading social media marketing, management, and digital advertising agency for small and medium-sized businesses. With over 12 years of experience, we know how to create and execute marketing campaigns that will help you grow your business. Our social media agency has created successful targeted social media campaigns that acquired our customers more leads, sales, and revenue.
10.57% Conversion for Our Client Leveraging Google Performance Max. Learn More
We used Facebook Ads and Google Ads to Drive Over 6 Figures in Sales for a B2B Brand. Read More
18X Return on Advertising Spend and Over $3 Million in Sales for an Online Store. Read More
Most Effective Local Advertising Ideas for Small Businesses
Below are 25 local advertising options at your doorstep to utilize to promote and grow your business.
1. Leverage Google Ads for Your Local Business
Google Ads is an online advertising platform that allows you to reach customers exactly when they are interested in or investigating your products and services through Google products such as Google Search, YouTube, Gmail, etc.
With Google Ads, you can target potential customers within your local area with pay-per-click ads; just like this screenshot below: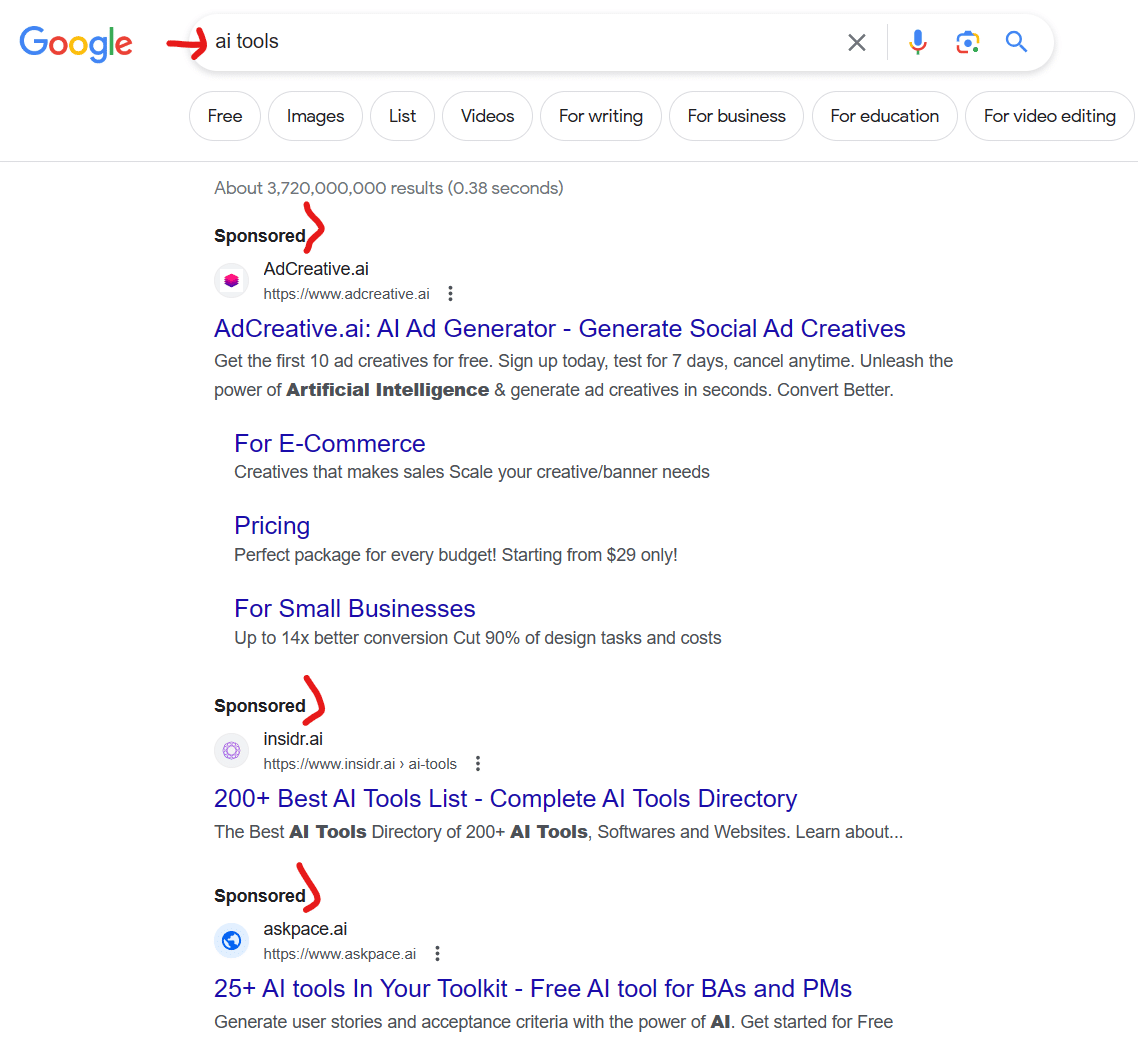 When your prospective customers search for keywords related to your products or services, your Ad could feature above the fold allowing you to acquire more leads and make sales.
If you want to promote your local business, create awareness, acquire leads and increase traffic to your website, advertising locally with Google Ads will positively impact your business.
One advantage of using Google Ads to promote your business is that it provides you with numerous ad options. You can run:
Google Local Service Ads,
Responsive Search Engine Result Ads,
Google Shopping Ads,
Performance Max Campaigns
Gmail Ads,
Google Maps Ads,
YouTube Ads, etc.
Google Ads is an invaluable advertising option for local businesses that want to reach customers within their vicinity.
You can target prospective customers by Zip Code, Country, State, City, etc., which means you can reach them wherever they are or live.
This level of granularity in targeting your ideal customers gives you an unfair advantage over your competitors.
With Google Ads, you can choose where your ad appears and then set a budget that is okay for you.
You can equally manage your Google Ads account online and create and change your ad campaign, budget, settings, and text whenever you wish.
Advertising your local business on Google Ads is a wonderful idea if you want to grow your business.
Check out our case studies with Google ads:
2. Create and Optimize Your Google Business Profile
Your Google Business Profile lets customers discover and learn about your local business easily online. Google Business Profile is one of the most effective free local marketing ideas for growing your small business and getting local customers.
It allows your business to appear on Google Maps, the right-side Knowledge Panel for branded searches, and the local section of Google Search.
A Google Business account is a must-have for all local businesses wanting to grow locally.
However, creating or having a Google Business Profile is one piece of the puzzle; you also need to optimize your listing for maximum visibility.
Having your Google Business Profile optimized helps you rank higher in local searches to get more customers through targeted search terms and stand out from competitors.
Google ranks Business Profiles according to their relevance to the search term and proximity to the business location. Hence optimizing your Business Profile allows your company to target local search terms and attract local customers within your service area.
Optimizing your GBP is relatively less difficult; however, ranking for some search terms requires expert knowledge of local SEO.
Below are some basic local business optimization you could do to improve your Google Business Profile's performance:
Fill in your business description,
Update your business hours,
Add your business address and phone number,
Add enticing business cover photo,
Carefully select your business categories,
Verify your location,
Update your profile with local posts.
With the above steps, you are one step away from ranking for keywords that would help your local business acquire targeted customers.
One big advantage of leveraging this local advertising idea is that listing your business on Google as a local business is free.
Unlike Google Ads, which requires you to pay for each click or impression you generate, you don't have to pay anyone to use Google Business.
3. Promote Your Business on Social Media
Posting on social media is another local advertising idea you can use to grow your local business.
It helps you build a locally targeted community online, express your brand's personality, build trust with your audience, and make more sales. You can directly converse with your followers and express your brand voice by posting on social media.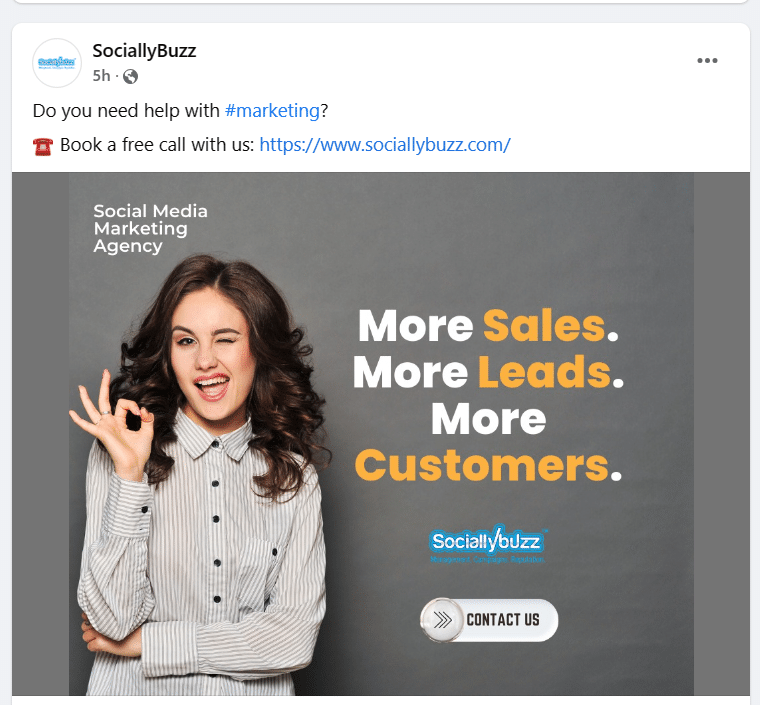 You can also use that opportunity to get more followers, increase your brand's awareness, connect with your audience, drive traffic to your website, gain exposure, and learn more about your customers and their thoughts about your products and services. Posting on social media is one of the best ways to advertise your local business if you are intentional about it, as social media platforms have many active users in most locations.
The best way to do this is to create a group for a particular location targeting a specific type of people.
Such as:
Plumber in [location]
SEO conference in [location]
Hire Electrician in [location]
The goal is to communicate to your target audience who the group is for and what the group does.
You can attract well-targeted local customers and sell your services online from these local communities or groups.
4. Advertise Your Business Using Facebook Ads.
Running local Facebook Ads is a good way to increase sales and improve brand-customer relationships. With local Facebook Ads, you can easily target people within a certain area. You can also target people who have patronized you in the past.
To run a local Facebook Ad, you will first create an account with Facebook Ads Manager or create an Ad with your Facebook page.
When you are done with the above steps, you can then choose an objective and go on to select your audience, set up your Ad creatives and Ad budget. You are missing a lot if you are not using Facebook ads to advertise your local business. Reason is because Facebook is the largest social media platform on earth; with Facebook Ads, you can reach anybody.
Check out some of our case studies with Facebook Ads:
We Generated 500 Paid Gym Memberships Using Facebook Lead Generation Ads – learn more
See How We Used Facebook's Lead Generation Ad Objective to Drive Local Sales – learn more
5. Tag People (and brands) on Social Media
You indirectly widen your business reach by tagging your loyal customers and fellow brands or vendors.
Tagging people and brands helps you to reach out to a new prospective audience, garner more customers, and grow followers.
You can even urge your followers to tag your social media handle or business location when they post. Tagging local brands and customers is a free way of advertising your local business.
It is ideal to leverage this strategy because when these brands comment on or share your post, you gain more exposure on social media.
Read More: Best Online Advertising Channels for Small Businesses
6. Set Up a Customer Referral Program for The Local Market
Give customers a free product or some other reward you dim fit for referring new customers. Creating an incentivized referral program is the fastest way to thrive in word-of-mouth advertising.
You can tell your happy customers to refer your business to their family and friends, and you, in turn, will give them rewards.


People tend to listen to their friends and family when they tell them a particular product or service is good.
You already know everyone loves a discount, free product, or other small rewards, and it is even better when it's from a local company they love.
Giving customers referral rewards turns them into brand advocates; they do not mind spreading the word about your business.
Creating referral programs helps bring more customers than many other traditional forms of advertising. When customers receive recommendations from someone close to them, or someone they trust, they are highly likely to patronize you.
The referral mode of advertising is one of the most effective local advertising options local businesses can implement with less overhead cost.
7. Using Hashtags is a Free Local Advertising Idea
Hashtags are an important feature of social media marketing. It is a strategic local advertising tactic that can widen your reach when you use them in posts.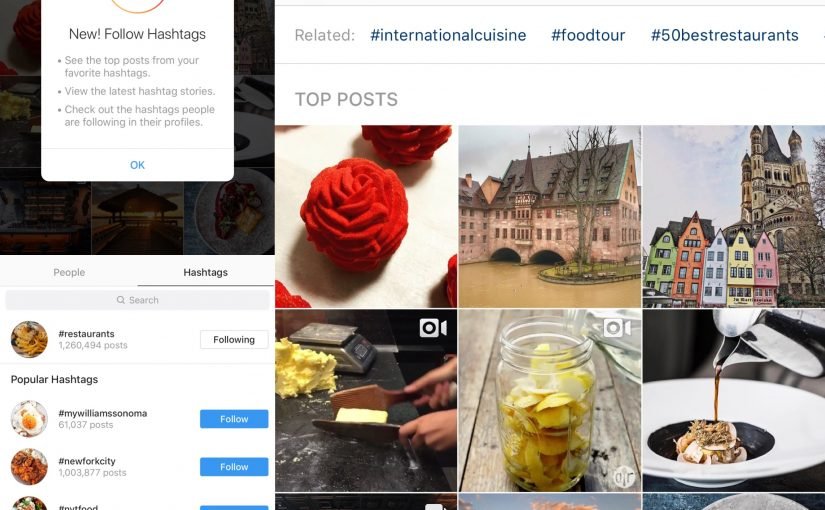 Hashtags make it easier for social media users to find your content online. When you use well-targeted local hashtags properly, your content can easily get to the right people, and you will also be able to attract new customers while engaging with your customers.
Using trending hashtags is a good way to make your brand more popular, but there are other hashtags you can use in your posts.
You can also use other hashtags for local businesses, such as branded, local, and geographic hashtags. Hashtags can give your business the right exposure it needs when used correctly.
Read More: Best Types of Advertising for Small Businesses
8. Leverage Local SEO to Advertise Your Business Locally
Recently we talked about optimizing your Google Business Profile with some tips. However, for your business to rank for competitive terms, you need to do local SEO; you can do it yourself if you have the experience or hire a local SEO expert.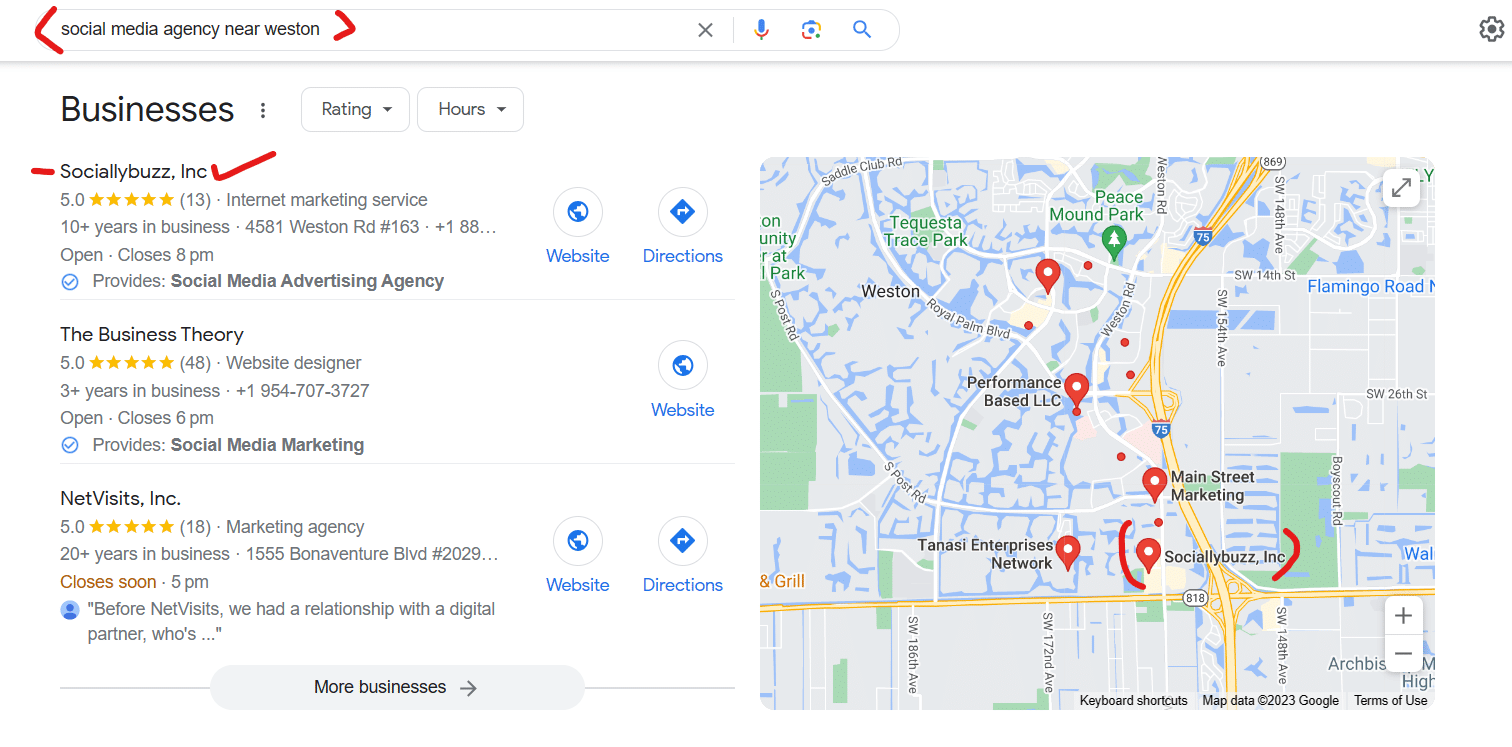 Local Search Engine Optimization improves search engine visibility and organic traffic from searches made by customers in the locality.
In other words, search engine optimization organically attracts targeted traffic from search engines such as Google and Bing.
While doing local SEO, you must ensure your business gets listed in online directories. Also, it's very important to have your NAP (Business Name, Address, and Phone Number) consistent across all the directories you list your business.
List your business across various local directories,
Ensure your business name, address, and phone number are consistent across the internet
You should add location-based keywords to your website's page titles, headings, and body content and publish pages or blog posts specific to your locality.
Local SEO helps attract high-quality and well-targeted traffic to your website; you should pay attention to this because the SEO traffic channel converts more than other traffic channels.
Read More: Best ways to advertise your business locally
9. Run a Customer Loyalty Program
A loyalty program is a strategic way of retaining customers by rewarding them for continuously patronizing your brand.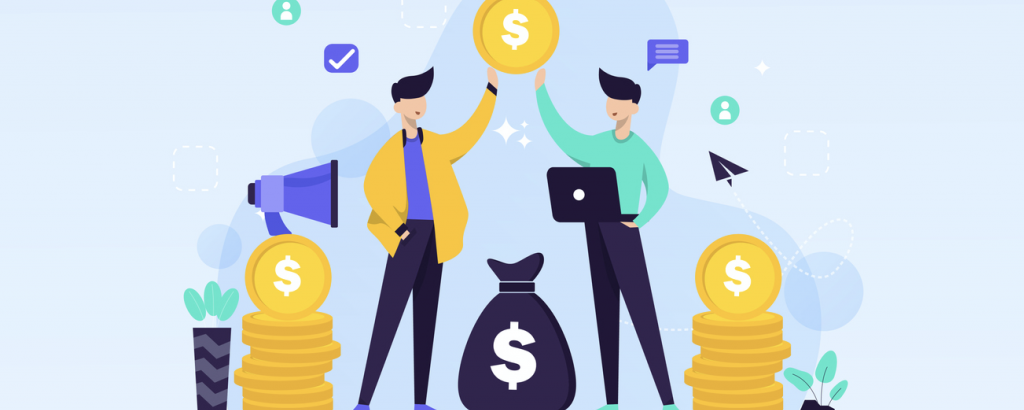 Setting up a loyalty program is a good way to reward your current customers and make them return.
Before starting a loyalty program, you should decide what incentive you will give customers, how often they can earn rewards, and how you will keep track of it all.
Many businesses generate most of their revenue from existing customers, and retaining customers is easier than attracting new ones. Therefore, you must retain your customers by giving them incentives that will make them keep coming back.
When customers are rewarded for their patronage, they feel valued, hence will keep coming. Many businesses even use this opportunity to get reviews from customers. Running a loyalty program is a good way to advertise your local business.
10. Use Local Newspapers to Reach Local Readers
The importance of local newspaper advertising should be more recognized in local business marketing. So, as a local business owner, you should understand that newspaper advertising can give you a significant exposure in your business.
Local newspaper advertising is an affordable method to give your business visibility in digital and print magazines. Using print ads to advertise your local business is a great idea as you know the area your local newspaper is reaching.
You can track the effectiveness of your print ad by routing your call or website traffic to a unique URL or phone number for each advertisement.
Newspaper advertising has many benefits, especially when your target audience reads newspapers frequently.
Read More: Best Sites to Advertise Small Businesses Online
11. Partner with a Local Influencer to Grow Your Small Business
A local influencer is an influencer that focuses their audience on the locality they reside. Partnering with local influencers can help you increase the visibility of your business.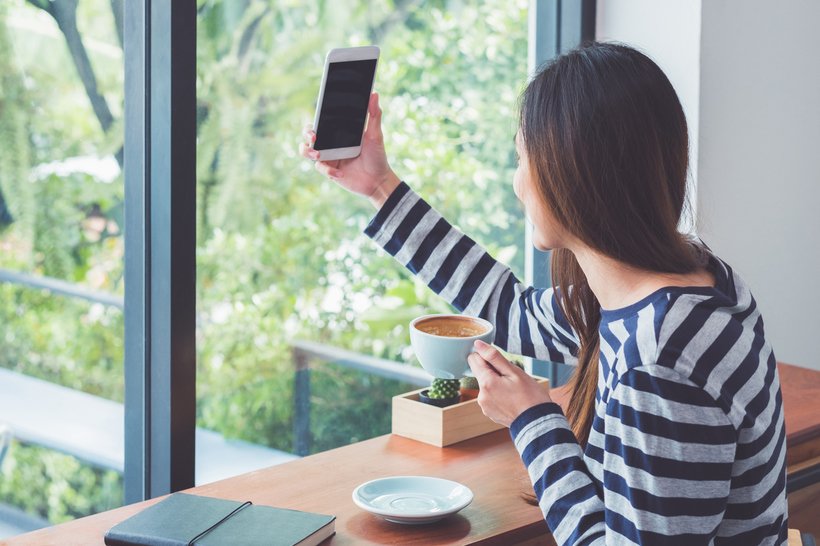 Local influencers are relatable and have a more targeted audience to drive more meaningful engagement to your business.
Hiring the services of an influencer can be very beneficial if you reach out to the right influencers; when your influencer shares a post about your business, endeavor to reshare them to create room for more visibility.
In today's marketing world, most businesses can pay influencers to advertise their goods; all that is required is to find a list of prospective influencers aligned with your budget and choose the right person.
We can help you streamline the influencer marketing process by contacting us here.
12. Catch the Attention of Commuters with Radio Ads
Radio ads are a local way of advertising, especially to commuters. Radio ads enable you to promote or advertise your products or services during radio commercials or programs.
Just like you pay for commercials shown on television, you can also pay for your business to be advertised on the radio.
Radio ads are a good way of advertising that helps you reach a large number of your local audience. However, you need to make sure you advertise on a local station that matches the demography of your customers.
Read More: 17 Advertising Ideas for Small Businesses
13. Advertise Your Local Business with Email Marketing
When it comes to growing your business locally, email advertising is a good idea. You can convert new visitors to your business through email marketing, even as you maintain a good relationship with your existing customers.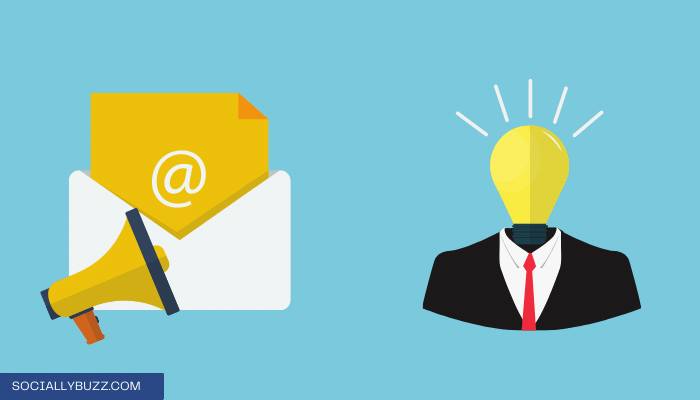 Customer retention is very important in the growth of your business hence the need to engage them, and email marketing is a great tool for enhancing customer retention and engagement.
To maximize email advertising, ensure your subject lines are captivating. You also need to track your performance and include an offer that makes your customers want to take the next step.
Giving special offers, coupons, or discounts is also a good way to get new people to subscribe. These special offers are an incentive that attracts consumers to subscribe to your mailing lists and follow your brand's pages on social media.
Email marketing is one of the best forms of local advertising that can take your business to the next level. You can send a weekly or monthly email to your list; this is a good way to advertise your local business without having to run paid ads.
You might think sending an email to your list will disturb them, but the truth is that customers love receiving newsletters from businesses they love.
14. Partner with Fellow Local Businesses
Partnering with other local businesses is another local advertising idea you can implement to take your business to the next level. You don't always have to spend money; you can meet up and do teamwork.
Find something your business has that will be of good value to another business and then exchange value with them.
A partnership is a very good advertising option businesses should leverage; the local business you are partnering with can share information about your business with their customers, and you, in turn, will do the same.
That way, you both can get more customers from each other. And also, you can partner with many businesses. Partnering with more than one business is good once all businesses give you value and don't compete with any of your business partners.
Read More: 9 Most Powerful Advertising Strategies and Techniques for Small Businesses
15. Host Local Events
Hosting local events is a great advertising idea that attracts local customers to your location who may become customers.
Hosting a local event attracts many potential customers to your business. You can host a party, workshop, charity event, political fundraiser, demo, pub crawl, festival, anniversary sale, or any event you want.
You will want to leverage local events to promote your business; and you can do this in a variety of ways:
By slashing the price of some products or services for the first 30, 40, or 50 people.
Presenting your new product or services
Preselling your offers, etc.
The options available to you are numerous; it all depends on how you want to do it.
16. Get Reviews
Reviews and testimonials are a free advertising strategy for your local business. When people see good reviews from your customers, they are motivated to patronize you. Testimonials from happy customers help advertise your business and give people more reasons to patronize you.
Like this one: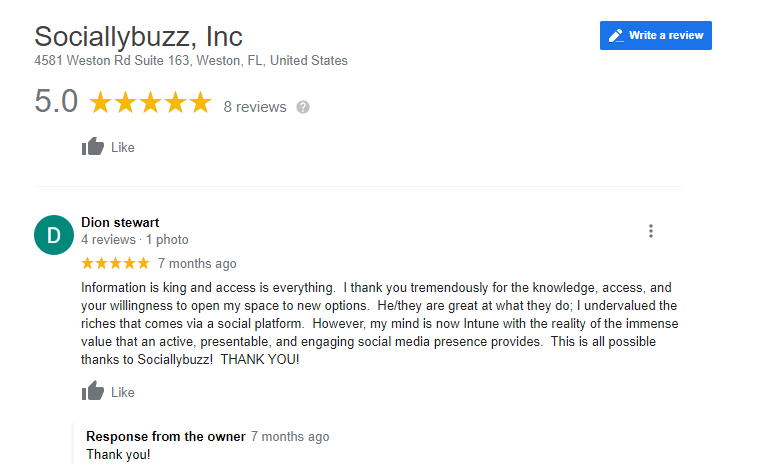 Reviews are one of the core benefits of having a Google Business Profile. Google business profile allows you to collect reviews which can increase your chances of appearing on search results.
Many people are motivated to make purchases based on reviews. It is normal for people to read reviews before making a purchase; this is why you should try as much as possible to ensure that your customers give their positive reviews.
You can ask them whenever they make transactions to review your business after they have used your product or service.
People trust online reviews like they trust recommendations from family and friends. Collecting reviews is an effective local advertising strategy that your business needs to implement to convert leads to customers with ease.
17. Respond to all Reviews
Getting reviews is one thing; responding to those reviews is another. You must respond to reviews because that is the only way to keep those reviews coming. While responding to reviews, you can use that opportunity to talk about your brand, what you offer, and how good you are.
However, you shouldn't respond to positive reviews alone; you should respond to negative reviews too. Responding to negative reviews politely gives people the impression that you value your customers, which is a good approach to reputation management. Do you need help with reputation management? Get in touch with us here.
Read More: Benefits of Advertising in B2B Marketing
18. Position your Business as an Expert with Branded Content
If you want to be a distinguished brand, you need to look for creative ways of advertising to your audience to keep them captivated, and this is where branded contents come in.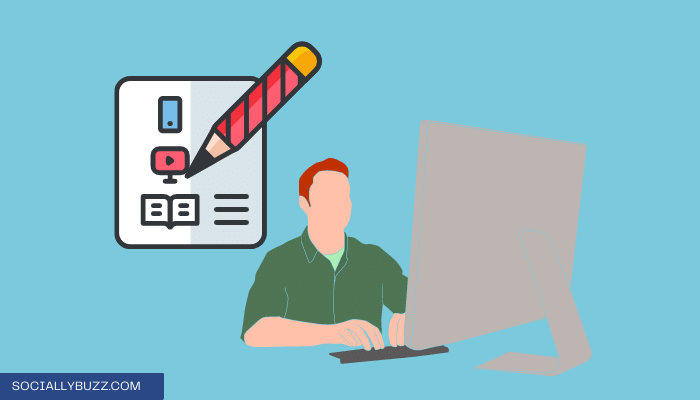 You should invest in branded content to thrive among other local businesses. Branded content makes your brand appear as an expert, increases exposure, and attracts more customers. You can create and promote entertaining, informative, and local news with branded content, thereby advertising your brand – This is how to build a brand on social media.
19. Run a Social Media Contest
Social media contests are an effective advertising strategy to increase sales, engagement, and followers.
Although you may have to spend as it entails giving the winner a prize, the benefits outweigh whatever you may have to spend. With a social media contest, you can grow your followers, connect with potential customers, and increase brand awareness.
However, before you run a social media contest, you must determine a prize to be won by contestants. It is recommended that the prize be one or more of your products or services.
You also have to decide how people will enter your contest. You can take advantage of this and make it a buy-to-enter entry; this is done by telling your audience that buying one of your products is the only way to join the contest.
With a prize attached to the contest, they will want to buy and join, which means increased sales.
Another good way of advertising your business through social media contests is by telling your followers to post about your business and tag friends to like and follow your page before they can join the contest.
This method is very effective in advertising your local business and is also good for building a large followership.
Social media contests are a great idea for advertising local businesses, but you must ensure you have a goal in mind before creating a social media contest.
Read More: The Effectiveness of Social Media Advertising
20. Start a Blog
Another considerable local advertising idea on our list is blogging. Even if you don't have good writing skills, you can pay someone to do that for you. Many local businesses today use blogging to increase exposure, drive traffic to their blogs, and increase user engagement.
And the good thing is that starting a blog is free or requires a little investment. With a blog, you can advertise your small business online by telling stories about your company and giving out valuable information your potential customers may find helpful.
Aside from writing your blog, you can consider writing content for a popular website as a guest blogger. You can also write for an online industry publication or a local news outlet.
By publishing guest blogs on other sites, you can add links to these articles to increase your website's SEO, brand visibility, and awareness.
21. Volunteer and Get Involved Locally
Volunteer and give support to events or tasks in your locality. This will give you exposure and visibility to a large audience who may need to learn about the existence of your small business.
Volunteering allows you to meet other business owners and top politicians who you can partner with in the future while advertising your local business.
Many local business owners who are introverted and do not easily relate with people learn to relate better with people in their locality by volunteering, and this sure improves their relationship with their customers, thereby aiding advertising.
22. Turn Employees into Brand Ambassadors
Your employees are your best mouth-to-mouth advertisers, so you should treat them right.
When you treat your employees well, they are encouraged to talk about your products and services to anyone that wants to hear.
Your employees have your best interest at heart; you only have to encourage them to continue spreading the good news about your business.
Read More: 20+ Best Restaurant advertising ideas
23. Become a Local Sponsor
You can get good publicity as a local business when you sponsor a local team or event, and it doesn't cost an arm and a leg to do this.
Sponsorship can enable publicity for local businesses, but you must first decide what you want to achieve.
For example, if you want to build brand awareness, you will have to look for opportunities to display your logo; hence whatever team or organization you are sponsoring, you will have to look for an opportunity to showcase your product.
You can also support local projects or hold a fundraiser for a local youth club. Doing this will make more people notice your business and increase your sales.
Before sponsoring, approach organizations with access to your target markets, such as trade organizations, charities, and non-governmental organizations.
24. Encourage Word-of-mouth Advertising
When customers have a wonderful experience with your brand, they do not hesitate to testify to anyone willing to hear without even being told.
This is why you must ensure your customers have a positive user experience when patronizing your brand. Go beyond their expectations and give them a reason to talk.
People tend to trust recommendations from family and friends more than other forms of advertising, hence the need to encourage your customers and employees to keep telling people about your brand.
Word-of-mouth advertising is an effective way to increase brand recognition and sales in local advertising. This is why many brands employ tough and money-intensive strategies to make customers recommend their products and services.
Read More: 7 Best Online Advertising Channels for Small Businesses
25. Apply for business awards
Awards can boost your local business's reputation and distinguish you from other local businesses. As a local business owner, winning awards can give people in your locality the impression that your business is an authority in your industry.
Many industries have business awards you can win, and they will give you an online badge you can put on your website.
Of course, these badges make people see your business as authentic and genuine, increasing patronage.
If the industry you specialize in has no awards, host your own. You will even get applications from other businesses in your industry that want to get you awards; this means more partnerships and sales.
Read More: Average Advertising Budget for Small Businesses
26. Post and Share Physical Flyers
Printing flyers will cost a little money, but it can be a great advertising idea for your local business. Handing out some of these flyers yourself is even better as it helps you know more people living in your locality.
Seek permission from supermarkets, libraries, restaurants, and community centers to place your flier in their establishment. Posting flyers is a productive way of advertising your local business to people.
Final Word: Local Advertising Options for Small Businesses
We have explained many local advertising ideas above that you can use to achieve your goal. To get a better result, you should combine these local advertising ideas.
All the ideas above have the potential to increase your brand awareness as well as increase your customer base.
Need help advertising your local business online?
Further Reading: