As a small business owner, advertising your business might take a lot of work. Advertising, in its entirety, takes work. Sometimes, you do your best and are still waiting for results. It is as though your best is not good enough, and even when you try harder, nothing still happens because you need to do it the right way.
In this article we have included the best ways to advertise your small business online. This article is what you need as a small business owner struggling to grow your business, all to no avail.
Best Ways to Advertise your Small Business Online
Before we continue, we would like to introduce you to our company, sociallybuzz.
Sociallybuzz is a leading social media marketing, management, and digital advertising agency for small and medium-sized businesses. With over 12 years of experience, we know how to create and execute marketing campaigns that will help you grow your business. Our social media agency specializes in using the power of social media to create highly targeted campaigns designed to get small business owners more customers and sales.
>>>> Check out some of our case studies <<<<
Let's continue.
Below are the most effective ways to advertise your business online.
1.
Facebook Ads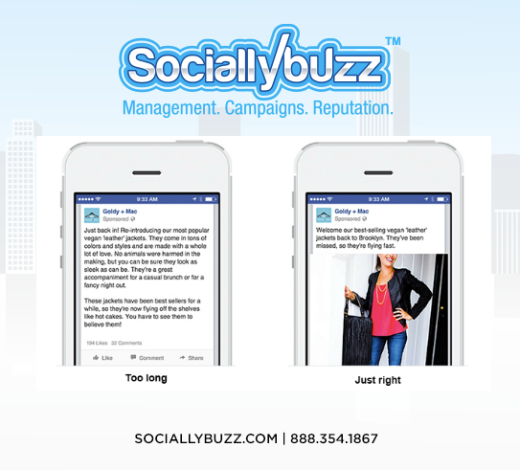 It is a well-known fact that Facebook is the largest social media network. If your business is off Facebook, you are missing a lot. With Facebook, you can connect to your target audiences using their user demographics online.
You can create ads for users who fall into your target profile, like a particular age bracket, interest, or location. With these ads, you will be able to build your brand and attract more followers, and as you gain followers, the number of people who visit your business website increases, the same way your number of customers.
Although not free, Facebook ads are worth whatever fee you must pay. It offers you just the right opportunity to meet befitting customers. Sometimes, it might take time to get the result you seek; you have to be patient, but once you run the right profitable campaign consistently, you will see results. Advertising using Facebook ads should be a must for all small businesses.
Sadly, it is now very difficult for businesses to gain visibility on Facebook for free, but notwithstanding, the fees are affordable. If you want to achieve your goal, they will be sacrifices you will have to make. Facebook ads are a sure way to advertise your brand, and you shouldn't miss it.
We can help you create ads that converts using Facebook.
Below are some of our case studies:
>>> We used Facebook Ads and Google Ads to Drive Over 6 Figures in Sales for a B2B Brand.
>>> How we used Facebook's Lead Generation Ad objective to drive local sales
If that's the kind of results you want for your business, kindly get in touch with us now to help you generate qualified leads and increase your sales revenue.
Get in touch with us for a free social media ad consultation call
Recommended:
> Best ad audience for facebook ads
> Facebook b2b lead generation tips
2.
Create a Google Business Account
The second-best way to advertise your small business is on Google My Business. With Google My Business, you can create a profile for your small business with high-quality images and service or brand descriptions.
It also gives opportunities for your customers to leave reviews about your brand. Another good thing about Google Business is that when people search about businesses, Google search highlights businesses near them that have good reputations or reviews from customers.
It is now left for you to work on your brand reputation to rank it high on Google search, but getting a Google Business page is the number one prerequisite for appearing on Google search.
You must also add your location on Google Maps, which will provide the search engine with more information on describing your business when it's being searched.
Ensure your information is constantly updated, as wrong information could give prospective customers the wrong impression about your brand and make them change their minds about patronizing you—endeavor to update your Google My Business profile and check that all information is on point.
Your Google Business Profile allows your business to appear in Google Maps results and the local section of Google Search results. Google Business has been instrumental to the growth of many small businesses. Start making use of Google business today.
3.
Strengthen your SEO

You may not want to pay for ads on Google. Don't worry; neither do we. But that doesn't mean you shouldn't try to rank higher in search results, and SEO is the best way to do that.

The higher you rank, the easier it will be for people to discover you. While there are numerous ways you can perform SEO online, today, we'll focus on two essential SEO tactics to help you market your business more effectively, and the first one is traditional SEO, which is for business owners looking to expand their business and rank higher in the organic search results.

Traditional SEO is more about optimizing your website and listings to improve visibility. It uses good keywords, title tags, meta descriptions, easy-to-click phone numbers, and well-written ALT text for images to attract more customers. The second SEO tactic you can use to market your business effectively is, Local SEO.

It would be best if you improve your local SEO strategy. You can do this by listing your products on platforms like Bing Places for Business and Google My Business which helps you to manage your online activities concerning Google maps and search engines.

With the right SEO tactics, your business will rank high in search results and increase your number of customers.
4.
Create a website

If you intentionally advertise your business, you will have a website. It is your website that prospective customers go to when they want to patronize you. More than having a Google business profile or social media handle is required, you need a website.

Your website tells all about your business and what you offer and gives customers guidelines on contacting you or making an order. Most prospective customers will be satisfied through your website that you are genuine.

Having your website gives your business a professional look, helps build your credibility, provides your business for customers, and educates customers on how your business is being run. All your essential information and marketing strategies revolve around your website; hence as a small business owner, do well to ensure you have one.
5.
Ensure Sure your Website is Optimized for SEO.

It continues beyond creating a website; you must optimize it for SEO if you want maximum results. A website optimized for relevant keywords helps advertise your business; you can focus on optimizing your website for product and service keywords.

Knowing what keywords people use when searching for products or services similar to yours will go a long in helping you to optimize your website. Pay attention to certain factors that can enhance your optimization, like your profile, website's speed, business description, quality of content, citing of sources, etc.

How best your content aligns with search terms determines its rank in searches. However, do not expect to get to the top in a day; SEO optimization takes effect gradually, be encouraged if you are not seeing your desired result; it is a gradual process. You have to be consistent.
6.
Interact with people on LinkedIn

LinkedIn is an excellent platform for easy connection with people in your industry or area of expertise. With LinkedIn, you can advertise your businesses as long as you are genuine.

Before now, all people do on LinkedIn is post their resumes, but nowadays, LinkedIn has become more of a place people showcase their brands and industries. It is also a professional social media platform where users can create profiles to help them network and engage with other professionals in their niche.

LinkedIn allows you to connect with potential clients, join group discussions, form new partnerships, or do everyday online marketing. You can create a LinkedIn business page to help people know more about your business.

The page should be an avenue to share content about your business, success story, brand values, and your company's achievements. Advertising on LinkedIn is one of the best ways to promote your business.
7.
Employ the services of social media influencers

Social media influencers are social media users who have amassed many followers. They can convince people to try out your products or services.

You can hire them to speak about your business, tell people about the benefits, and encourage them to visit your website and make purchases; this has, in most cases, had a positive effect.

Reviews from Influencers can equally convince users to patronize you. Influencers advertising or using your products encourage their followers to try them out too. Social media influencers are ladders you can climb to showcase your business to the world.

Let's help you find the right influencer for your business. Check out our influencer marketing services.
8.
Make good use of Instagram.
Instagram is a social media platform that mainly uses images and videos. Its active users increase daily, with many businesses advertising their products and services. If your business has a high visual component, then Instagram is for you.
With just a click on your profile, people can connect to your website to learn more about your small business and what you offer. Instagram has various posting formats such as Story Highlights, permanent images, IGTV series, short-lived Stories, live sessions, and many others.
There are several ways you can advertise your business on Instagram. You can make use of hashtags to ensure enhanced visibility. You can also run online contests giving a free product or selling your products at a discounted price; this will attract more customers and enhance sales.
Recommended:
>> B2b Instagram marketing strategies – learn how to use IG for generation
>> Instagram for real estate agent tips – learn to sell your properties using instagram
9.
Run paid ads on Google.

Google ads help small businesses to create targeted advertisements that reach viewers depending on their searches.

It allows you to create a list of words for which your ads can appear when searched, and you can also create a list of words for which your ads cannot appear.

When you have your list of words, Google will then reveal the cost per click for ads related to those words, and you will, in turn, set how much you are willing to pay according to your budget. Google paid ads are one of the most effective ways of advertising your business and enhancing maximum visibility.
We used Google Performance Max to double 3x our clients ROI – Learn more
10.
Engage your customers on Twitter

Twitter is another beautiful social media platform where you can advertise your small business online. Gen Z and Millennials mainly use it, but that does not mean that people from other age brackets are not found on Twitter.

They are, but not in more significant numbers. Building your audience on Twitter is not easy like other social media platforms; it takes a lot of activeness and consistency. But if you master the platform, you can thrive smoothly.

Twitter is a great avenue to engage with experts and customers in industries or businesses related to yours. It is also a platform where you can talk to anyone regardless of age, qualification, or race.

But to maximize Twitter adverts, you should be ready to respond to customer feedback, contribute to discussions related to your business, and retweet good user-generated content.

Twitter is an excellent platform for small businesses looking to advertise and promote online businesses. However, you must take your time and understand how the platform has been run before delving into it.

Recommended: Best type of advertising for small businesses
11.
Create a business blog

Creating a business blog is essential for all businesses. Your blog contains all your content. To make your blog engaging, you can post different topics like information about your kind of business, how to use your products, and news or announcements related to your business.

Having a blog allows you to educate and inform viewers so they can avoid mistakes in purchasing or using your products or other related products. Your blog is different from your LiveJournal.

It is an opportunity to deliver raw educational content about your product and answer frequently asked questions from your customers. You can do this better using the right keywords, which will help your business rank high in search engines. Having a business blog will help you advertise your business better.

Recommended: Advertising ideas for small businesses
12.
Prioritize online reviews

Reviews are instrumental to the growth of every business. It is one of the most effective ways of advertising your business. Your reviews on your social media platforms will convince people to patronize you.

It continues beyond getting reviews; you will have to respond to them to get the desired result. Responding to reviews is another great way to promote or advertise your business.
How you respond to negative and positive reviews goes a long way to determining how many more customers you can garner, as it reveals your brand's values and gives prospective customers an idea of what it's like to do business with you. Online reviews are one of the best ways to advertise your business and attract customers.
Conclusion
Advertising your business will be easier if you know the secrets. Those secrets are the 12 best ways to promote your business I listed and explained above. There are the tips for advertising your small business successfully. If you practice those tips meticulously, you will surely get your desired result.
Sociallybuzz is a leading social media marketing, management, and digital advertising agency for small and medium-sized businesses. With over 12 years of experience, we know how to create and execute marketing campaigns that will help you grow your business. Our social media agency specializes in using the power of social media to create highly targeted campaigns designed to get small business owners more customers and sales.