Social media should be one of your top priorities as a doctor or medical practitioner. Do you know why?
More than half of the world's population is on social media, and as more people continue to join social media, the demand for social media marketing for doctors keeps growing.
Social media has become one of the most creative and destructive marketing systems, and there are opportunities for the healthcare system.
While there are other marketing strategies you can engage in to get patients, social media marketing doesn't just attract patients; it helps you build and maintain an active relationship with them.
A successful medical practice thrives on communication.
Doctors and medical practitioners are beginning to explore how social media may be used to improve patient-to-doctor communication and how it integrates with various health information systems.
Patients have various inquiries regarding their health, and social media provides this level of connection where they can share their experiences—whether it's a question about a disease symptom or condition—and get immediate responses.
However, social media marketing is not a walk in the park. It requires a great deal of time and effort. The good thing is that you can learn the ropes.
In this article, we will show you effective social media strategies for doctors, so you stay trendy in the digital space, build your medical career, and attract potential customers.
About Sociallybuzz
Sociallybuzz is a leading social media marketing, management, and digital advertising agency for small and medium-sized businesses. With over 12 years of experience, we know how to create and execute marketing campaigns that will help you grow your business. Our social media agency has created successful targeted social media campaigns that acquired our customers more leads, sales, and revenue.
10.57% Conversion for Our Client Leveraging Google Performance Max. Learn More
We used Facebook Ads and Google Ads to Drive Over 6 Figures in Sales for a B2B Brand. Read More
18X Return on Advertising Spend and Over $3 Million in Sales for an Online Store. Read More
Why is Social Media Marketing for Doctors Crucial?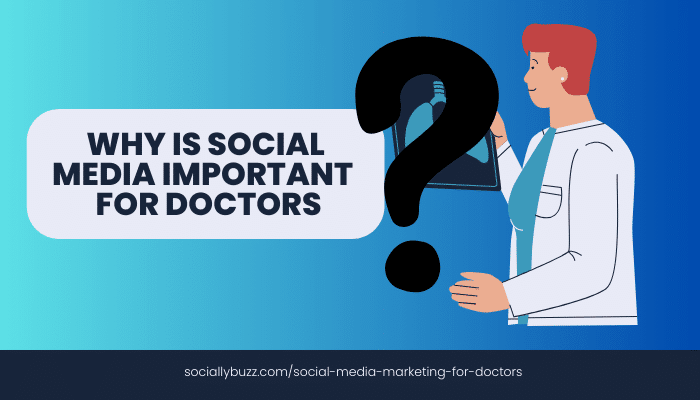 You might be wondering why social media marketing is crucial for doctors.
Social media presents many opportunities doctors can leverage to effectively market their brand, as long as they abide by medical practice rules and regulations.
Social media marketing remains a potent tool for doctors to build their brand, connect with patients, and stay updated with trends and advances in their field.
Recommended: Why is Social Media Good for Small Businesses?
Build brand consistency
As a healthcare professional, having a recognizable brand that speaks to your uniqueness across your social media platforms is important. Social media helps you achieve this consistency.
It helps you streamline and personalize your brand image and the solutions you offer.
Start by thinking about your brand's identity and how best to communicate it. Building brand consistency will help increase your brand recognition and credibility.
Promoting their practice
Social media allows doctors to promote their practice and reach a wider audience. You can show your audience what it looks and feels like to be a doctor through social media and the solutions you offer.
You establish a strong online presence and attract and retain patients by posting timely, informative and enlightening content.
Additionally, you can get input about your practice and enhance your services by utilizing online tools like patient review websites.
Improve patient loyalty
Doctors using social media can improve patient loyalty and promote return visits by maintaining effective social communication where patients feel heard, and their issues are duly attended to.
Giving the impression of being a customer-centric brand will keep your customers stuck with you. It is crucial to ensure patients receive quality care and keep them abreast about their treatment. With the right care, you can give your existing customers a feeling of belonging and community.
Connecting with other physicians
Collaboration and building networks benefit every field, including the medical field. Thanks to social media, doctors can connect with other physicians and health professionals worldwide to stay effective and relevant in their industry.
Social media provides doctors with information and news about trends and recent happenings in their field. By connecting with other medical professionals, physicians can gain new skills, exchange ideas, and build networks to help their careers.
Doctors can grow their connections in many ways, including attending conferences and participating in online forums.
Create networking opportunities
Social media creates networking opportunities for medical professionals. You're likely to meet potential business partners or stumble upon new opportunities if you show up consistently on social media. Social media creates networking opportunities through medical business events and meet-ups that you can leverage.
You can also sign up for online forums or groups relevant to your field. Whatever networking opportunity you utilize, ensure you give the people you meet the attention they deserve.
Boost traffic and search visibility
Improving your search engine rankings will increase your search visibility. You can utilize social media to drive traffic to your website by creating and maintaining an active social media presence and posting high-quality content.
Using social media to boost your web traffic and increase visibility will attract more patients to your brand and bring you opportunities, such as speaking engagements at conferences, to get you ahead in your practice.
Interact with patients
Nowadays, patients go on Facebook, websites and Google to search for information related to their problem before booking an appointment.
They only visit your office for consultation if the information on your online platforms is compelling enough. Even after consultation, they'll count on you to be accommodating and supportive if they require more details or guidance.
Being kind and considerate is vital while speaking with patients. You should pay attention to your patient's worries and listen to what they say.
Providing health education to the public
Since many people rely increasingly on the internet for information, social media marketing is a great way of providing health education, improving health outcomes and promoting healthy lifestyles.
You can offer various health content, including information on preventing illnesses, managing chronic conditions, and staying safe during emergencies. You can also go live to debunk health-related myths or set straight health misconceptions you've noticed.
A caveat: Keep these suggestions generic. It's advisable that you don't give specific medical advice on social media. Some queries are better addressed in person rather than through direct messages.
Reach new audiences
Social media allows you to increase your brand awareness and reach new audiences. Sharing your brand story and being vocal about the healthcare practices and services you deliver will help establish you as a thought leader and build your practice's reputation.
Increase your competitive advantage
Effective social media strategy keeps you on top of the game and increases your competitive advantage. It helps you stand out from the crowd and draw in new customers.
You can increase your competitive advantage by being creative and innovative with your content, staying up to date with the most recent trends in healthcare, maintaining a functional online presence, and offering high-quality products and services.
Read more: The Effectiveness of Social Media Advertising
How to Build a Social Media Marketing Strategy for Doctors
Social media marketing can help you distinguish yourself from your competitors, get your content in front of your target audience and attract a significant number of potential patients.
However, building a social media marketing strategy for doctors can be challenging.
There are a few things you need to take into account when building a social media marketing strategy. The following are tips for building a successful and effective social media marketing for your medical practice.
Set your goals
The first step in building a successful social media marketing strategy is knowing what you want to achieve with your social media platforms. Start by writing down your goals. Ensure you set SMART (specific, measurable, attainable, relevant, and time-bound) goals that fully capture your brand's objectives. Setting SMART goals gives you something to work with and a benchmark for future success.
Define your ideal audience
Don't make the mistake of assuming that everybody is your audience. Defining your ideal audience will help you create relatable content. Start by gathering information about your target audience, e.g., demographic, including age, location, language, occupation, income, interests, and social networks.
You can use the information you gather to tailor your content and social media strategy to meet the needs of your desired audience. You can collect this information with the aid of social media analytics.
Research your competition
You can improve your social media strategy by researching your competitors. Know what they're doing and how they're providing solutions to their customers. This will show you how to dominate and stay ahead of them.
To research competitors, you can use Google to search their names, social media accounts, and published content and determine which posts from them performed better.
Conduct a social media audit
Conducting a social media audit will help you determine what you're doing well, what is not working and where you need to improve. Keep in mind that social media is dynamic, so what worked before might not always work. When auditing your social media strategy, ask yourself the following questions:
What components of my social media strategy are particularly effective? What needs to be improved?
Who engages frequently with my content? How do I enhance their experience?
Which social media platforms do my audience use the most?
How do my competitors' social media presence compare to mine?
What kind of content can I publish that might do well in three months?
Set up your accounts
Decide the platforms you want to show up and set up your accounts. Choose platforms where your target audience is already in. Once you've chosen your suitable platforms, use the following guidelines:
Complete your profile information.
Use consistent branding across all your social media platforms.
Include relevant keywords in your profile bios so that people can find you when they search for related keywords.
Create a social media content calendar
Creating a social media content calendar saves you time and lets you publish your posts automatically. It helps you plan your posts in advance and ensures you're not duplicating content or posting at the wrong time.
Create your content
You'll stay relevant to your audience as long as you keep them engaged with informative and helpful content. Create fresh content ideas, and use mediums your audience finds interesting. Boring content is rarely engaged with and often does not foster doctor-patient relationships. Your content must satisfy the following conditions:
It should be compelling.
It should be comprehensible.
It should be interesting.
Run social media ad campaigns
Running social media ad campaigns will allow you to gain a wider reach and views. You can create brand awareness, attract new customers and achieve great results by developing targeted ads and utilizing the appropriate tools.
Which Social Media Platform is Best for Doctors?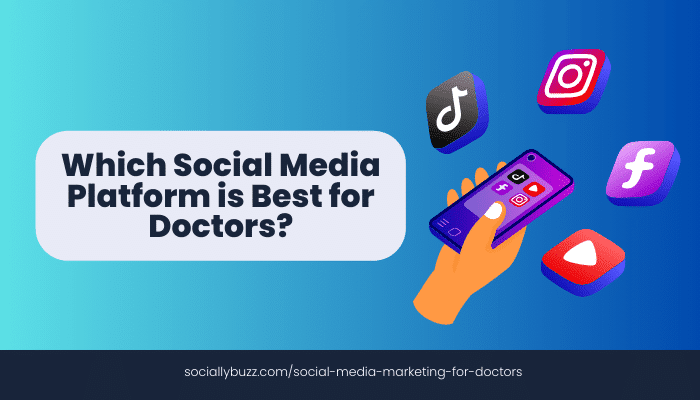 There is no one-size-fits-all answer to this question, as the best social media platform for doctors will vary depending on their goals and the audience they want to reach. However, some platforms worth considering include LinkedIn, Instagram, Facebook, and Twitter.
Facebook
Facebook is one of the influential social media marketing platforms for businesses. It has a large user base and allows brands to connect and communicate with current and potential customers. This makes it ideal for medical social media marketing.
More doctors are using Facebook to interact with their patients while adhering to their medical practice guidelines. If you want to discover the right audience to target with Facebook ads, read our Facebook advertising audience article.
Instagram
Instagram is a social media with a visual appeal. Users usually share high-quality videos and pictures. Doctors can utilize this platform to promote their practice visually, create educational videos and pictures, publish patient testimonials, provide health advice, and much more.
LinkedIn
LinkedIn is a popular social media platform for professionals from various industries. It is a suitable platform for medical doctors to connect and network with other health professionals and share industry trends. Doctors can use LinkedIn's specialized business marketing tools, including setting up a Company Page and building a following.
Twitter
Twitter is a social media platform doctors can utilize to share concise, thoughtful and educational posts called tweets. It also allows them to host Twitter spaces to connect with other health professionals to promote a health course.
It provides opportunities for doctors to build networks and connect with new patients.
Pinterest
Like Instagram, Pinterest is a highly visual social media platform that doctors can use to share pictures and videos that showcase their treatments and services.
TikTok
TikTik is mostly used for creating and sharing short videos of 30 to 60 seconds. You can start a health talk series of videos 1 to 3 minutes long. Be creative while passing the lessons.
Recommended: Social media for small businesses
Unique Social Media Platforms Meant for Doctors
There are various social media platforms created specifically for doctors. These platforms enable the exchange of medical knowledge and foster doctor-doctor connections. They also offer a forum for doctors to seek guidance and professional advice.
Doximity
Doximity is a social networking platform with over 80% U.S verified medical doctors; the platform is designed specifically for healthcare professionals. It connects healthcare professionals with similar interests and allows them to share their skills and credentials.
It offers a forum for learning where they share opportunities and articles from other professionals, ask questions about their work, and learn from others' experiences. Features available on the platform include job search, credential management, secure messaging and a comprehensive physician directory.
DailyRounds
Daily Rounds is another social networking platform for doctors. It provides a vast medical information database and allows doctors to communicate and discuss medical cases efficiently.
Doctors can discuss clinical cases, share medical photographs, and show specific research findings.
Sermo
Sermo is a popular and engaged healthcare professional online community where doctors and other medical professionals can connect, collaborate, discuss health issues, get guidance from a global network of trusted doctors, and share insights.
It allows doctors to keep up with the most recent developments in healthcare research and trends.
Student Doctors Network
Student Doctors Network is a social networking platform designed for medical students and those with a budding interest in pursuing a medical career.
It connects medical students from around the world to ask questions, exchange experiences, and support one another during their medical school journey. Student doctors can learn about medical school, careers, and the medical industry. It also provides news, articles, and resources for student doctors.
The below social media platforms for physicians are not active anymore, however, they are worth listing for reference purposes. The screenshots were gotten from archive.org
Doctors Hangout is a community created exclusively for doctors who desire a place to connect with other doctors. It provides a forum where doctors can post queries regarding various diseases or therapies and have other doctors provide answers or make pertinent suggestions.
Doctors can create profiles on the website that include their credentials and any specialty or areas of expertise they have acquired over time.
WeMedUp is an online community where doctors can connect with other healthcare professionals for advice and assistance. It is ideal for exchanging ideas and insights on medical school, residency programs, and medical jobs. Also, you can utilize it to build relationships with recruiters from different companies seeking new doctors.
Great social media marketing ideas for doctors
The following are effective social media marketing ideas for doctors:
Use social trends to spread your message
Jump on social media trends. Use them to spread your message and gain a wider reach. For example, you can use trending audio to tell your brand's story or a health topic. You can also use trending hashtags to create advocacy and raise awareness.
Share stories
Humanize your content by sharing stories. Share stories your audience can relate to. People are more likely to engage with stories than plain data or statistics.
Share your patients and employees' stories with their permission and even your own experiences. Talk about a medical concept with a real or fictional character to drive home your point.
Create and share valuable content
Always keep value at the forefront when creating content. Let your content answer your patients' questions, provide general medical advice and debunk some health-related myths.
You can choose to share your blog posts or content from other sources, such as health periodicals, medical journals, and news segments about health. Consider starting a social event, like a webinar or an online Q&A session, if you're out of creative ideas.
Leverage LinkedIn carousel posts and ads
LinkedIn carousel posts and ads allow you to reach a wider audience by displaying multiple pieces of content in a single post. Using carousel ads enables you to create an ad that connects to a carousel post.
Doctors can showcase up to 10 pictures with links in a single ad. They can showcase their services and treatment options in an ad with more creative room to weave a story about your services or brand as users swipe through the images.
Do you need help with social media advertising?
Hire our social media advertising agency to promote your healthcare business.
Click here to contact us and get a free consultation.
Use TikTok, Instagram, and Facebook Hashtags to Reach More People
Use relevant TikTok, Instagram, and Facebook Hashtags to increase the reach of your posts. Using medical and healthcare-related hashtags makes it easier for people to find your content. Use relevant hashtags that people are likely to search for when looking for content related to your topic.
Summary: Social Media Marketing Strategy for Doctors
Social media is a platform where doctors can promote their practice, grow their audience and build long-lasting relationships with their patients. Many doctors find that social media helps them connect with more potential patients and healthcare professionals.
Start with setting your social media marketing goals, identify your target audience, know what your competitors are doing and share compelling and enlightening posts. Use vital metrics to track progress and find ways to optimize your strategy.
Further Reading: