Why is social media important for small businesses? These days, social media is the rave for marketing your products; this reflects how businesses and consumers view, value, and use social media.
The boom of social media is creating new and steady opportunities for content creators and social media influencers. Influencer marketing on social media has become the right channel for businesses to connect with consumers and increase sales.
A decade ago, this was not the case when leveraging social media for business was an unfamiliar concept.
With the rise of renowned social media platforms like Facebook, Instagram, Snapchat, and Youtube, the benefits of social media marketing investments for businesses now go beyond influencer marketing. Small and local businesses can generate leads, increase website traffic and create other opportunities by leveraging social media marketing.
You may ask: how important is social media marketing for small businesses?
According to Datareportal, more than 4.2 billion active social media users are already worldwide; this is a very important reason small businesses need social media because your target audiences use these platforms.
Consider how this can be an inexpensive and effective tool for reaching a huge number of people easily with your products and the benefits that can come from it.
This article will cover why small businesses need social media and the importance of social media marketing for small businesses.
Importance of Social Media for Small Businesses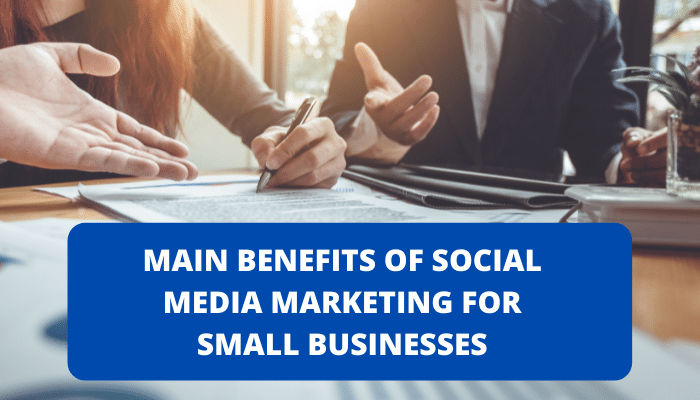 The following data and statistics show the importance of social media for small businesses.
78% of consumers are willing to purchase from a business after a positive encounter with them on social media
With the stat above, your business should intentionally create positive experiences for your customers on social media. Make it a priority to impact consumers when they encounter your brand positively.
Whether you're creating that avenue through topnotch, responsive customer care, engaging content, or a demonstrated understanding of your customers individually, the benefits of social media for small businesses are many and certain.
Creating positive customer experiences is important because it encourages repeat purchases and enhances loyalty to your brand. They can go as far as recommending and convincing their network to choose your brand over competitors.
Specific customer expectations are the basis for a positive experience. Factors like creative and relevant content, responsive customer service, and a personal understanding of customers are important in creating this experience.
68% of consumers say that social media allows them to interact with businesses
Your brand is more likely to win a customer over when they can interact with your business on social media. These interactions can be in the form of feedback, comments, likes, and shares.
Unlike traditional marketing and one-way media advertisements driven by monologues, social media marketing encourages dialogue by enabling customer engagement; that's why social media marketing is good for small businesses.
Another benefit social media provides to small businesses is that it allows customers to report product problems, submit reviews, or send personal messages, which are crucial for business success and reputation management.
Social media interaction is important for businesses because customer engagement goes a long way in attracting brand love from customers. Brands that consistently respond and engage in dialogue with their customers are better positioned to meet the needs of their customers and humanize their contents in a way that deepens the customer-brand relationship.
55% of consumers first discover new businesses on social media
Social media is a discovery arena. More than ever, consumers are more likely to discover your business on social media than on television and radio adverts.
Television and radio ads are losing their potency in putting your business in the faces of potential customers because 55% of consumers learn about new businesses and brands on social media.
Social networks will continue to expand in size as the purchasing power of digital users rises. It is estimated that by 2025 social network users in the US will increase to over 243 million.
Consumers will likely discover your competitors if your business does not target this growing social network.
43% of consumers increased their social media use to learn about new products during the lockdown
The emergence of the Covid-19 pandemic transformed the digital space. With the physical world shut down and people staying indoors, consumers' use of the digital space, especially social media, to learn about new products and services skyrocketed.
Even after the lockdown, consumers have still not left the trend of utilizing social media to discover new products. Additionally, more than one-third of consumers follow and engage with businesses on social media now than they did a year ago. This trend is expected to increase in the future.
Investing in strategies that make your business discoverable on social media will make it seamless to grow your reach and attract consumers that will buy your products.
Recommended: Check out the social media marketing agency for small businesses in the US.
Why Small Businesses Need Social Media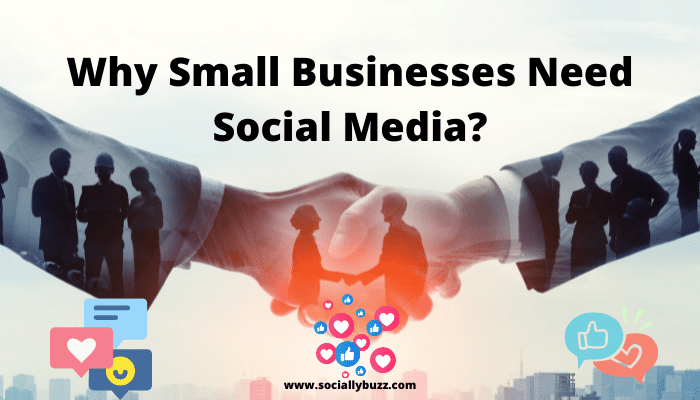 For brand building
Small businesses need social media to enhance brand awareness. As more people embrace social media, you can utilize platforms including Facebook, Twitter, and Instagram to target and reach millions of potential customers quickly and cost-effectively.
Another importance of social media for small businesses is that it helps humanize your brand. You create a tangible human connection when you share information about your business and display how existing customers use and profit from your products.
Authenticity fosters trust, and social media is the best place to get real with your business. Reinforcing your business values on social media should show how you value your customers' interests and how your products work in real life.
Pew Research Center showed that 70% of social media users log into their accounts at least once a day, while about 49% of users claim that they log into their accounts several times a day. What this means for a small business owner is an endless opportunity to connect and showcase their products to these people by churning out creative and informative content to think of your brand first when they want to make a purchase.
Regardless of the sector your business operates in. Social media allows you to position your company as a thought leader and the go-to authority on issues about your niche.
The 2021 Edelman Trust Barometer social media is ideal for establishing your brand as a thought leader because consumers turn to brands for knowledge and insights. All of these can translate to customer receptiveness, more followers, and drive increased purchases.
For Growth
Social media is a sure means of growing your small business. Posts and ads on social media are used to increase website traffic. You can share a teaser of your blog or website content on social media and direct followers to read the full article on your website by providing a link.
Add your website address on your social media platforms so that customers who want to learn more about your business and services are directed to the website.
Engaging in social media conversations is a fantastic way to gain visibility, attract new followers, demonstrate your expertise, and promote your website.
Lead generation is a key strategy for growing small businesses. Lead generation, in turn, boosts sales. Many social networks now provide ad types made exclusively for generating leads.
The rising number of individuals utilizing social media and the evolving social sales tools make social networks more crucial for product search and e-commerce. Recommendations and reviews from customers on social media will help grow your business.
Positive talks on social media about your business or product will help you establish trust, promote brand recognition, and increase sales. One way of increasing positive talk about your products is by partnering with influencers. These influencers with large followings turn their follower's attention to your business through positive talks.
For Communication
Communication enables you to manage your reputation, respond to crises, engage customers, and develop customer support.
Effective communication on social media entails that you acknowledge your customers by sending them plenty of thanks when they're singing your praises.
Give prompt replies that settle your customer's frustrations when they share them on social media. If someone is saying something negative or spreading lies about your business, do not keep quiet, debunk the lies diplomatically and politely.
Social media allows you to share your crisis with customers as you don't want to leave them in the dark, as this can breed distrust when they learn about it from other sources.
Social media is a two-way street that allows you to engage customers by answering their questions about your business and liking their comments on your posts.
Great customer support on social media can say good about your business and show that you have your customers' interests at heart.
For Advertisement
You can utilize social media for targeted advertising. A social media ad is a cost-effective tool that you can use to distribute content and promote your business. It provides strong targeting choices to help you reach the right audience and maximize your investment.
You can create tailored content that best appeals to various groups of potential buyers using ad targeting choices that include demographic data, region, language, and even online activities.
All you need do is pay for the precise viewers you want to reach.
With the retargeting ad features, you can reach customers who may have expressed interest in your business before. You can easily show these prospective customers social media adverts for the precise goods they had explored or added to their shopping carts on your website.
For content creation and distribution
With social media, you can create, distribute, and promote content related to your business.
A way to create relatable content on social media is by engaging your followers. Content ideas can spring from asking your customers what they want. Giving people what they want is a sure way of creating engaging content that people are eager to share with their network.
Another way is to find user-generated content (UGC) to share by starting a contest or using a hashtag. Engaging your audience with this approach can increase their interest in your brand and give you a surplus of social media content to share over time.
For gaining insights
Businesses evolve, and changes happen regularly in the digital space. If you don't want to be left behind, social media monitoring can help you stay up to date on impending changes in your industry that may impact how you conduct business.
Social media monitoring is an important element you can use to learn more about your customers. In real-time, social media generates a ton of data on your customers. You can use such knowledge to make more informed business judgments. Most social media platforms give analytics that reveals user demographics who engage with your account. This can help you channel your marketing strategy specifically to them.
Social networks also allow you to keep an eye on your competitors; knowing people's thoughts and perceptions about your competitors is vital.
Keeping track of your competitors will notify you when they launch new products, run promotions, or release data or reports about their products. What this does is that it brings your awareness to mentions of your competitors that may help you identify problems with their products and services that you can remedy to gain new customers.
The video below explains how to stand out on social media as a small business:
How Small Businesses Can Stand Out With Social Media Marketing – YouTube
FAQs
What are the 5 main reasons businesses use social media?
The top 5 main reasons businesses use social media are:
To share their products and services.
To offer customer service.
To market their company.
To increase reach and lower costs.
To collaborate and connect with customers and partners.
How effective is social media for small businesses?
Social media is effective for small businesses because it's a great way to connect with your customers, create a dialogue, and share your brand with the world. It's not the most effective tool for generating sales, but it's highly effective for building your brand and customer base.
Why do small businesses need social media in 2022?
There are many reasons why small businesses need social media in 2022. Social media is a great way to find new customers and is free to use. One of the ways it's used is to promote small businesses' products and services.
Why is social media important for Your Small Business?
Social media is important for your small business since it is one of the easiest and most popular ways to get your company's name out there. It is a great way to interact with your customers, and if you are successful, it can make your business grow.
Does social media really help a business?
Yes, social media has helped many businesses in many ways. Social media allows businesses to promote their products and services to a wide range of people without meeting them face-to-face.
How to use social media for Your Small Business?
Below are ways to use social media for your small business:
Make it personal in interacting with customers and prospects
Use your businesses brand voice
Be consistent and regular with your postings
Get a dedicated social media manager to handle your social profiles.
Is social media really worth it for small businesses?
Yes! social media is worth it for small businesses; with networks like Facebook, Youtube, TikTok, etc., you can post updates to keep your followers updated about what is happening with your brand, attract prospects, and nurture leads and sell to repeat customers.
How does social media help businesses?
Social media can help businesses in several ways. For example, it can help build customer relationships by sharing discussions and similar interests and fostering brand loyalty.
Social media also allows businesses to track what customers say about their products or services, which can be used to improve.
Social media can also be used to share news about a company's new products or services or to share tips and advice on using their products or services.
How does social media help businesses?
If you have a small business, social media can be a powerful and effective tool to help with marketing and to help grow your business. However, it's important to understand that social media is not a one-size-fits-all solution.
Bottom Line
Social media marketing is the new wave here to transform small business outcomes.
Utilizing social media as a part of your small business's marketing plan can significantly impact your ability to grow your business rapidly and profitably.
Social media use for businesses is now a necessity. It's a crucial strategy for connecting with customers, gathering insightful data, and growing your business.
Read more:
Best Social Media Marketing Agency For Small Businesses in Florida, USA – Sociallybuzz
6 Awesome Benefits Of Social Media Marketing For Small Businesses – Sociallybuzz
8 Reasons & Benefits of Hiring a Social Media Manager – Sociallybuzz
Social media marketing strategy for restaurants and food franchises – Sociallybuzz
Online ad costs: How much does it cost to advertise a small business online?