The first consideration in the mind of a business owner interested in running an online advertisement is how much it costs to advertise a small business. 
Online ads are one of the best ways to scale up a business; it's a business promotion scheme that you don't just launch into without being better equipped with the right information, tools, and skills.
There is always the burning question for startups and small businesses: "how much will it cost me to advertise my business online?"
The answer to this question will depend on the platform you want to utilize in advertising your business and your business goals. Many options are available for online advertising, including search engines, Google ad network, social media, SEO, display ads, content marketing, email marketing, etc., and these platforms use different price structures and ranges. 
Please contact us if you plan to work with a reliable advertising company. We will serve you better without breaking your bank.
Below is our client's testimonial:
The internet accounted for 51% of the total media ad spend in 2021. Businesses spent an estimated sum of $378 billion on online advertising. While some small businesses paid millions of dollars for extensive online advertising campaigns across various platforms, some small businesses chose to spend nothing or very little on their marketing initiatives. The rest were in the middle of the two extremes.
If you're starting to develop your internet advertising strategy, knowing the cost range for advertising a small business online will assist you in choosing the platforms that are most appropriate for your business.
This article will show the various online advertising options and how much it costs to run a small business ad on each platform.
We will also highlight how much small businesses spend advertising their company online so you will know how much to spend.
Read also: The cost of social media services in the U.S.A
How Much Does Advertising Cost for Small Businesses?
Online advertising prices for small businesses vary significantly based on several criteria, including the services you use, the channels you employ, the scale of your campaigns, business goals, and other factors.
The annual income of small businesses in the U.S ranges from $100,000 to $120,000, and the average annual income for small businesses with no workers is $46,978. 
The average monthly expenditure for small businesses using Google to advertise online is between $9,000 and $10,000.
According to Facebook, the average cost of a click on an internet advertisement is $1, and Facebook Ads have an $18 average cost per action.
Recommended: Check out the social media marketing agency for small businesses in the US.
Average Advertising Costs for Small Businesses
On average, small businesses spend $2500 to $12,000 monthly advertising online. While most small businesses pay $10,000 on online advertising yearly, more than 37% spend less than this amount annually.  
About 20% of small businesses pay $10,001 to $50,000 on advertising annually, and 7% only pay more than $1 million on advertising yearly.
Costs of Online Advertising for Different Channels
Determining the costs of online advertising for the different advertising channels will allow you to control how much you want to spend.
After determining the costs and how much you want to spend, you can test different channels to see which ones provide the best results.
Below are the different online advertising channels and their costs. 
Online ad costs: how much does it cost to advertise on Google?
Besides Google's prominence in search technology, online advertising accounts for most of Google's billions of dollars in yearly revenue.
The largest online advertising platform, Google AdWords, is a fundamental part of the internet. This only shows that the quip, "Google is an advertising company that just so happens to operate a search engine" is not far from the truth.
The Google advertising world operates two models: the search and display networks. 
Google search network utilizes pay-per-click (PPC) advertising. PPC ads appear above or below regular Google search results for a user's specific query or keywords. 
Google search network shows users ads relevant to their search query or keyword. 
Rather than displaying your advertisements to vast audiences that could or might not be interested in your product, you can use PPC ads to specifically target people interested in the products and services you offer. Small businesses can utilize this channel to drive traffic to their website.
Pay-per-click, as the name implies, charges advertisers every time someone clicks on their ads. Because PPC operates on a bidding system, your online advertisement rate, known as cost per click (CPC), and the competitive landscape determines your ad position.
How much you're willing to pay more than your competitors for clicks— and the Quality Score of your ads (how good your ads are) plays a significant role in the success of your Google Ad campaign. With a higher Quality Score, you can increase your ad rank and decrease your CPC.
Other factors that determine your CPC are geographic location and industry. Depending on your location and the competition in your industry, your CPC can range from a few dollars to several hundred dollars.
The average CPC is $1 – $2 per click on the search network. Small businesses may pay between $9,000 and $10,000 on PPC monthly. 
Google display network utilizes display ads, and these display ads mainly feature banner ads. The majority of display ads are found on easily retrievable websites. Although, some display ad formats allow advertisers to integrate rich media content such as animation and video. 
Unlike PPC ads, display ads generally have much lower click-through rates (CTRs). Like the search ads, increasing CTR for display ads will yield more return on investment. You can increase the CTR of your display ads by matching them with options like life-event targeting and remarketing. 
There are three price points you can choose from when running ads on Google's display network:
Cost-per-click (CPC) Pricing: This pricing option will mean you pay only when someone clicks on your ad. This is your option if you want to drive traffic to your website when someone clicks on your ad.
Cost-per-thousand impressions (CPM) Pricing: here, you're paying for views. You pay when the ad gets one thousand views. This option is ideal for brand awareness campaigns where you want your advertisement to be viewed as frequently as possible by your target audience.
Cost-per-acquisition (CPA) Pricing: choose this option if your main objective is to make sales or other online transactions. After determining your CPA, you only pay when your ad results in a conversion.
Generally, the average cost-per-click on the Google display network is $0.58. 
The good thing with social media advertising is that it lets you create a free account where you can engage with your customers. While this can be rewarding, you can maximize the impact of your social media advertising strategy by using the paid ad options offered by social media platforms such as Facebook, Instagram, Tiktok, etc. 
The majority of social media platforms feature online advertising pricing models that function similarly to Google Ads. Examples are Facebook and Instagram.
The cost of advertising on Facebook: Facebook is an authority in advertising. As the world's most popular and widely engaged network, you can be sure to target a vast audience with Facebook ads. 
Facebook allows advertisers to choose a daily budget for their advertising campaigns. The ads stop running when the daily budget has been exhausted. Advertisers, in agreement with their daily budgets, also control how and when their ad budget is used. This control means deciding how much to spend on options like a user downloading a piece of content or signing up for a newsletter. 
Even though Facebook Ads give advertisers a lot of flexibility regarding campaign goals, the costs can still be split down into CPC. The average CPC for Facebook ads depends on factors like your target audience and GEO. 
However, Facebook ad CPC could be lower or higher than $0.97 per click. Small businesses can leverage Facebook ads because it gives an excellent return on investment, and the average cost-per-action (CPA) is remarkably lower than on Google ads. 
The low CPC on Facebook is especially beneficial for advertisers in the fashion, retail, travel, and hospitality industries.
The cost of advertising on Instagram: Instagram is owned by Facebook, and it operates advertising models similar to that of Facebook. Starting your first Instagram ad campaign won't be too difficult if you're already acquainted with Facebook ads. 
Instagram utilizes the CPM pricing model. This is because Instagram is, first and foremost, a visual platform. Given the increasing popularity of Instagram, the cost of advertising there has increased over the years, and also because it records a strong user engagement with ads. 
Average CPM on Instagram was generally between $5 and $6.50 when it first started, enabling advertisers to begin campaigns throughout the network. They are now getting close to the $10 CPM threshold, the same as Facebook's price.
For Twitter, the average CPC is $0.38, and that of LinkedIn is $5.26. 
Online advertising costs for social media campaigns often range from $450 to $6000 per month, with monthly ad spending ranging from $200 to $50,000. These prices cover advertising on various networks, hiring pros, and technology costs. 
How much does search engine optimization cost?
Small businesses can use search engine optimization (SEO) marketing strategy for advertising their company online.
SEO is the process of improving a website's technical setup, content relevancy, and link popularity. Enhancing your website's pages through SEO will make them relevant and easily accessible. As a result, they rank higher in search engine results for related terms or keywords. 
You're mostly going to drive traffic to your website when optimized. The best approach will entail working with a professional firm unless you have prior SEO knowledge. 
The average SEO cost is between $750 and $2,000 per month. However, the cost can go as high as $10,000 per month, depending on business needs and goals.
How much does content marketing cost?
Content marketing is regularly creating and promoting original content about your business to inform your audience about the products and services you offer and consequently attract potential customers. 
To an extent, an updated website is an indication that you are already in the process of content marketing. You can create and promote your content yourself or hire a professional company to do that for you. Working with an experienced content marketing agency for services such as strategy development and planning, creating, distributing, tracking, and promoting content will save you time and get you better results.
Small businesses will likely spend from $2000 to $10,000 monthly on content marketing services.
How much does email marketing cost?
Email marketing is one of the oldest forms of online marketing that still maintains a high return on investment. 
Email marketing includes strategy development, content creation, and email tracking. You can employ an online marketing firm to handle your email marketing. 
The platform you select and the person who writes the emails' content will affect how much money you invest in it.
The monthly cost of managed email marketing services can range from $300 to $1500.
If you decide to write and send the emails yourself, the platform you use to reach your customers and the number of subscribers you have will determine the cost. The cost can range from $9 to $1000 per month.
Online advertising costs infographics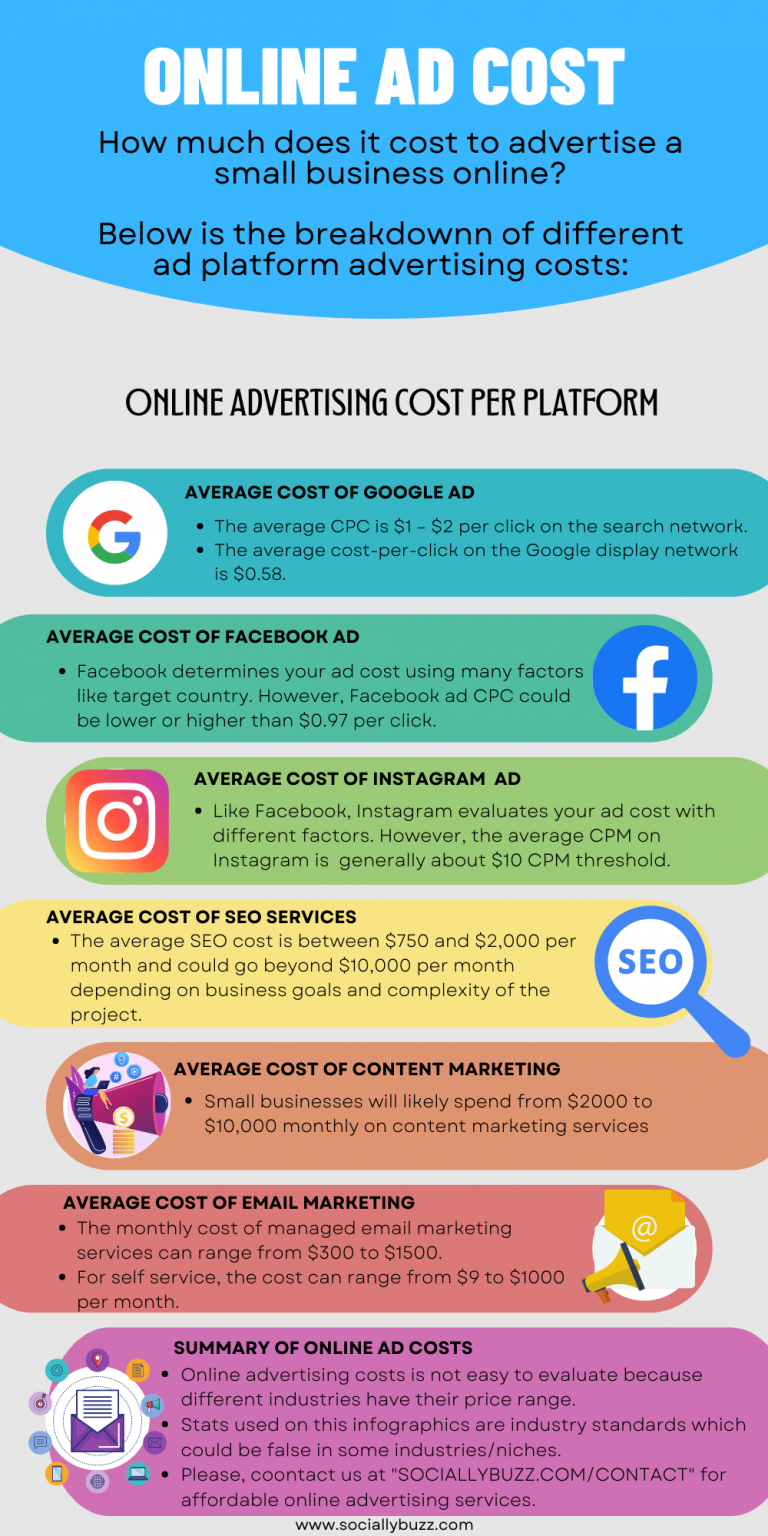 In Conclusion 
Unlike the traditional advertising in local newspapers, radio stations, and tv channels, online advertising is typically more cost-efficient and effective. With online advertising, you can direct your advertising budget to a more targeted audience and carefully monitor how that audience reacts to your ads.
Before you use online advertising to promote your business, endeavor to ascertain the channels that would be effective for your business and the amount you are willing to spend. 
When you've decided on your budget, think strategically about your target audience and channel your focus on them. You'll get considerably better results over time if you concentrate your marketing strategies on the online platforms where your target audience is more likely to be found.