Ultimate Guide to Artificial Intelligence in Contact Centers [AI Call Center]
Advancements in AI technology have transformed many businesses, including call centers. Since the rise in AI popularity, call centers have developed capabilities to enhance their customers' experiences, thanks to AI's ability to automate routine tasks and increase efficiency.
From reducing operational expenses and increasing agent productivity to delivering actionable analytics and novel insights, AI enables call centers to customize their customer experience.
In this article, we will discuss how call centers are using AI solutions and the benefits of AI in call centers.
About Sociallybuzz
Sociallybuzz is a leading social media marketing, management, and digital advertising agency for small and medium-sized businesses. With over 12 years of experience, we know how to create and execute marketing campaigns that will help you grow your business. Our social media agency has created successful targeted social media campaigns that acquired our customers more leads, sales, and revenue.
10.57% Conversion for Our Client Leveraging Google Performance Max. Learn More
We used Facebook Ads and Google Ads to Drive Over 6 Figures in Sales for a B2B Brand. Read More
18X Return on Advertising Spend and Over $3 Million in Sales for an Online Store. Read More
Contact Center AI: How Artificial Intelligence Has Evolved in Call Centers Over the Years
Technology in call centers has evolved over the years, from using letters to provide customer service to manual and automated phone calls.
Emails tagged along, offering customers another channel to reach businesses. Email opened the door for multichannel access, including virtual agents and chatbots. Even more recently, the open AI machine learning, ChatGPT, has rapidly raised interest from businesses and consumers in generative AI.
The following shows the phases of AI evolution in call centers over the years:
Call routing moved from being manual to being automated. Today, AI-powered systems can assess incoming calls and utilize algorithms to identify the best-qualified agent to address a particular query. By doing so, manual call transfers are no longer necessary, wait times are decreased, and clients are immediately connected to the agent best suited to respond to their inquiries.
From human interactions to virtual agents. Virtual agents, chatbots, and conversational AI can now comprehend and respond to consumers' inquiries in real time using Natural Language Processing (NLP) and Machine Learning (ML) algorithms. Responses from these sophisticated technologies are instant, saving customers from spending hours on hold and freeing up time for human customer service agents to attend to inquiries that call for human expertise.
From manual quality assurance to AI-assisted reviews and speech analytics. Previously, call center supervisors conducted quality assurance and performance reviews by listening to their agents' call records. Today, supervisors do not have to evaluate their agents' call records manually; AI-powered speech analytics can review and generate quality assurance scores. This saves time and lowers the likelihood of a biased quality assurance review.
Read More: AI Contract Management Guide
The Future of AI in Call Centers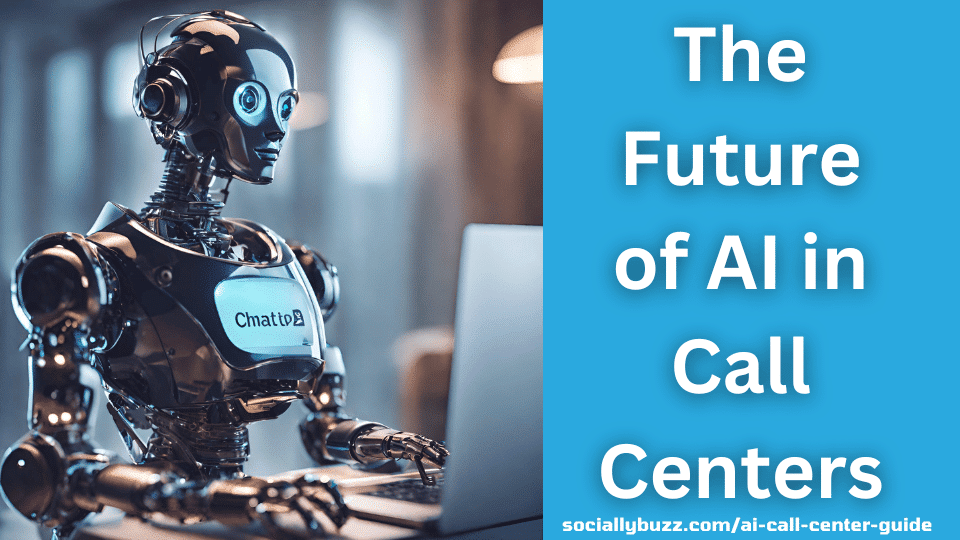 AI is set to create interactions in call centers that feel more like human connections. Integrating AI in call centers only helps to complement and provide enormous efficiency to human intelligence.
Even though many call centers' AI capabilities are still in their infancy, their continuing adoption and improvement will guarantee a future where automating routine tasks and data collection, analysis of call center data, and enhancing response times and quality to support service personnel are widespread.
In the future, while AI will never completely replace humans in customer service and call center roles, they are expected to take on more repetitive tasks and increase call center efficiency.
Predictive Behavioral Routing
Predictive behavioral routing turns a random customer inquiry into a customized customer service experience by matching call center customers with specific customer personality models, which are then used to route calls to the agents who can handle those particular personality types.
It ensures that the interaction between the consumer who is calling and the agents who are available to respond is both natural and good by carefully analyzing both parties' natural predispositions and communication habits. The predictive behavioral routing software can paint an ideal caller's picture using various factors such as call history, personality and customer communication style.
Recommended: Social Media for Doctors
Why Use AI in Call Centers for Best Customer Experience?
There are many reasons why using AI in call centers can provide the best customer experience. Let's look at some of them:
Enhance Customer Experience
Customer service is a major distinguishing factor for many businesses. Brands must keep providing excellent customer experiences through AI-enhanced personalization and customer service.
AI in call centers is ramping up customer experiences, from providing near real-time feedback on customer and employee insights, stress predictors, and voice-of-the-customer innovations to giving contact centers the visibility they need to help enhance the customer experience.
Seamless, hyper-personalized AI-powered experiences may make all the difference to customers. AI-enhanced call centers let human agents make intelligent, real-time decisions that can be utilized to determine the next suitable course of action. Not only is AI enhancing the consumer experience, but it is also making employees' daily lives more productive, interesting, and personally fulfilling.
Conversational AI Chatbots
Many businesses are incorporating a significant amount of AI-powered messaging. AI allows call centers to fully or partially automate large-scale discussions on message channels.
According to a LivePerson poll, 75% of customers stated they spend more money with businesses that offer messaging, demonstrating that consumers are becoming acquainted with using AI-powered customer support. Conversational AI enables business call center agents to concentrate their time and efforts on more engaging and complex issues while automating repetitive tasks.
The Pandemic and AI in Call Centers
2020 was a year of disruption for many businesses and a year that changed the world of customer experience forever. The pandemic allowed for a reinvention of call centers. Call centers had to transition from in-office call centers to home offices.
While many businesses were compelled to switch to an all-remote workforce, AI allowed businesses to continue operating. Call center leaders turned to AI-based solutions like predictive analytics to gather internal and external data for employee empowerment and to develop a competitive advantage in customer experiences to maintain the health of their staff, customers, and brand reputation.
Read More: SAAS Social Media Guide
Using IVR in the Call Center
IVR, or Interactive Voice Response, is a technology that allows customers to interact with a conversational voice agent in call centers. Even though IVRs didn't accomplish much to enhance the customer experience when they were initially introduced, they saved call center agents much time.
Since then, AI has changed a lot about how IVR is used in call centers. AI-enabled IVR can now respond to consumer inquiries with accurate and more specific information. AI-powered IVR provides answers to customers' queries that were not answerable before.
Real-time Responses and Suggestions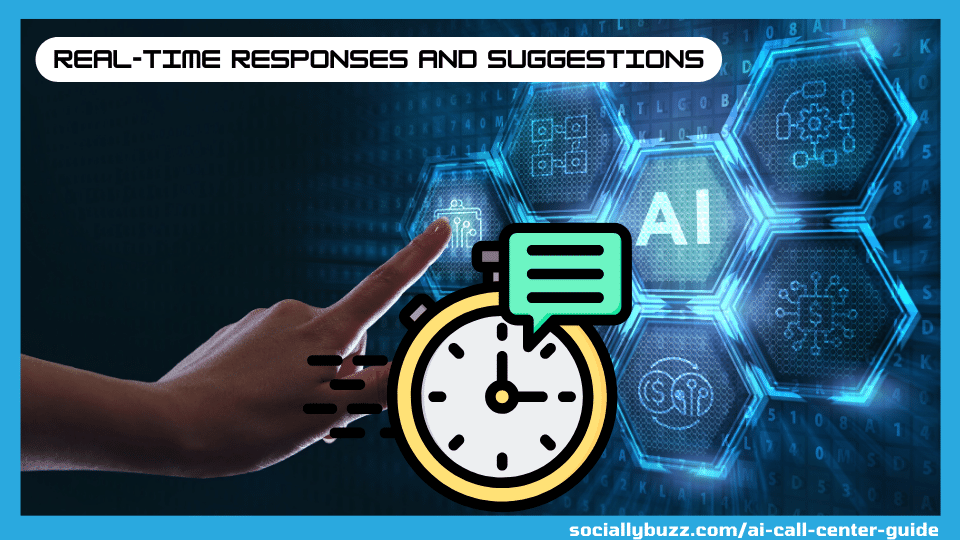 Instead of keeping customers on hold, AI allows call centers to respond to large volumes of customers in real time. AI can also give real-time feedback on how a discussion is going and search knowledge sources for answers to challenging queries for call center agents in training or just new to customer service.
It helps improve best practices, increase the quality of customer calls over time, and lower customer dissatisfaction rates. Also, this technology can be used to monitor discussions for compliance with corporate standards and notify call agents when a conversation deviates from the intended path and might call for intervention or further action.
Understand Your Customer Behaviors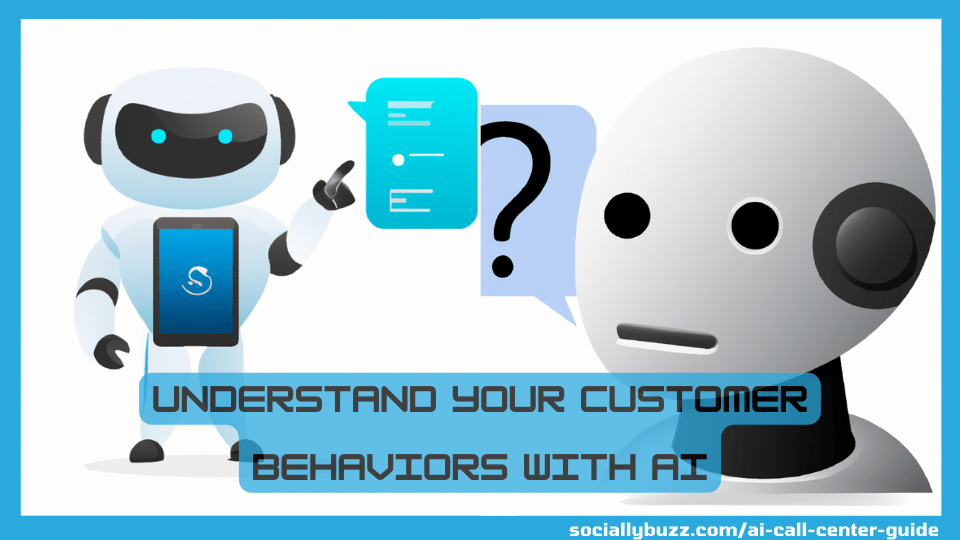 AI can help call centers identify and understand customer behaviors. Understanding customer behavior will enable you to establish best practices around emerging customer needs promptly.
Furthermore, AI can provide you with access to comprehensive consumer data and behavioral profiles. Call center agents can use this information to immediately modify their approach to customer retention and every other customer interaction by anticipating the consumer's demands.
Recommended: Best Restaurant Marketing Agency
Self-service and Virtual Customer Assistants
AI eliminates the need for human involvement by automating consumer interactions that would have otherwise required a human agent. It facilitates self-services like making an order, checking their account balance, or paying a bill independently. You can leave everyday inquiries and other essential interactions that might be categorized as "self-service" to AI.
AI could take on more substantial self-service automation in the future, and the ability of AI to appropriately automate customer interactions hinges on having reliable data.
Better Call Routing Using AI
AI is accelerating the process of determining which agent to put on a call. AI uses a call routing system to pair customer profiles with agents who are suitable for assisting them. Call center software can now use self-learning algorithms with intelligent call routing systems to analyze customer personality models, call history, and behavioral data. It then makes decisions based on that information on how to handle calls most effectively, sending simple, routine requests to support chatbots when possible and only routing calls to live agents when the request is complicated enough to call for human intervention.
Summary: AI is Changing the Call Center Industry
Whether as an agent, supervisor, or business leader, AI technology can ease your work in many ways, from increasing agent efficiency to improving the customer experience and the quality of data collection.
AI has revolutionized how call centers operate by optimizing routine tasks and processes and providing better satisfaction for customer needs.
As AI develops, call centers should continue assigning transactional and computational work to chatbots while saving more complicated requests for human agents. 
About Sociallybuzz
Sociallybuzz is a leading social media marketing, management, and digital advertising agency for small and medium-sized businesses. With over 12 years of experience, we know how to create and execute marketing campaigns that will help you grow your business. Our social media agency has created successful targeted social media campaigns that acquired our customers more leads, sales, and revenue.
10.57% Conversion for Our Client Leveraging Google Performance Max. Learn More
We used Facebook Ads and Google Ads to Drive Over 6 Figures in Sales for a B2B Brand. Read More
18X Return on Advertising Spend and Over $3 Million in Sales for an Online Store. Read More
Read More: