For your business to grow and be successful, you need to implement at least one of these best marketing strategies.  
But before we dive into the list of these important marketing strategies, let's first take a step back and look at what a marketing strategy is.
What Is A Marketing Strategy?
A marketing strategy usually refers to a business's marketing plan to 

reach new customers and boost sales.
Marketing strategy has 

two main objectives

, one for a short period and one for the long term.
The short-term objective of marketing strategy is to bring in revenue for a particular period. The long-term aim is to build a sustainable customer base, recurring sales, loyal customers, and customers with a profitable lifetime value. 
To achieve these objectives, businesses need to devise

an effective marketing campaign

 to capture people's attention and convert their prospects to customers.
Do you want to grow your local business?

Try our proven marketing strategies below. It will help your business snowball.
1. Blogging
Blogging is a form of self-publishing articles or blog posts on the World Wide Web for your ideal audience to read and learn more.
It's a way to educate, inform, interact with and sell your audience.
Blogging is prevalent in this generation. Many people venture into blogging because it's profitable. You can grow your local business by writing a blog post just as the one you are reading. 
At Sociallybuzz, we utilize this strategy to grow our website by writing social media marketing blog posts that attract our website's target audience. 
If you are trying to grow your local business through blogging, below are the best type of blog posts to write and strategies to use;
A: Write a head to head comparison post
You probably have hundreds of competitors out there. So how do you stand out? It can be complicated to be unique among your competitors.
The best marketing strategy to use is to write a detailed and truthful comparison post regarding each competitor in your industry. 
P.S: When writing a versus post to convince your prospects, highlight the features your competitors are lacking and use it as your stand to benchmark your competitors. 
"Nwangene Franklin," wrote a comparison post titled @Semrush Vs. Similar Web. The article is an example of a comparison post that aids you in writing a perfect comparison post to convince a potential customer to patronize you instead of your competitor.
B: Write informative reviews and how-to guides
It's vital to enlighten your ideal audience by publishing educative articles for them. It helps them understand the benefits of your business offerings and how to take advantage of them. 
With a blog, you can write "How to posts or reviews about your business." Educate your customers/prospects on how to use your business services or products. You can achieve this by writing "How to guides and review posts."
We have some examples of "How-to posts on our website, Sociallybuzz. Check it out below;
– How to create a social media policy for your business
– How to choose the right social media advertising platform ( + strategies)
– How to get more likes on your Facebook page
– How to verify your Facebook page using a phone number
C: Create Infographics post
You can grow your business by presenting important information in graphical form. Blog posts with unique images or graphics tend to get more backlinks and traffic.
Some content writers find it challenging to design eye-catchy graphics. Many of them don't have sufficient time to create unique images for each blog post they write. 
When they are in this position, they have no other option than to use images made by others to write their post, thus, crediting the source with a backlink for using the image.
Create infographics posts and promote them to reach more people. Usually, as people use your infographics on their article, they are likely to credit the source with a backlink which helps to increase your local business website traffic and domain authority.
You can venture into blogging and grow your local business by creating a WordPress blog to educate and interact with your business target audience. 
2. Social Media Advertising
Millions of social media users are interested in your business. Your business has a social media account, but how do you reach a more targeted audience? The answer is social media advertising. 
With social media advertising, you can reach a broader audience by running an advertising campaign to attract your ideal audience towards your business.
Sometimes, it can be tough to choose the best social media platform when planning your next social media campaign. 
The Sociallybuzz team has written a comprehensive article that will help you decide which social media platform to reach the right people. 
Our social media marketing agency, Sociallybuzz, has over 12 years of experience in social media marketing. Contact us today and see how your business will grow by utilizing our best-in-class advertising strategy for reaching your target audience on social media.
3. SEO(LOCAL SEO)/SEM
SEO, Search engine optimization, is a broad digital marketing sub-category that allows marketers to reach their target audience through search engines. 
With the help of SEO, you can grow your business for free by ranking your posts on search engine result pages. Traffic from an SEO channel converts well, but search engine optimization is complicated. 
Before your post can generate organic traffic, you will have to optimize it for users and search engines. Easier said than done, optimize your blogpost and rank on google. The truth is, you will have to invest a lot of your time, money, effort and also exercise some patience for SEO to work for you.
So, what's the way up? Leverage the power of "local SEO" and Search engine marketing(SEM) for fast and effective results.
A local SEO campaign is a marketing campaign that focuses on attracting customers in a particular geographic location.
A business with a local listing is more likely to get found in search engines when people search for terms related to their business. Companies should list themselves on "Google My Business" for an easier way to get found in the SERPs and on Google Maps.
If you want to grow your business quickly, you need to utilize local SEO. 
On the other hand, your business should leverage search engine marketing for quicker results through search engine advertising.
Search engine marketing (SEM) involves increasing the visibility of web pages in search engine results pages (SERPs) for specific search queries using a combination of techniques, including keyword research, search intent optimization, and advertising strategies.
With SEM, you can target keywords that resonate with your target audience and create an ad to reach them on a search engine platform.
4. Affiliate Marketing
Affiliate marketing is a marketing strategy marketers use to increase their sales and grow their audience. 
Create an affiliate marketing program to encourage bloggers, content marketers, and affiliate marketers to promote your business while giving rewards to your affiliates. 
Your affiliates have money in mind. So they will always advocate for you and promote your local business to earn some commission through your affiliate program. 
Below are some of the benefits of using affiliate marketing to grow your business.
2. More reach:

 Let's assume your business has 1,000 affiliate partners promoting your products/services to 1,000 unique audiences. Your business will potentially reach one million people without you doing any work. That's a good reason to start utilizing affiliate marketing in growing your local or online business.
6. Trust:

 Without trust, your business will strive to convert prospects to customers. That's to say, no stranger would buy from you without trusting you. Your affiliate partners build trust for you by encouraging their followers/audience to patronize your business. 
Their audience trusts them, so when they recommend your business, they give out their trust to you, meaning that you are reputable. Also, using testimonials from authoritative affiliate partners promoting your business helps your business to generate easy sales.
We also have a high-paying affiliate program in Sociallybuzz which can double your income by promoting our social media agency. Join and enjoy!
5. Influencer Marketing
There are millions of influencers and celebrities to partner with on social media to boost your business. Influencer marketing is an excellent strategy in marketing that makes it possible for you to tap into an influencer's followers. 
Negotiate with mini influencers to promote your business. Influencers are game-changers because they;
1. Can boost your sales: A couple of people buy "Nikes" products because "C.Ronaldo" promotes the brand. He is a well-respected celebrity globally. Recently, my friend decides to buy a phone that's not in his budget because "Lionel Messi" is backing the product. As a business owner, you need to leverage influencer marketing to grow your business.
2. Build a good reputation for your business: If someone like Messi or C.Ronaldo can recommend your company, it means your business is trustworthy and reputable. A single post or campaign they publish for you makes your business authentic.
3: Expose your brand: Working with influencers and celebrities has proven to be a valuable investment. Their followers are loyal, and because of them, you can reach millions of potential clients that may open up your doors for business.
When partnering with influencers, it's best to leverage mini influencers.
Research shows that mini influencers are engagement boosters. My recommendation is to partner with different micro-influencers than to partner with one mega influencer.
Sociallybuzz can help you develop result-driven influencer campaigns.
6. E-mail Marketing
You must have heard of this, "The money is in the list." Yes, your money is in your E-mail list contacts. If you are a business owner and you don't have an e-mail list, you are one step away from the right track. 
Your social media followers are not under your control. You can lose your followers anytime because you are not the owner of the social media platform you are using.
Your search engine traffic isn't permanent. You never know when Google could change their algorithms and render your website useless on the search engine.
But you have 100% control of your E-mail list contacts. If you have 100,000 E-mail subscribers, they will be your lifetime audience as long as they are on your list. You can send them promotional offers or important information through E-mail marketing. 
It would be best to start building your E-mail list right away to grow your business. As a business owner, E-mail marketing reduces the stress of engaging with your audience.
E-mail marketing automation will help you achieve more with less effort. You can use this marketing strategy to set up automatic greeting messages or event-driven campaigns that send e-mail campaigns to your subscribers when they complete an action on your website. 
If your business aligns to SAAS(software as a service) or E-commerce, you will need an E-mail hosting platform to carry out E-mail marketing automation. 
Assuming some of your customers attempt to purchase from your website but failed to finish up a purchase, you can send them a follow-up e-mail newsletter that will convert them. 
ActiveCampaign is one of the best E-mail hosting and automation platform to use.
There are a lot of benefits you will get by utilizing E-mail marketing to grow your business. You can segment your subscribers and send unique messages based on their subscribed list and lots more. 
Click here to try ActiveCampaign for free.
7. Vlogging
Vlogging is the opposite of blogging. The main difference here is that blogging involves writing blog posts or articles, while Vlogging is about video content.
Youtube data shows that "HOW TO TIPS" ranks in the top six most popular types of content. 
Create a YouTube channel where you publish helpful "How-To videos" for your ideal audience because 51% of YouTube users are interested in learning. Enlighten your audience about your business services or products; this will help you win sales and potential customers.
According to Hubspot research, 25% of consumers lose interest in your business if you don't use video content on your social media channels. That's to say, for you not to lose 25% of your target audience, you need to start using videos to communicate with your ideal audience.
It doesn't end in YouTube marketing. You have Instagram, Facebook, Tik-Tok, Snapchat, and many other social media platforms to utilize.
8. SMS 
SMS marketing is a type of direct marketing that relies on text messaging, known as SMS (short message service). It is an inexpensive way to communicate with a large number of people at once. Using a bulky SMS provider will make it cost-effective.
SMS is still effective, and that's probably why network providers use this medium to send us vital information. At times, E-mail service providers label your campaign as spam. The case is rare when it comes to SMS.
SMS is an old marketing strategy, but it is still worth giving it a try. To efficiently collect your customer phone numbers, you need to offer them a freebie or ask them to present their contact phone number to receive vital and helpful tips from you.
Some E-mail hosting company like "SendinBlue" allows you to collect and store contacts from The SMS marketing strategy will help your business grow if you strategize to send promotional and informational messages to your customers and prospects.
SMS is neglected ever since social media messaging platforms like WhatsApp, WeChat, Telegram, Line and, Signal came into existence. Without a doubt, SMS is still effective.
Collect your customer's/propect's phone numbers to have an independent list you can send offers and information whenever you want.
The key benefits of this form of marketing tactics include;
We have made an Infographics for you. Feel free to Pin it on your Pinterest board.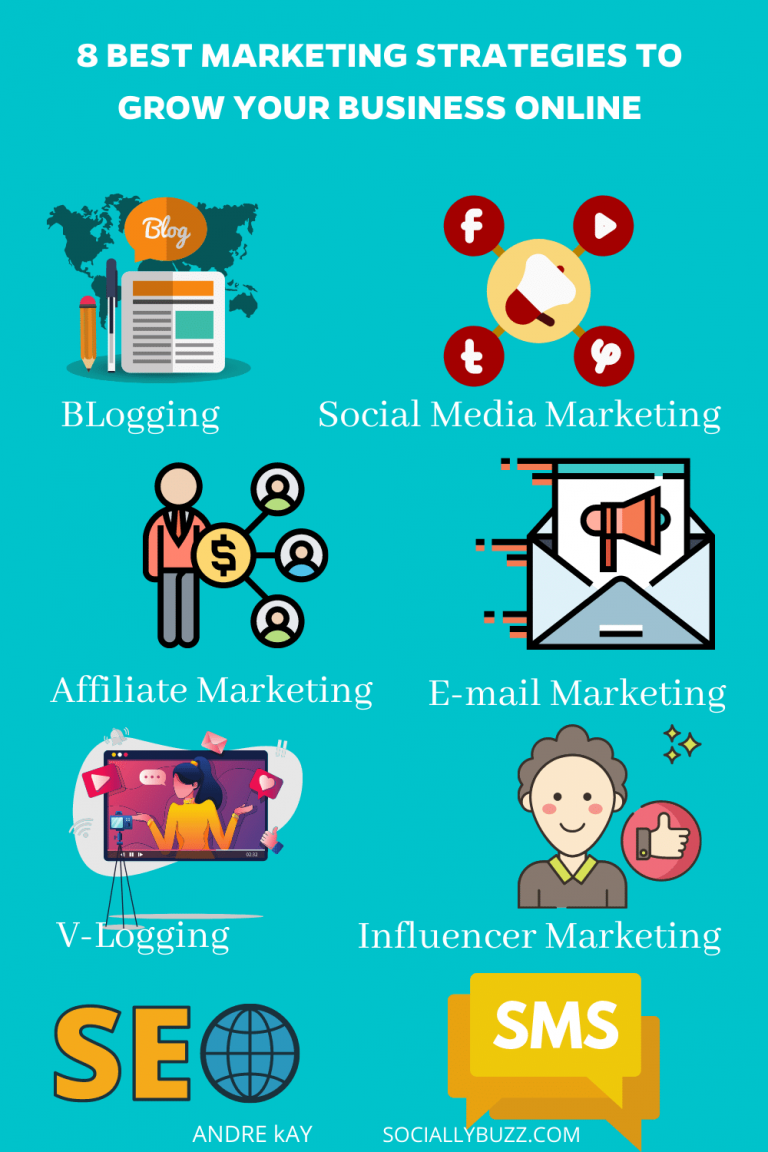 Summary
The best marketing strategy is a goal-oriented plan that focuses on a particular segment of the market. For example, if you want to sell more children's apparel, then you should focus on marketing to parents with young children.
The marketing strategies above are proven ways to grow your business. 
Implement all the strategies above to beat your competitors. Competition is inevitable, so you need to do every possible thing to overshadow your competitors.
Don't forget to share.
ABOUT SOCIALLYBUZZ
Sociallybuzz launched in 2009, is a Social Media, Advertising, and Reputation Management Company. We exist to help businesses grow using social media, data, and advertising.
Recognized as one of the Best Entrepreneurial Companies in America, Sociallybuzz was named the Top Marketing Agency to help Franchises strive by Entrepreneur Magazine.
For more information, visit http://www.sociallybuzz.com.