It can be very daunting to consider all the daily tasks social media marketers must perform, from content creation and publication to analytics and reporting. And one thing that you most likely don't have as a small business owner is a lot of time.
You don't want to waste a lot of your time in trial and error, looking for and learning how to use any social media tool you come across to accomplish your marketing objectives.
Fortunately, there are many amazing social media management tools at your disposal. These tools can speed up your processes, save time, and even guarantee that the appropriate people see your content at the right time.
Social media marketing tools help you manage all the tasks involved in your social media marketing for your small business. 
This article reviews the top social media tools to help you decide which is ideal for your business. 
About Sociallybuzz:

Sociallybuzz is a leading social media marketing, management, and advertising agency for small and medium-sized businesses. With over 12 years of experience, we know how to create and execute marketing campaigns that will help you grow your business. Our social media agency specializes in using the power of social media to create highly targeted campaigns designed to get you more customers and sales.
The Best Social Media Management Tools for Small Businesses 
Ask the question of 'what' before deciding on the social media tool that will work best for your business. 
What do you intend to achieve?
Having a presence across all social networks is useless if you don't know what you want to accomplish or who you want to reach.
A great social media management tool will enable you to manage the following specifically with your social media platforms:
Schedule your postings.
Utilize insights to analyze your audience and evaluate your competitors.
Make it possible for you to listen to what people are saying on social media.
Assists you in responding to your messages, mentions, and other inbox messages on your social media platform. 
Provide you with data and analytics.
Allows team members to control your channels.
Suppose you want to create an effective social media marketing plan. In that case, you'll need tools to assist you in website analytics, drafting your social media posting time, content topic research, email marketing, security and password management, lead generation, and content promotion.
Hootsuite
Hootsuite is arguably the most popular social media management platform, with over 18 million users ranging from small business owners to large organizations. 
Hootsuite is a platform that enables you to run social media ads, schedule content, track your social ROI, and more.
Hootsuite is the best platform for solo users managing many social media accounts for their company. It allows you to access over 35 social networks, monitor multiple accounts and keywords, and bulk schedule your social media postings. 
Hootsuite offers a limited free plan and paid subscriptions that start at $49 per month with a 30-day free trial. 
The free plan lets you queue up to 30 posts at once, which may be enough for you. 
We suggest you consider the $49 monthly plan for small businesses. This professional tier has no scheduling restrictions, with the number of social profiles increasing from three to ten. And this should be more than adequate to meet the demands of a small business. Additionally, you'll be able to analyze your demographics, view a calendar of your pipeline, and a compilation of your inbox. 
Sendible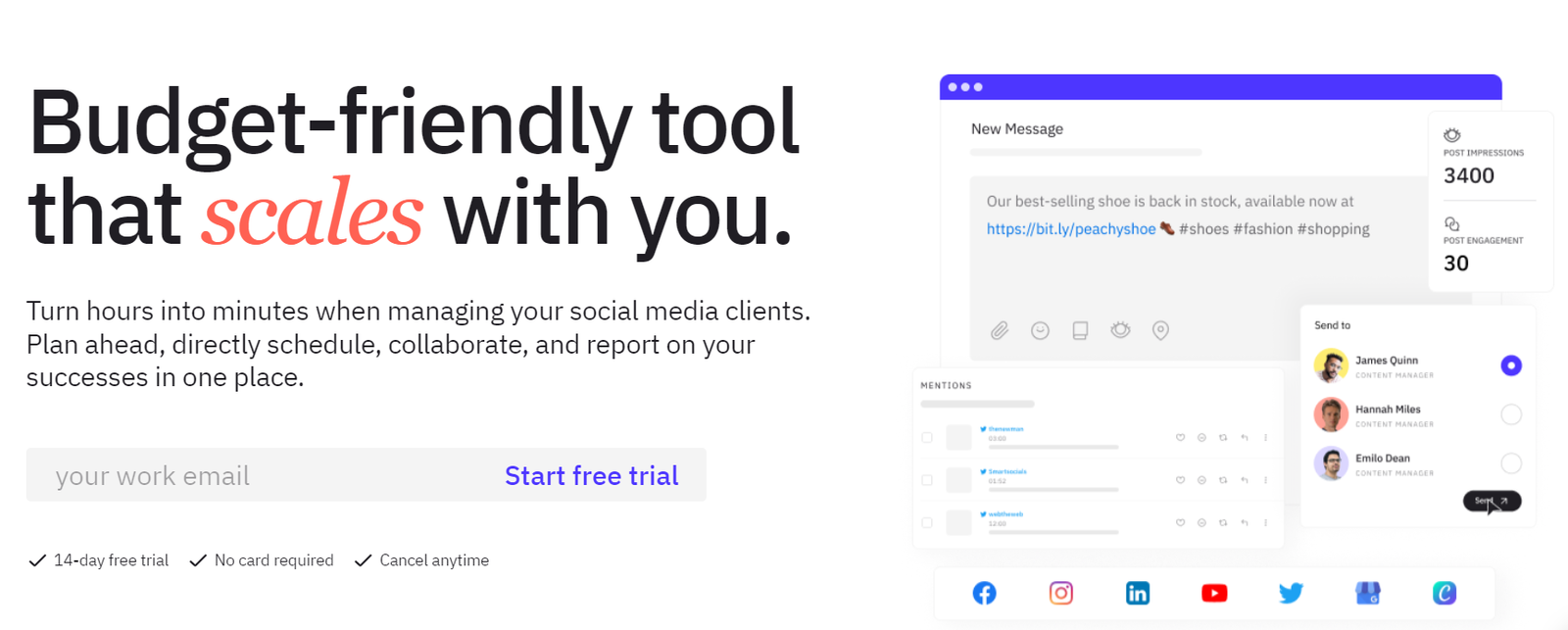 Sendible is a social media management tool used by more than 30,000 agencies, marketers, and brand managers to amplify their brand messages. 
In addition to the majority of functions social media management tools offer to draw in new customers, Sendible lets you customize your dashboard in line with your brand image. It integrates impressive features like the Canva graphics editor, royalty-free image search, and YouTube search. It also offers automation for individuals who want to save time on repeated activities. 
Subscriptions start at $29 per month with a 14-day free trial. You get access to some essential features, like send-time optimization, inbox message tagging, and listening for Facebook and Twitter, on their $29 plan.
Sendible's Growth plan is what you need if you're searching for a platform that will accelerate your marketing and enable rapid expansion. The price of the growth plan is $199 per month. In addition to the unlimited scheduling — which comes with every plan — and 300 posts per day, although not cheap, you get to have access to the following features: 
Monitoring Facebook and Twitter for brand mentions, sentiment analysis, and brand mention reports.
Audience demographics and analytics for posts and profiles.
Tailored and pre-made reports.
A fully functional organization enables you to build calendars and dashboards to manage your pipeline.
Compiled social media inbox with message tagging.
Image editor, content library, send time optimization, and more.
CoSchedule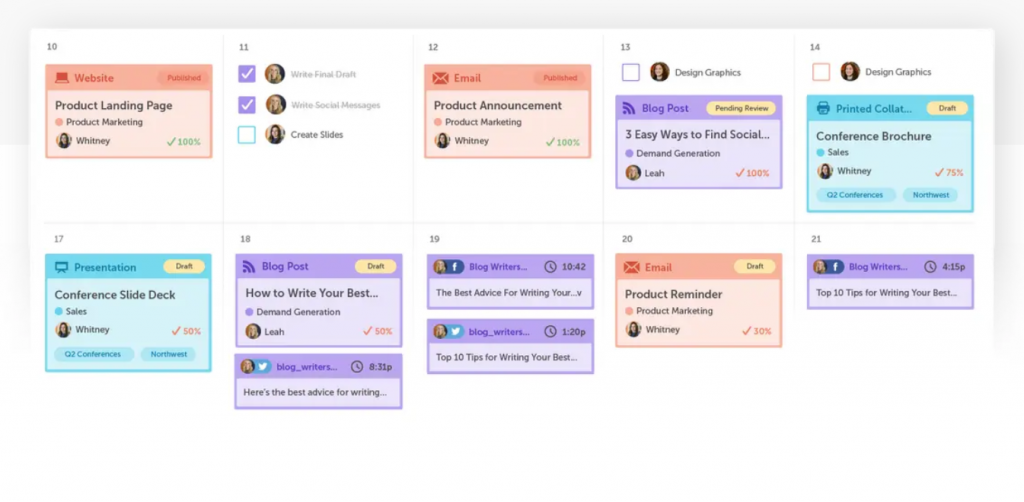 CoSchedule is suitable for businesses with more than one person accessing their social media platforms. 
It offers free and paid plans starting at $39 with a 14-day free trial.
The platform allows a maximum of ten users if you pay $39 a month to use their marketing calendar. Its marketing calendar is the finest, with access to the basic features of the calendar. You can discuss with your sales team if you want more features. You can organize and work together with your team using CoSchedule to produce your social media posts, content, events, and projects.
CoSchedule is the go-to option for marketers who want to organize all their social media platforms, content, events, emails, etc., in one place. It has excellent organizational functionality with task management, team comments, and a task dashboard that are all included in its plans. It also provides a ReQueue tool that lets you fill in the gaps in your social media schedule with your best content and automatically determine your optimal posting time. 
Coschedule stands out as a commendable social media management tool with organizational features ideal for small businesses with many contributors.
Sprout Social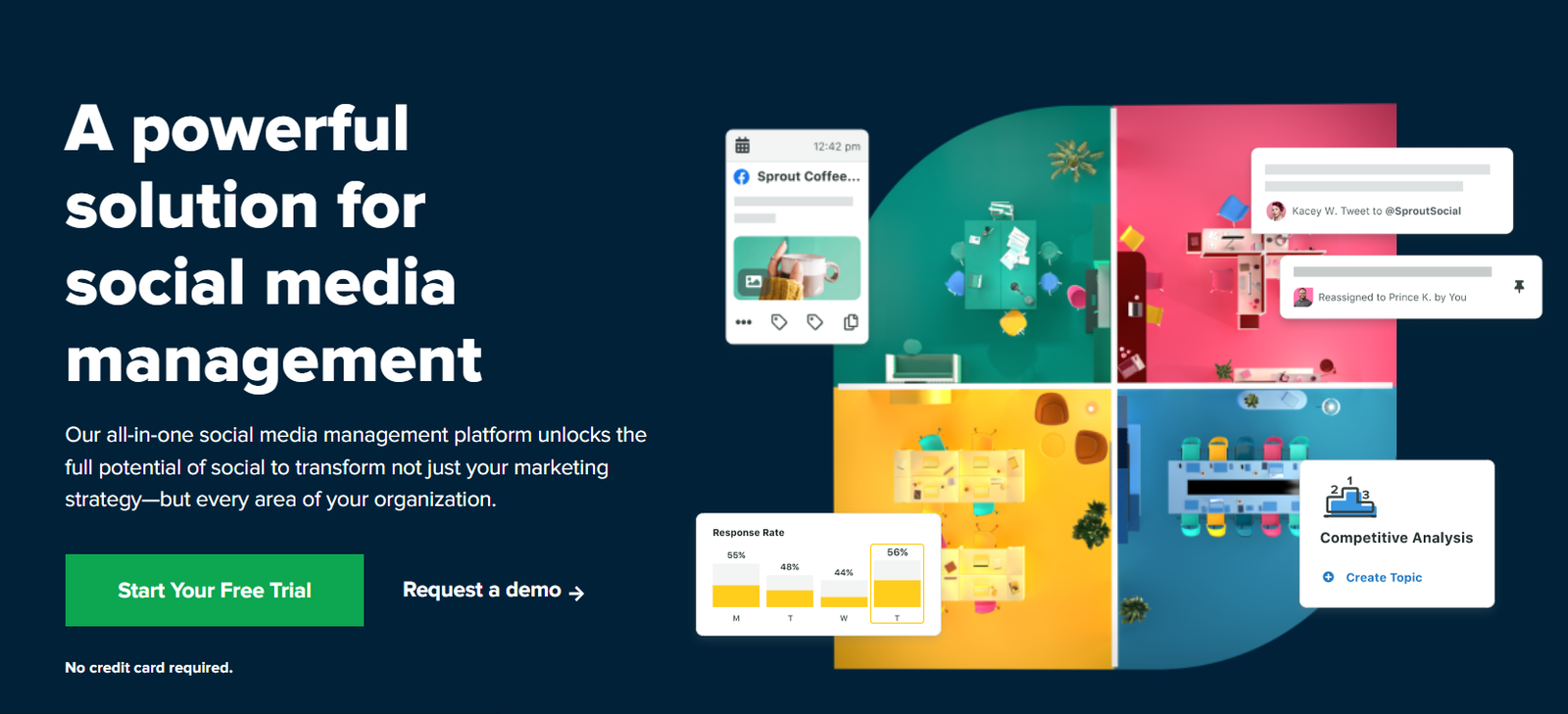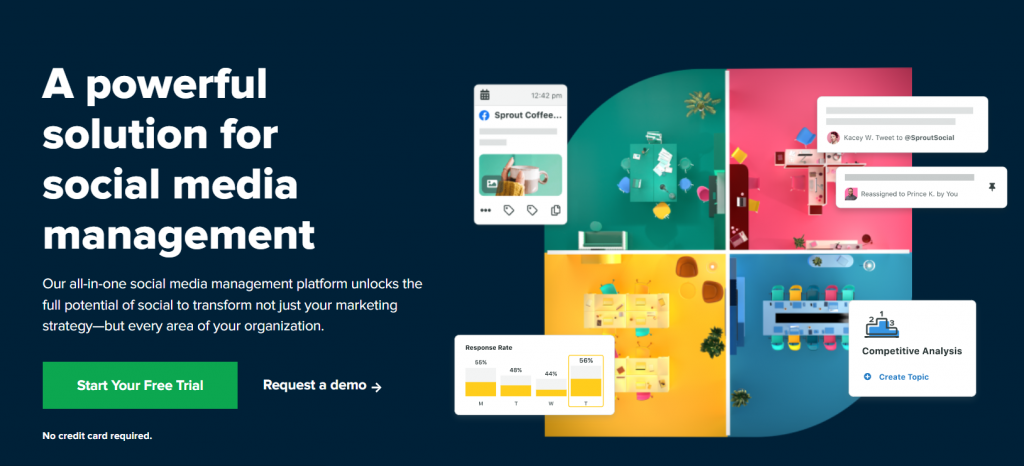 Sprout Social is a social media management tool that incorporates a number of social media functions, including scheduling, monitoring, and reporting.
 It is one of the few social media management tools with customer relationship management features (CRM). The CRM features allow you to better serve your customers and cultivate a more robust bond with them.
The platform has no free plan but offers a 30-day free trial with paid plans starting from $99 per user per month. 
In addition to the usual post scheduling and analytics, this tool comes with certain useful features such as a taggable inbox, an image editor, send time optimization, and all the organization features you could ever need, including a task dashboard and management functions. 
HubSpot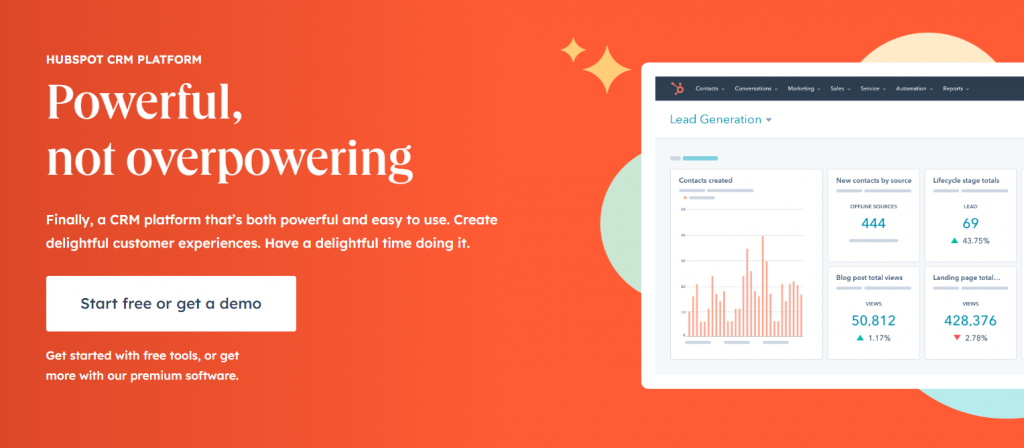 HubSpot is a famous brand in the world of social media marketing. HubSpot's all-in-one marketing software includes social media management tools that start with a plan of $50 per month. It does not offer a free plan or free trial. 
With HubSpot's social media management tool, you can publish content to social networks from the same place where you create campaigns, set up keyword monitoring so you never miss a mention, and connect all of your interactions to your CRM so you can have contextual conversations and track the ROI of your social media campaigns. 
HubSpot lets you see the visits, leads, and customers social media efforts are bringing to your business. The tool interacts with your CRM to give you social reports that evaluate the effectiveness of various platforms, campaigns, and publishing schedules. 
Buffer 
Buffer is one of the least expensive social media management tools available. It is user-friendly, and small businesses use it to foster meaningful connections and achieve positive outcomes on social media.
The management tool supports team collaboration, easy landing pages, analytics, publishing, and engagement. It offers unlimited access to a free plan. The paid plan has a 14-day free trial, starting at $6 per month per social media channel.
It offers a limited user and scheduling cap of 6 users and 2,000 scheduled posts, respectively. You can only link a maximum of 8 social profiles unless you upgrade to the pro plan. The pro plan, priced at $12 per month, is an affordable option to guarantee that your social media presence is dependable and consistent.
The free plan is the best choice if you don't need features or the capacity to publish countless streams of content and only want a simple way to engage with your audience.
Agorapulse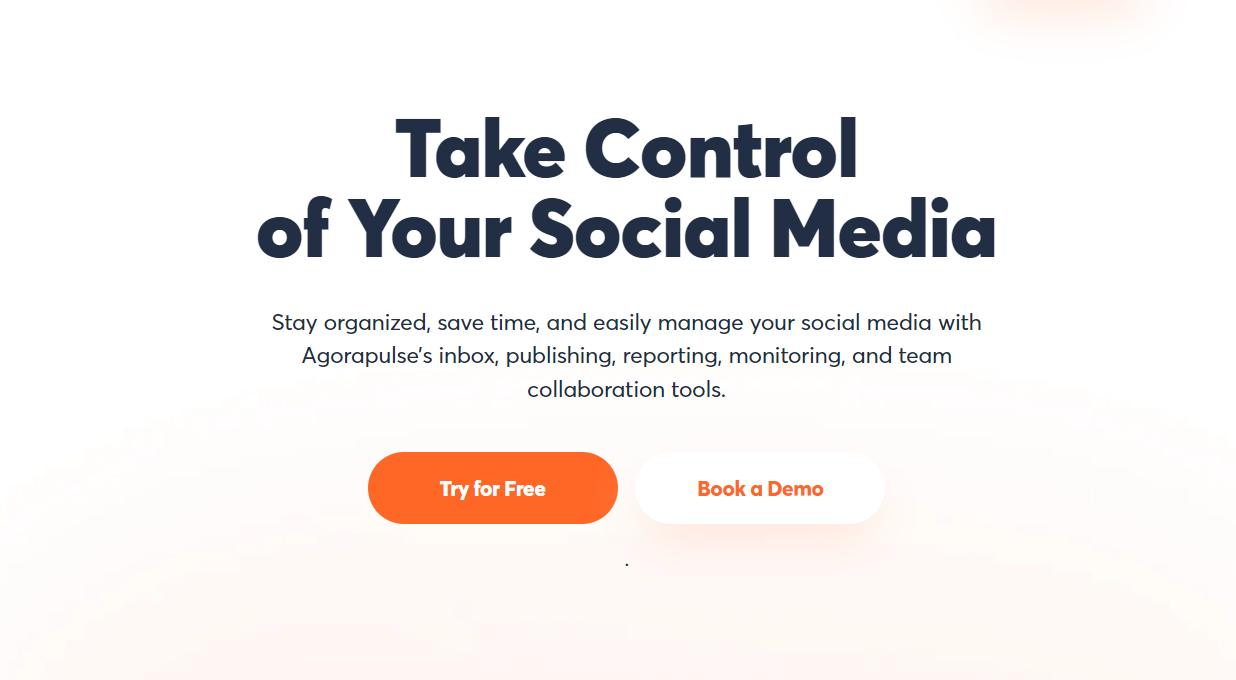 Agorapulse is also an all-in-one social media management tool with an affordable price point. 
It offers free plans, and paid plans start at $99 per month or $79 per month if you're paying annually. 
Its free plan is generous and ideal for small businesses to get started with. You can manage three social media channels with the free plan.
The platform integrates all major networks, including Facebook, Twitter, LinkedIn, Instagram, YouTube, and Google Business. It provides community management, listening, social inbox, publishing/scheduling, analytics/reporting, and more.
Agorapulse includes some distinctive features, like Facebook contest apps and competitor analysis.
Adobe Express 
Adobe Express is not a conventional social media management tool like Agorapulse, Hootsuite, or Sprout Social. It is a planning tool for social media that aids in scheduling and posting content. 
It offers a generous free plan, and the paid plan starts at $9.99 per month or $8.33 per month if paying annually. 
It functions pretty much like Canva. With Adobe Express, you can make social media graphics, banners, posters, and more. The platform allows you to plan by brainstorming your content and posting ideas to the pinboard, after which you move the content to the calendar to schedule or publish it. 
It provides you with Adobe fonts, design elements, and templates, Adobe Stock images with no royalties (limited access with a free plan). It allows you to plan, schedule, and publish content on social media (not available on the free plan); include your logo, colors, and fonts in your branding; convert and export between several file types, including PDFs. 
With the premium plan, you can access 20,000 licensed Adobe Fonts, curved types, grids, and font pairs.
It streamlines the creation, planning, approval, and publication of content through the use of a single tool. 
Circleboom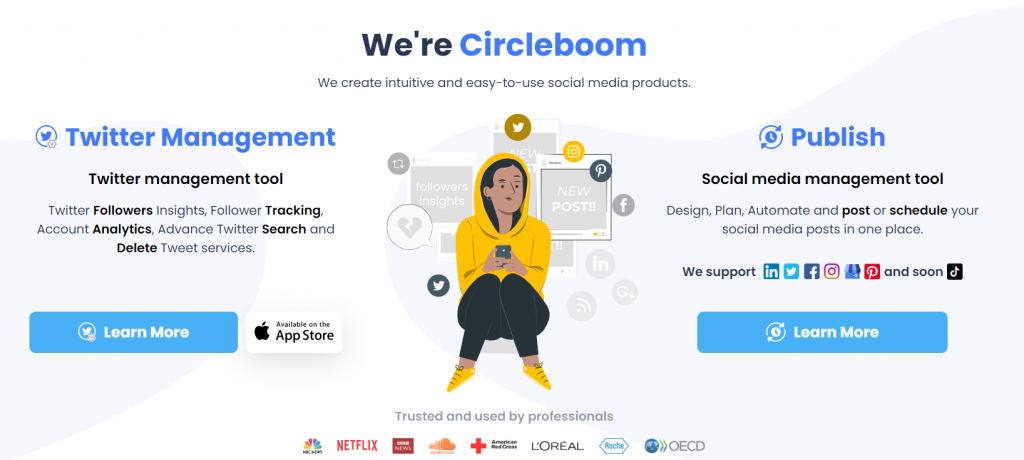 Circleboom has two management tools: Circleboom Publish and Circleboom Twitter. 
Both provide free plans. If you're paying annually, paid options for Circleboom Twitter begin at $24 per month or $11.99 per month. And if you're paying annually for Circleboom Publish, paid options begin at $18.99 per month or $15.83 per month.
Circleboom Publish is an effective social media publishing and scheduling tool for Google Business Profile, Instagram, Facebook, Twitter, LinkedIn, and other platforms. The platform plans to include TikTok soon. It is laudable because it supports Google Business, which is crucial for small businesses.
Despite not having a social inbox or a reporting tool, it has other significant features: The ability to schedule multiple accounts, publish from queues, integrate Canva, publish from RSS, make articles more discoverable, and a video downloader (to download videos from Twitter, Facebook, Instagram, and TikTok).
Circleboom Publish is one of the few tools that support scheduling Twitter threads. It lets you put your business's call to action through offer and event posts. 
Circleboom Twitter is an audience management tool for Twitter that includes tools to discover fakes, spammers, and inactive accounts, as well as follower and friend management, insights, statistics, and other features.
It lets you view accounts that aren't following you back. Also, you may filter accounts based on language, fake/spam accounts, inactivity, excessive activity, and accounts without a profile picture. 
There is a robust user analytics feature with helpful graphs showing the increase in your followers or friends. With Circleboom Twitter, you can learn more about the kind of accounts you follow, whether human or fake, active or inactive, and a chart showing the best time to Tweet. 
Finding your ideal customers is made simple for businesses by hashtag/keyword searches. It lets you filter results based on location, language, the user's joining date on Twitter, and other factors. 
MailChimp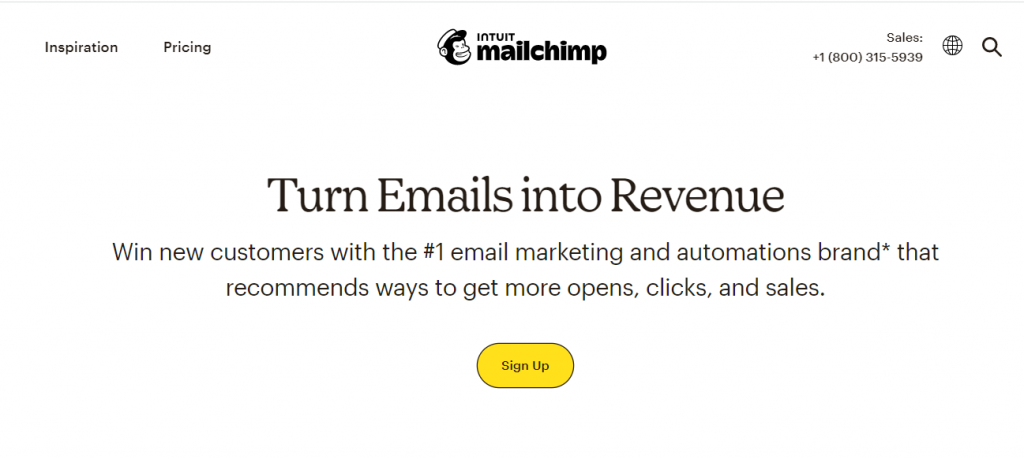 While keeping an eye on your socials, do not forget your email. 
First, you need a valid email address to sign up on the various social media platforms. 
MailChimp is a renowned successful email marketing and newsletter provider. For the vast majority of small businesses, developing your database of email contacts is essential. MailChimp makes it easy to learn more about current or potential customers. You can add extra details like demographics (age, gender, location, etc).
While many of the services are free, you'll need to upgrade if you're sending emails to more than 2,000 subscribers. The paid subscription is relatively affordable starting at $11 per month. 
Although many individuals have notifications sent to them on their phones, you can have notifications sent to you via email to notify you when someone tags you or updates their status on Facebook.
It also offers quality customer support. 
Conclusion 
Social media management tools are vital for any small business that rely on word-of-mouth marketing or visual appeal. Having to draft and post on the go can take more time than planning the remainder of the week's campaigns at the start of a week and then letting automation do the rest. 
Social media management tools increase your efficiency and effectiveness by adding ease and organization to your marketing efforts. 
This article has covered the best social media management tools for small businesses. You'll have to choose depending on your social media marketing needs and goals.
Recommended:
Social media tips for accountants
Social media for small businesses
Social media strategy for restaurants