Many franchise owners include co-op or cooperative advertising in their marketing schemes to increase their audience reach and reduce their marketing expenses. 
Franchise advertising can present challenges that many other business types do not experience. These challenges arise due to franchise businesses' nature, marketing needs, and budgets. This holds, in particular, for franchise owners with numerous locations.
Although the brand must generally come first, local franchisees' advertising needs are just as important.
Franchisees and brands can both benefit significantly from an advertising co-op. Franchise co-op advertising can help you attract more customers to your business and build a loyal customer base regardless of your industry or business size. 
How do you run a franchise co-op advertising? This article will offer valuable insights on making the most of co-op advertising for your franchise. 
If you are looking for an advertising agency that specializes in Franchise advertising, click the link below for free Franchise advertising strategy call from Sociallybuzz.
What is Franchise Co-op Advertising?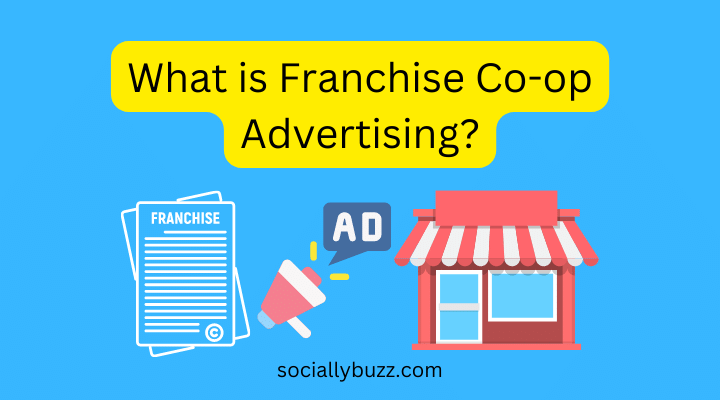 Co-op advertising is a form of advertising that commonly involves an agreement between two or more partners with a common goal of creating a joint advertising fund. Each partner pays a portion of the advertising cost, which is used to achieve the marketing goals of the co-op as a whole. Suppliers, manufacturers, wholesalers, distributors, and retailers qualify as potential partners.
Franchisees of the same brand make a perfect fit for co-op advertising since they share the same marketing objectives.
Franchises that integrate co-op advertising always have a cooperative fund for marketing and advertising.
Franchisees must donate a portion of their gross sales to this fund. Sometimes a national supplier will cover all or a portion of the marketing costs.
Manufacturers can contribute anything from a sizable sum of money to point-of-purchase displays and promotional gimmicks to a cooperative marketing strategy. 
Even though each manufacturer's co-op advertising policies are different, most manufacturers will cover a portion of the advertising costs and provide the retailer with images or graphics to use in the advertisement, whether for print, online, radio, or television.
Horizontal and vertical advertising are the two types of co-op advertising.
Horizontal 
Horizontal co-op advertising involves the collaboration of two or more parties to create an advertisement that promotes the same brand or product. Horizontal advertising is commonly included in franchise agreements because it involves franchisors and franchisees promoting the same brand.
Vertical 
Vertical cooperative advertising involves two or more businesses sharing the cost of advertising to promote different products. For instance, a local supermarket might promote various food products from different companies.
What is an Advertising Co-op Fund? 
An advertising co-op fund is an account where co-op partners keep the money to pay for advertising campaigns. 
Advertising cooperatives can raise money in a few different ways. Usually, the co-op members agree to give the fund a monthly percentage of their sales. A franchise can change the proportion to suit your sales volume, the number of co-op members, and other specific factors. 
Some franchises allocate a certain amount of money to each location or demand that franchisees donate a certain percentage of their sales to the fund. Many franchises charge between 2 and 4 % of monthly gross sales as their franchise advertising cost. Others may charge a flat monthly fee instead of receiving a percentage of sales. 
Sales volume swings may occur for your business throughout the year. If you obtain your co-op funding by taking a cut of sales, the amount of money accessible may fluctuate from time to time. 
Taking seasonality into account will make budgeting for an entire year easier. 
Co-ops have different sizes, objectives, bylaws, and organizational structures established by the members, typically through voting. The co-op decides how to manage the advertising fund. Everyone who contributes to the advertising fund should have a say in how to use the fund and make all group decisions by utilizing the greatest amount of consensus.
Who is Co-op Advertising Suitable for? 
Co-op advertising is suitable for any business or organization; however, the following are the most common:
Franchises
National franchises utilize co-op advertising to collaborate with regional franchisees. Franchisees can also unite to advertise in a particular area near their business locations. Co-ops can also be fast-food eateries, fitness centers, spas, or any other business with a franchising model.
Small businesses 
Small and local businesses use co-op advertising to cut costs and boost foot traffic.
Manufacturers and retailers 
Manufacturers often pay a portion of the retailer's advertising expenses to support their retailers and boost in-store sales. 
How Does Co-op Franchise Advertising Work?
Franchisees usually utilize the co-op funds to promote their local businesses. Franchisors may also utilize a portion of the co-op revenues for national advertising campaigns.
Co-op advertising can work in the form of sponsorship from shopping centers or districts which feature an advertisement from each retailer in the shopping center.
What should come first? Begin with setting your budget and choosing your advertising platforms, such as print, television, or social media. 
In the end, you will need to keep track of your advertising expenses and determine whether you need reimbursement. Keep in mind that everyone in the co-op participates in decision-making processes and has a say in how to use the funds.
Benefits of Franchise Co-op Advertising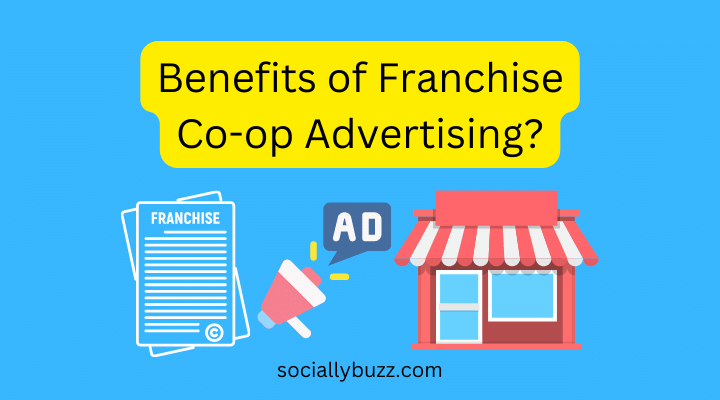 For some franchises, incorporating co-op advertising makes sense since they already have a fixed contribution to their national marketing fund as part of their franchise agreement. 
National marketing, however, may not be as focused and flexible as an effective local store marketing strategy. Franchise co-op advertising allows you to create specialized, effective, geo-targeted marketing. 
Every business owner wants to raise their brand's visibility, boost revenue, and ultimately expand their enterprise. Franchises can achieve these objectives by using cooperative advertising.
With co-op advertising, manufacturers, retailers, and distributors can reach their target markets at a low cost. Utilizing cooperative marketing allows you to reduce not only your media expenditures but also your production and creative costs for ads.
Co-op advertising boosts output in revenue and sales due to cost reductions and increased operations and reach; this benefits the franchisee, franchisor, and overall brand.
You should factor co-op advertising into your advertising plan if:
Your national brand advertising is more about raising awareness, but you drive traffic to your local store or website.
You need the freedom to include personalized promotions and information in your advertising.
The media mix used by your franchisor doesn't adequately serve your location.
You think partnering with a local ad agency or local media would likely result in better service and a more customized campaign.
You'd like to enhance my franchisor's marketing strategy with something more locally focused.
Strategies for Successful Franchise Co-op Advertising 
The following tips will help you in actualizing successful franchise co-op advertising.
Make co-op advertising a part of your larger marketing strategy
Many franchise owners view co-op campaigns as one-time events outside their normal sales cycle. Others view it as a wholly distinct entity. This significantly lessens the effectiveness of an advertising campaign and causes issues for brands and franchisees.
To effectively use your brand marketing funds, ensure your co-op operates within your usual sales process. Consider it in alignment with your current marketing plan rather than separate from it. Co-op advertising should be a component of your overall marketing strategy so that you can incorporate your message and track your key performance indicators (KPIs) appropriately. 
Make sure your brand guidelines are clear
Make sure your franchise brand guidelines are clear if you and your team are going to collaborate on developing an effective co-op campaign. If you are a local retailer with a co-op connection with a national brand, you should endeavor to become familiar with the look and feel of your partner.
Before creating your ads, enquire about fonts, spacing, and logo usage specifications. Nothing is more frustrating than working so hard to get a print advertisement out the door only to be informed that the font is incorrect.
The brand wants to ensure your promotions constantly depict an established identity; therefore, you want to make getting co-op marketing permission as simple as possible.
To guarantee you're not breaching any regulations as you go, make sure you have the whole brand guidelines before you begin.
Offer incentives 
While national and regional advertising increases brand awareness and reinforces core brand values, local advertising increases conversion and sales through promotions, deals, discounts, and compelling calls to action. 
You will need to offer incentives, whether a hot deal, a discount, or another bonus that attracts attention, if you want to gain your franchisees' support. Your goal and the job of your co-op are to increase local sales, and effective incentives are key.
You need to make sure it's worthwhile for your franchisees' time to promote. Create something enticing to aid them in igniting sales because, after all, they will be the ones driving those sales, which is a massive benefit for you.
Employ digital marketing 
Co-op advertising previously entailed utilizing print advertising. But this is no longer the case as digital co-ops are now common. 
The digital space consistently outperforms print and virtually every other industry. Since customers are searching online for brands and franchises, your customers are online. Spend your co-op funds on digital marketing instead of (or in addition to) traditional marketing.
Create accountability 
Lack of proper accountability frequently causes cooperative campaigns to fail. Establish joint ownership in the process. Both the brand and the franchise are not entirely free of responsibility. This will keep everyone on target because true results might never materialize without it.
Develop a continuous co-op advertising strategy 
A successful co-op marketing campaign is a continuous process. It's a long-term agreement for consistently providing marketing that benefits both parties. 
Run cooperatives as a part of your overall sales and marketing strategy, not separately. Bring it all together by setting defined KPIs for your sales process and a clear strategic vision. 
Wrapping Up
Franchise co-op advertising is an effective marketing strategy that reduces your advertising expenses and raises your brand awareness. With co-op advertising, you can widen the audience for your brand, increase sales and revenue, and ultimately expand your franchise business.
Franchisors or franchisees can use co-op to promote their business, but it's much better when both parties collaborate because there is strength in number. Together you can develop, authorize, and carry out more precise and profitable marketing campaigns.
Here is an extra tip: Every successful co-op needs an accountable and dependable manager who keeps track of the money entering the fund and ensures that partners pay for all ad campaigns on time. 
This is essential to maintaining the good status of your co-op and the profitability of your co-op ad fund. All co-op members should be able to easily access the regular, transparent information provided by the person in charge of the fund.
Looking for a reliable company to promote your franchise business?
Sociallybuzz is a digital marketing company that specializes in franchise advertising. We have helped many franchise owners like you reach their goals and become success. You can check out some of our case studies here.
Similar posts: