2022 Holiday Marketing Trends and Strategies
Every year people make grand plans to celebrate the festive period.  Marketers should start making plans early for this biggest shopping season of the year. Last year, 45% of consumers started their holiday shopping in October. The goodwill is growing, so you need to consider marketing and promotional initiatives in 2022 to improve your holiday income.
To take advantage of this key sales period, brands must plan their Christmas season marketing strategies well in advance. The chance to increase sales is enormous as people shop for presents, decorations, items of food and drink, and cosmetics to celebrate the end-of-year holidays. The setting is different in 2022 than in earlier years due to inflation.
Firms need to adapt to shifting consumer behavior to increase sales throughout the holiday season.  Some time-tested strategies from prior years might not be effective this time. As the circumstances evolved, so did people's lifestyles and relationships with brands.
A giveaway or a short-lived special offer might no longer be sufficient because people will now look for brands that give outstanding discounts and are trusted by social media influencers. Foster relationships with customers with a well-thought-out holiday marketing plan that will boost sales and customer retention.
According to the NRF, consumers plan to spend $832.84 on gifts and holiday-related items like food and decorations. A successful marketing campaign can capture their attention when consumers are willing to spend money on last-minute shopping or when they are planning holiday spending and researching brands for particular products or services.
You have an advantage over your customers if you're on their minds constantly. In this article, you learn what to expect from the holiday shopping season in 2020 and strategies to employ.

Free "77-Tips" Holiday Marketing Guide 
Download our free holiday social media marketing guide to grow your business. In this guide you will learn how to grow your business this holiday season leveraging social media marketing. We shared 77 insightful hidden tips to thrive this season on this guide.
What Marketers Should Expect This Year
People will start shopping for the holiday early
Consumers shopping early for a holiday has been a trend over the past couple of years and is continuing during the holiday season.  Last year, buyers started their holiday shopping earlier than normal because they expected stock shortages and prolonged delivery periods.
Up to 54% of consumers started looking for holiday sales before Thanksgiving. Christmas shopping is starting sooner than ever in 2022.

According to Insider Intelligence, 22% of customers had already begun holiday shopping in August 2022. 
More and more shoppers are completing their holiday shopping by Super Saturday (the last Saturday before Christmas), and the trend is expected to increase this year.
Since consumers are looking for offers earlier than usual, marketers should plan their Christmas marketing activities even earlier. Consider starting your Christmas product sales earlier by providing cheaper shopping options like gift bundles or in-store vouchers.
Promotions driven by inflation are becoming more common. Inflation and the cost of consumer items are far higher this year than in previous years.  With the higher prices of food and presents, shoppers will start to take advantage of sales early and spread out their expenditures over several months.
Price will be a deciding factor for many consumers when deciding whether to purchase a product. As a result, marketers are concentrating on promotional advertising throughout the holiday season. Promotions will be a major holiday digital marketing trend for 2022.
You can expect to see more B2C companies offering exclusive deals like coupons, rebates, competitions, giveaways, and games to engage and convert customers much sooner than before.
What about B2B companies? A B2B company may offer a limited-time promotion on their most popular subscription service, a reward for membership upgrades, or a referral bonus for current customers.
Holiday sales like Black Friday and Cyber Monday will be on the rise
In addition to starting earlier, customers will pay close attention to events featuring great discounts. This year will see a rise in holiday sales like Black Friday and Cyber Monday as rising costs force consumers to look for the greatest deals.
According to Meta, 54% of US consumers purchased during Black Friday and Cyber Monday last year.
As more consumers take advantage of the Christmas deals, this number is expected to increase. Make strategic marketing efforts to keep your brand at the forefront of consumers' minds during the holiday shopping season.
You can therefore take advantage of Black Friday and Cyber Monday as well as other occasions like Halloween or Small Business Saturday. Marketing professionals should remember that brands can use influencers to set the groundwork for effective Black Friday and Cyber Monday campaigns.
In the US, 15% of consumers purchased an item on Black Friday or Cyber Monday because the creator had promoted it.
Influencers on social media are having a bigger impact on holiday shopping
According to McKinsey, 58% of customers concur that social media affects their holiday season purchasing decisions.
People actively seek out purchasing ideas during the gift-giving season and turn to social media for inspiration. Marketers should know that influencers will still be a major factor in holiday season sales in 2022. 
The blend of branded content, advertisements, and influencers on social media is influencing consumers' behavior more and more. People are more likely to turn to their preferred social media influencers for purchase recommendations. 
According to a report from Meta, 29% of US customers said that influencers assist them in finding gifts during the holiday season.

Additionally, since 25% of US consumers estimate they're likely to purchase during this significant period, influencers can assist your company in boosting sales.
Collaborating with social media influencers can increase interest in your products and spread information about them to your target market. You can increase sales by asking your influencers to share affiliate links so their followers can easily purchase your goods. Use influencer marketing to increase sales throughout this holiday season.
Social selling will be on the increase 
A major holiday trend in 2022 will be social selling. Social selling — a significant aspect of digital marketing — is becoming increasingly popular as a new and convenient method of shopping. You should anticipate seeing this reflected in customers' Christmas shopping habits this year.
Social selling has made huge strides this year, and the coming holiday season will be no different. 
According to a recent Hubspot research, 63% of sales professionals said that social selling has become crucial for closing new deals.
Expect an increase in shoppable live streaming, in which viewers may purchase directly from your live video stream.
Various live social shopping events took place on Twitter, YouTube, and Instagram during the 2021 holiday season. You should anticipate a return of live shopping for the holidays in 2022.
There are indications that YouTube will keep prioritizing live commerce. This year, YouTube revealed new live shopping features and shoppable YouTube Shorts by collaborating with Glossier. 
Depending on which social platforms are relevant to your target audience, you can create a successful social selling strategy for the 2022 holiday season. When deciding how to incorporate sales into your video content, consider the platforms your audience prefers to use or where they spend the most time.
2022 Holiday Marketing Strategies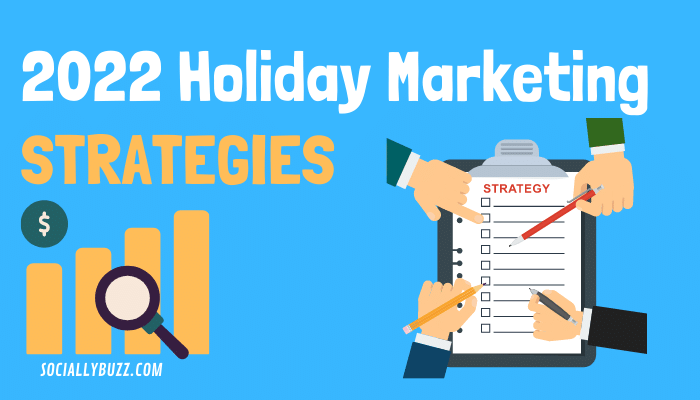 During the holiday season, people don't suddenly decide to buy your products out of the blue. You must persuade them that your product or service improves their lives and the lives of their loved ones. 
Without a holiday marketing strategy, you lack a clear plan for offering value to customers in a big way. You are largely speculating, which results in lost holiday revenue due to ineffective marketing.
A great marketing campaign can engage consumers who are researching brands for particular products or services and are willing to spend money during the holidays on last-minute shopping. The following tips will help you gain an advantage in your customers' eyes and be constantly on their minds. 
Keep your content emotional and show gratitude
Do more than just focus on advertising your product features. Your holiday marketing efforts should evoke positive emotions. The holidays bring back a variety of feelings, including joy and fond recollections.
A good holiday marketing plan can persuade customers to use your business for their holiday shopping by appealing to these emotions. When creating your 2022  holiday marketing plan, pay close attention to the emotional appeal of your content.
Share intriguing and motivating messages on social media, give an inside look at how your business celebrates the holidays, or use other creative methods to arouse powerful emotions.
Concentrating on emotion is often preferable when promoting family-oriented holidays like Christmas and Hanukkah. This holiday campaign strategy will increase brand loyalty among consumers and generate traffic for your business.  Let customers know how valuable they are to your business by showing gratitude.
Appreciation is a fantastic holiday marketing strategy for maintaining customers that are totally and firmly committed to your brand. While there are many methods to express gratitude to customers, sending an email or a physical card are two straightforward actions that can persuade them to spend their holiday shopping with your brand.
Offer helpful and personalized content
Before creating holiday promotional content, consider how it will benefit and help your customers.  Ensure your promotional content makes sense to readers. It's important to explain how, from a business perspective, your product will benefit customers.
You won't be able to convert readers into customers if you force your products and services on them.  Focus on developing helpful content for your products and services that addresses customers' needs. 
In addition to giving customers useful information, personalizing marketing materials is vital. Include customer information in marketing materials. For instance, use names when addressing people in email campaigns. By making your content personally relevant to the reader, you can pique their attention and persuade them to shop with your business. 
Create distinctive email marketing campaigns for the holidays
The competition is particularly intense around the holidays, and your consumers' inboxes will be flooded with exclusive holiday limited offers and New Year promotional campaigns. While taking hold of the opportunity is perfectly ok, do not overwhelm your audience.
Spamming your email lists and social media accounts with ineffective content damages your brand's reputation and leads followers to unsubscribe from your mailing list.  Why not do something different if you want to stand out? You could, for instance, send a vacation to-do list or holiday gift ideas to your customers with a few links to your products or services.
It's a simple but wonderful holiday advertisement that seems to concentrate on something other than your products and services alone. It offers many opportunities to remind people about your business and entice customers to buy from you. 
Offer gifts and free gift-wrapping
Offering a gift card or free item is a highly successful holiday marketing strategy in 2022. While many customers are interested in buying gifts, they are also drawn to getting a gift offer with every purchase they make. 
You can use this strategy to persuade customers to buy your products and spend a lot of money in your store this holiday. For instance, offering a gift item with a $70 purchase stimulates customers to make more purchases. 
Except for a few packing fans, many people do not particularly enjoy wrapping gifts. It may be a small gesture, but offering to do this for your consumers gets you loads of goodwill from your customers. Not only will this improve your brand's reputation, but it will also raise your social media visibility since today's consumers share their unboxing on their social media. 
Ensure your marketing campaign is mobile-friendly 
You must recognize the power of mobile devices. Mobile sales are always exceptionally high around the holiday season. 
Mobile devices generate nearly 60% of all web traffic. This demonstrates that the majority of consumers prefer mobile shopping.
You can concentrate on developing an outstanding holiday mobile marketing strategy.  Holiday-specific mobile app optimization can boost sales conversions and reflect excellent customer service. You're throwing away more than half of your marketing budget if your landing pages, forms, and emails don't operate on mobile.
Utilize hashtags
Hashtags are easy to remember. Prospective buyers will have no trouble remembering your brand if you utilize hashtags. Use hashtags to get the word out about your 2022 holiday offers and promotions.
Use hashtags on your Facebook, Instagram, and other social media accounts to increase social media buzz for your business. Creating a tagline that users can use when posting a picture or status about your product or service is another way to promote user-generated content.
For best results, pay attention to industry trends in shopping. What is top-of-mind for your customers this Christmas season? Using the appropriate hashtags, you can also connect with new customers looking for the ideal gift this holiday season.
Conclusion 
The holiday season is the busiest time of the year for marketers and also a fantastic opportunity to boost your brand recognition and end-of-the-year sales. Preparing ahead and choosing which deals and offers to promote for a successful holiday marketing strategy is essential. 
You can better understand the behaviors of your target audience and gain a deeper comprehension of earlier patterns and how they affected the expansion of your business by reviewing the results of past holiday campaigns. Using all available data will help you define the goals for a more successful holiday marketing strategy this season. 
This year's (2022) holiday season is a great time to invest in creating an emotional connection with your target market and increasing customer engagement.
We hope our marketing strategies have helped you know what to expect and do this holiday season. Now is the time to start planning your 2022 holiday marketing strategies if you've not started already. 
About Sociallybuzz:
Sociallybuzz is a leading social media marketing, management, and advertising agency for small and medium-sized businesses. With over 12 years of experience, we know how to create and execute marketing campaigns that will help you grow your business. Our social media agency specializes in using the power of social media to create highly targeted campaigns designed to get you more customers and sales.
Check out some of our case studies