2019 HOLIDAY MARKETING GUIDE
The holiday season is an incredible opportunity to connect with new customers.
---
Use this opportunity to create strategies that will assure that your business stays top of mind.
The holiday season is an incredible opportunity to connect with new customers. Use this opportunity to create strategies that will assure that your business stays top of mind.
The season also presents the perfect opportunity to increase engagement with your existing customers and boost their lifetime value.
Retail sales overall will increase by 4.5-5% to reach $1.1 trillion compared to last year in the US market alone. Additionally, e-commerce sales will experience a growth of 14% to 18% to hit as much as $149 billion.
Six global trends to watch out for this holiday season
– Holiday shoppers are going bigger, earlier
– Shoppers won't tolerate bad buying experiences
– Window shopping is shifting to Stories
– People are still purchasing in-store
– Major shopping events have gone global
– Messaging is fueling loyalty
The whole of Q4, and into Q1, is now a shopping season. Last year, conversions started to increase as early as October. By late-November, nearly 1 in 10 holiday shoppers had finished shopping.
Consider these insights:
"Global shoppers buy earlier throughout Black Week —50% of holiday shopping was complete by Monday, December 3 2018."

"During the 2018 holiday season, 63% of shoppers either watched or posted videos in Stories across platforms, such as Instagram, Facebook or Snapchat. In that same time period, more than a third of both millennials and parents said videos created by social media "influencers" helped them choose what to buy."

"Social is the new shop window: the place that consumers browse to find ideas and inspiration."

"The top reason for shopping in-store during the holiday period was to see products in person, but brick-and- mortar stores also provide emotional benefits that are hard to reproduce online: 42% of US holiday shoppers said they shopped in-store for the holiday ambiance, and 27% of US holiday shoppers said they shopped in-store to spend time with family."

"Viewers retain 95% of a message delivered via a video compared to 10% delivered via text."

"82% of smartphone shoppers conduct "near me" searches"

"96% of US internet users said free shipping affects their purchase decisions. The maximum number of days a shopper will wait for a package with free delivery to arrive has shrunk, from 5.5 in 2012 to 4.1 in 2018."

"In 2018, mobile surpassed desktop, especially on peak days for last-minute shopping, accounting for 66% of traffic and 48% of orders."

Mobile searches for "where to buy" grew by 85%

Searches for "store hours" peak on Christmas eve, the highest day of the year.

70% of consumers Google before buying something new.
As shoppers use their mobile phones to make their holiday shopping decisions, you have an amazing opportunity to give them inspiration, remove friction from their shopping journey and help them complete their purchases online or in store.
DAYS TO PLAN FOR: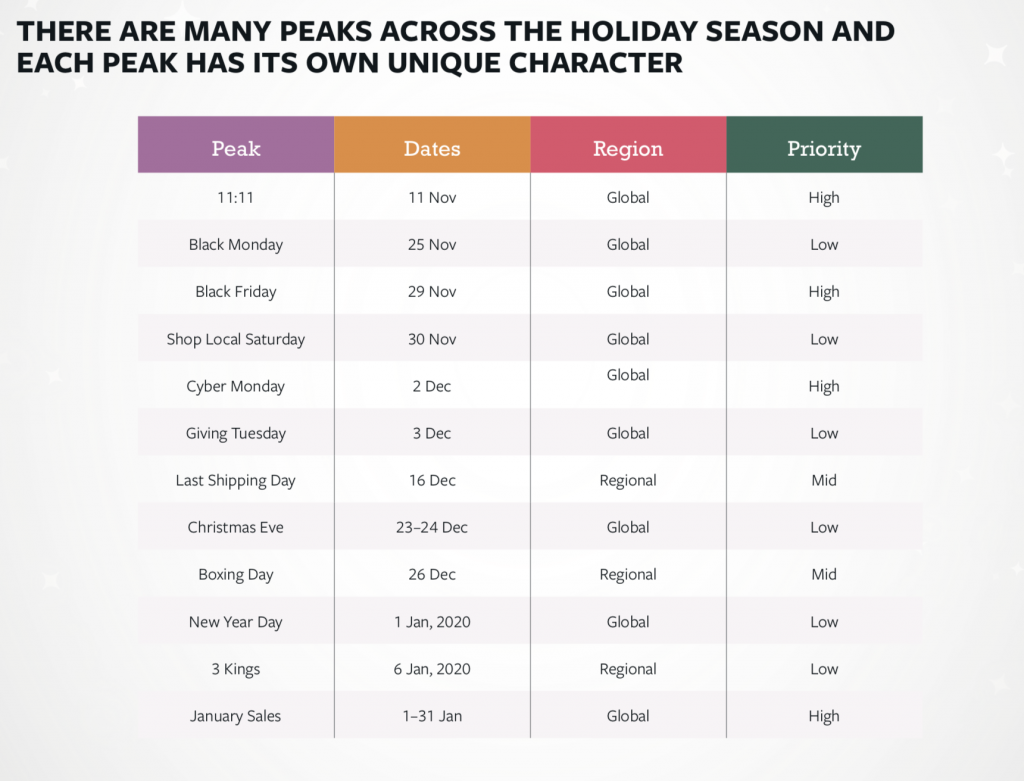 DOWNLOAD HOLIDAY CALENDAR NOVEMBER
DOWNLOAD HOLIDAY CALENDAR DECEMBER
HERE ARE SOME INTERNAL THINGS TO DO:
– Check that your website is mobile friendly
– Check website UX on computer and on mobile devices
– No friction to purchase online (Gift cards, products, etc)
– Highlight 4 influencers you can collaborate with for the Holiday season
– Increase usage of Facebook and Instagram stories
– Create additional content
– Pay more attention to private messages on social media channels (Facebook, Instagram, Yelp, etc)
– Set-up Messenger with FAQ on Facebook
– Create more motion graphics/content
– Ready social media holiday assets early
– Create Holiday Contest
– Get Holiday Hours / Update on social media channels
– Create holiday-themed ads and highlight limited-time offers to create urgency to buy.
– Create ad budget to account for anticipated conversion rates during the peak shopping days. 
– Make sure in-store location has a holiday ambiance
PROMOTION IDEAS:
– Promote Catering (with discount)
– Offer Free Shipping
– Limited time Offers (Bogo, 25% off, etc)
– Giveaways
– Gift Cards
– 12 Days Til Christmas Countdown (Every Day Recommend A Gift)
– Black Friday/Christmas Countdown
– Give exclusive holiday offers to followers to drive loyalty
– Offer a discount: Incentivize your community to shop during the holiday season by offering a limited-time discount. Provide an exclusive discount code in your stories and prompt your customers to use it before it disappears in 24 hours.
Do you need help planning and launching your holiday marketing campaigns?
Holiday Guide Resources: Facebook, Pinterest, Salesforce, Yelp, Google, Snapchat.