With the rise of livestreaming, it is possible for brands to be more accessible and to draw attention to their products.
A study by Hootsuite found that 130 million people tap on shopping posts every month on Instagram. The data is an indication that users use Instagram to buy and sell products within the App.
With the new Live Shopping Instagram feature, brands can easily sell their products by just going live to describe what the product is all about while interacting with their viewers.
Livestreaming e-commerce has given people a chance to get a personalized experience with a brand beyond just looking at what they post online.
LIVESTREAMING E-COMMERCE
Livestreaming e-commerce is a new way of shopping that offers an interactive experience and a way to chat with other people watching a livestreaming event. Consumers can shop from their favorite brands and even get deals by live-chatting with them, using social media platforms to their full potential.
Consumers are turning to livestreaming for their shopping needs because it has many advantages over other ways of shopping.
For example, it provides an interactive experience where consumers can chat about products or services and get deals and discounts in real-time.
Livestreaming also allows shoppers to see products virtually and interact with the brand representatives themselves.
While livestreaming has many advantages, it does have some downsides that may affect buyers' decisions on which way of shopping to choose. 
One downside is that livestreaming events cannot be held at the time of day that is convenient for all customers.
That's not a much of a deal killer since users can still view playback when they are online.
Craig Campbell, a famous SEO expert, grew his YouTube channel up to 90,000 subscribers in one year calendar through this marketing hack, Regular Q/A Livestreaming.
When you go live on Facebook and or YouTube, users of similar interest-match would see your live video event. 
Brands now take advantage of this strategy to showcase their products online to a wider set of audience.
Live-streaming is a great way to market products/services, and e-commerce companies are starting to utilize it.
Pinduoduo, the Chinese most popular E-commerce platform, is popular for live streams because they offer discounts on items that viewers purchase in the comments after watching a stream.
The platform has 731.3 million active buyers in the last twelve months and 643.4 million average monthly active users(MAU) in the 3rd quarter of 2020. Source: Wikipedia.
In 2021, they announced 788 million yearly active users surpassing Alibaba and JD.com.
Duo Duo Live was launched as a live streaming feature to help Pinduoduo merchants advertise their products in 2019(More on that below).
It seems that live-streaming is becoming an effective marketing tool for e-commerce companies. Because it's more personal than just showing a picture of the item on social media, consumers can see a real person and get information on how it looks and feels in their own hands before they buy it.
POPULARITY OF LIVE STREAMING E-COMMERCE
Livestreaming e-commerce is rapidly growing, with big e-commerce brands Like Amazon, Pinduoduo, Alibaba, and JD.com taking advantage of this marketing strategy to dominate the e-commerce market.
Facebook, Instagram, Pinterest, Tik-Tok, and many other social media platforms started leveraging Livestreaming E-commerce to make the best of this generation's shopping experience.
It doesn't end in boosting e-commerce sales. It also aids in optimizing for good users experience and more time on App.
Livestreaming e-commerce is very popular and widely used in China than in the western part of the world.
It all started with Livestreaming of games, but now it has got the interest of an uncountable number of people worldwide (not just China).
Pinduoduo, Alibaba and, JD.com, three popular e-commerce platforms in China, have their Livestreaming platforms, "Duo Duo live, Taobao live and J.D. live." 
Is this an indication that Livestreaming E-commerce is the future of online shopping? Probably YES!.
In China, users can buy a particular product within a Livestreaming App using Alibaba's Taobao Live E-commerce platform or a similar platform.
Being an early adopter in the west, Instagram creates the room for merchants using their In-App purchase feature, Instagram Checkout, to promote their products using the Livestream feature which was launched in May 2020.
Not too long after this update, they launched "Live Rooms," which enable Host to add up to three other hosts in one Livestream, making it a maximum of four hosts per Livestream.
Facebook's Live Shopping Friday has come to stay. Facebook is capitalizing their E-commerce ability; In May 2021, Facebook launched a Live shopping feature that makes it easy for social commerce.
Viewers can easily purchase the item by clicking on the "Learn More" button. The new Facebook Live shopping feature signifies that the future of online shopping is Livestreaming.
The new Pinterest Livestreaming beta feature launched in late May 2021 allows viewers to shop promoted products pins during a Live session. Viewers can comment and interact with the hosts about a promoted product pin.
Many marketing Livestreaming Web App like "Demio" makes it more efficient for streamers to convert their viewers to customers by showing their audience a "buy button or a responsive call-to-action button" that leads them to the shopping page.
THE FUTURE OF ONLINE SHOPPING IS E-COMMERCE LIVESTREAMING
In 2014, Amazon purchased Twitch, a streaming-gaming platform dominating the gaming industry with over 80% market share of user-generated live video games.
After acquiring "Twitch" in 2014, Amazon launched a live streaming feature in March 2016 for merchants to showcase their products and interact with their audience.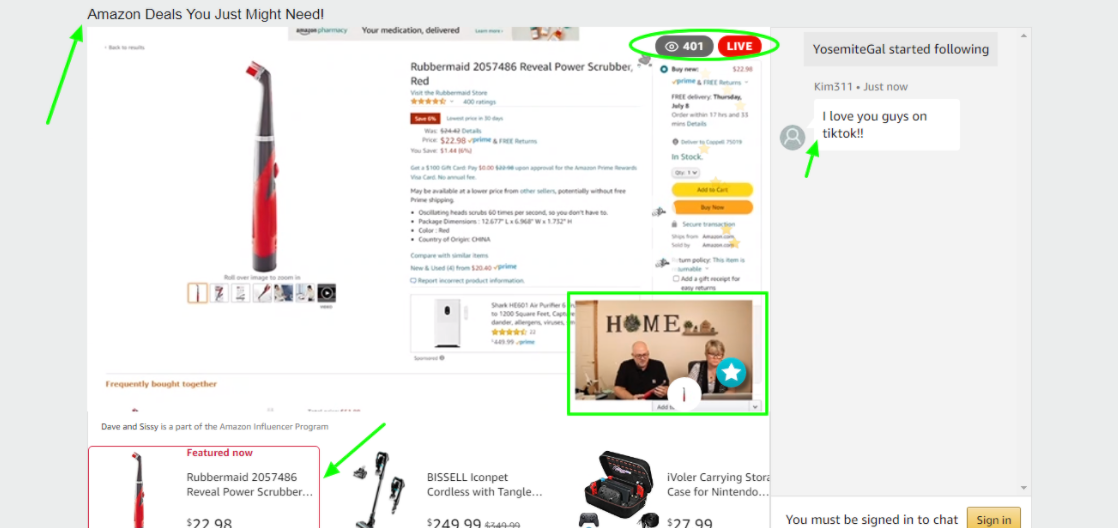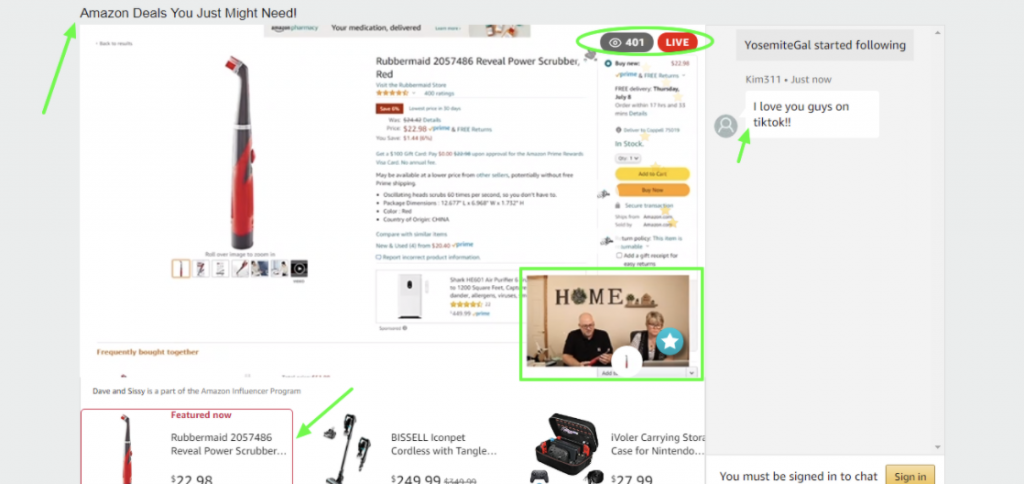 Now merchants can go live to showcase their products while interacting with their audience. The new feature allows merchants to schedule their next stream as well.
Amazon, Pinduoduo, and Alibaba utilize this new marketing strategy. Without a doubt, Livestreaming e-commerce is the future of online shopping.
Also, on the Tmall website, when you visit an official store for any major brand, you're likely to see a video of their livestreaming on the front page.
CHINA VS U.S LIVESTREAMING SOCIAL COMMERCE GROWTH RATE
Livestreaming is common in China. Brands always partner with influencers to promote their product on live streams for a higher return on investment.
In April 2020, Alibaba earned a massive amount of money on their Livestreaming E-commerce platform, Taobao.
According to E-marketer, Alibaba generated $61.7 billion in gross merchandise value (GMV) in 2020 on its Taobao live streaming platform alone. Plus, the increase in average daily users(DAU) of this platform doubled. Livestreaming E-commerce is a big deal in China.
Estée Lauder's Livestream on Singles Day sold an estimated $300 million of products with a 2 for one discount strategy.
The "Chinese content-creators network VS Media" takes a further step in providing a unique studio for live streamers to present an offer while interacting with their audience on one or different streaming platforms/app.
Also, Douyin, the Chinese version of Tik-Tok, partnered with JD.com to add interactive shoppable live streams on the App. Chinese internet users appreciate livestreaming than westerners.
About 37% of China's online shoppers made Livestream purchases in 2019.
Livestreaming E-commerce is a big business in China. Influencers earn a massive amount of money through livestreaming in China.
In China, viewers can send virtual Lamborghini or sunflowers as gifts for appreciation. They can convert these gifts to real money. 
Sunflowers hold a monetary value worth 0.10 yuan (US 1.5 cents) each and virtual Lamborghini 100 yuan ($14.50).
Top streamers are said to get over 100,000 views per Livestream.
Tan Yuanwu is a beauty blogger in China that earns a minimum of US$443 for one hour of Livestreaming for a brand.
Huo Qiu charges a minimum of US$295 per hour for livestreaming.
According to data from the "China Internet Network Information Center" report, The number of live-streaming users reached 325 million by the end of June 2016; That's about half of China's total internet users(710 million).
Brands leverage influencers with large followers to promote their products on a streaming platform.
During this scene, viewers can directly purchase a product with a link popping out on their screen; It depends on the platform they are using.
"It's more than likely that live streaming will become a standard feature of all e-commerce platforms in China in the close future," report from Taobao.
Now in China, there are a couple of people running a Livestreaming Agency business.
Ma Tingting manages an agency of more than 100 Livestreamers on contract in Chengdu, China.
"E-commerce stores come to me and I will assign live-streamers to promote their products," Ma told CNBC Asia. "Top streamers in my team can help sell more than one thousand items within a day."
Following a performance report that "Ma" disclosed to CNBC, one top streamer in my agency earned 203,129 yuan ($29,505) from August 21-September 19 by selling 2 million yuan worth of products.
According to China Tech Insights, Live streaming revenues in China in 2016 reached 1.7 billion yuan ($246 million) between June and August.
Alex Yao, JP Morgan's China Internet Research chief, made it clear that the growth will likely lead to M&A among the various players.
"I think there are quite a large number of private guys in the space doing live broadcasting in all formats from eSports live-broadcasting, to reality show, to entertainment show," said Alex Yao.
"I think over the next one or two years, the market will go through consolidation stage, but at least a handful of these private names will stand out and demonstrate their usage system ability and monetization capability."
Hosts are often labeled as KOLs(key opinion leaders). They typically use livestreaming to promote products for companies.
Livestreaming has had a huge impact on them, and now they are well-paid internet celebrities.
Influencers in China are compensated differently than in the U.S., where they are paid per post.
In China, influencers usually receive an appearance fee and a massive commission on the total products sold.
They usually negotiate with the company for a discount for their audience.
In April 2020, Alibaba generated $61.7 billion in gross merchandise value (GMV) on its Taobao livestreaming platform alone.
Wei Ya (Viya) and Jiaqi (Austin) Li are two of China's most popular live streamers. In a month, they generated 839 million and 824 million views, respectively.
According to an inaugural forecast by E-marketer, livestreaming social commerce sales in China will reach US$131.52 billion in 2021 and account for 37.4% of total social commerce sales in the country. And By 2023, 60.9% of social commerce sales in China will come from Livestream shopping, amounting to US$281.21 billion. Source: E-marketer.
E-marketer forecasts the total retail livestreaming e-commerce sales in China to reach $299.66 billion in 2021; Including livestreaming sessions on social media platforms and E-commerce platforms.
According to E-marketer, the total number of Livestream eCommerce purchasers in China will hit 320.1 million—of which 60.7%, or 194.2 million, will purchase an Item through livestreaming on social media this year(2021).
The U.S. Livestream E-commerce is still growing. A survey by the Harris Poll shows that about 31% of U.S. adults said they had watched a Livestream of a person talking about a service or product they would buy, depending on the streamers recommendation, only 7% said they bought the product.
Millions of people appreciate this new technology. Users love it when they see someone demonstrating or reviewing what they want to buy and asking questions regarding the product in real-time.
A report from GlobalWebIndex shows that 22% of U.K. and U.S. social live streamers said having a "buy button" popping out during a Livestream session would increase the total purchase.
In China, users can easily purchase a product with the "Buy It" button triggered by the streamer or the staff working on the backend.
China's Livestreaming usage is far more ahead of the United States, but users' interest in the Western world is growing rapidly.
REASONS TO START MARKETING YOUR SERVICE OR PRODUCTS USING LIVESTREAMING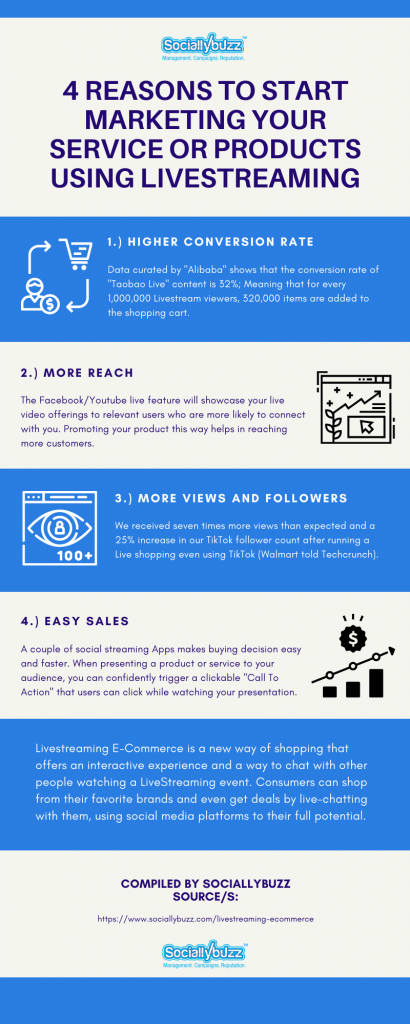 Higher Conversion Rate: Data curated by "Alibaba" shows that the conversion rate of "Taobao Live" content is 32%; Meaning that for every 1,000,000 Livestream viewers, 320,000 items are added to the shopping cart.
More Reach: The Facebook/Youtube live feature will showcase your live video offerings to relevant users who are more likely to connect with you. Promoting your product this way helps in reaching more customers.
More views and followers: We received seven times more views than expected and a 25% increase in our TikTok follower count after running a Live shopping even using TikTok(Walmart told Techcrunch).
Easy Sales: A couple of social streaming Apps makes buying decision easy and faster. When presenting a product or service to your audience, you can confidently trigger a clickable "Call To Action" that users can click while watching your presentation.
Partnering with Influencers makes the purchase more efficient: In May 2016, Maybelline sold 10,000 lipsticks in 2 hours through Livestreaming by partnering with an influencer, Angelabay, on Meipai.
THE WRAP UP
In today's generation, more technology is being adopted and implemented every day. In the programming aspect, "Artificial Intelligence (A.I.)" is the current trend. 
Now in the marketing niche, we have seen a dramatic increase in usage of Livestreams with the intuition to boost E-commerce sales or create awareness.
A couple of big brands like Facebook, Amazon, Alibaba, JD.com, and many more now consider Livestreaming E-commerce. 
Alibaba's livestreaming E-commerce platform "Taobao Live" increase merchant's sales by 32% by allowing them to stream their products on the platform.
Indeed live streaming E-commerce is the future of online shopping. If you want to generate more E-commerce sales on social platforms, you need to start adjusting your marketing strategy to align with Livestreaming E-commerce.
As a brand seller, it is important to be available to the customers in person. Therefore, it would be best to try on the products and show them how it looks on you with livestreaming.
We also recommend integrating your livestreaming campaigns with the best social media advertising platforms to enhance your e-commerce strategies.
You are done reading the article! Congrats!
At Sociallybuzz, we devote our time and energy to your digital marketing success. Contact us today to learn how we can develop an effective live streaming strategy for your business.
ABOUT SOCIALLYBUZZ
Sociallybuzz launched in 2009, is a Social Media, Advertising, and Reputation Management Company. We exist to help businesses grow using social media, data, and advertising.
Recognized as one of the Best Entrepreneurial Companies in America, Sociallybuzz was named the Top Marketing Agency to help Franchises strive by Entrepreneur Magazine.
For more information, visit http://www.sociallybuzz.com.