BUZZ: Yelp's New Interface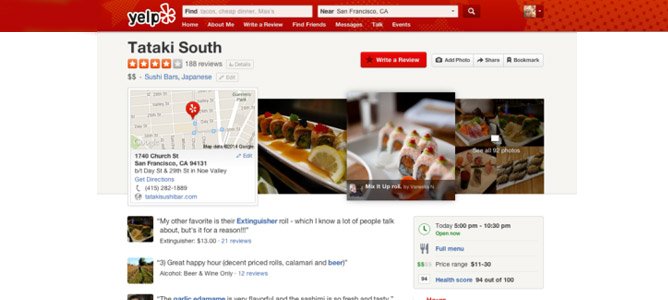 If you've visited Yelp recently to find a local business in your neighborhood, you probably noticed quite the facelift! Yelp introduced the new look and the brand new business pages—re-imagined, re-designed and re-engineered from the ground up.
You'll notice the new design emphasizes the unique local content their community has contributed and makes finding key business information even easier for consumers.

About:
Sociallybuzz, provides social media management, marketing, fan-page application development and social media consultation. The company is designed to help brands and businesses develop a firm foundation in social media and marketing while delivering the greatest number of options in how they define or reach their relevant audience and increase sales. We also have a robust team that is responsible for handling each and every Yelp, Urbanspoon, Google, TripAdvisor and Foursquare review for our clients. For more information about Sociallybuzz, please visit our website:www.Sociallybuzz.com
Check out our following services:
1) Social Media Services for Nightclubs
2) Social Media Services for Franchises
3) Social Media Services for Restaurants
4) Reputation Management – Click here